The pub is called The Penguin; it is so far off our usual patch that we might as well be hanging out with the Emperors and Rockhoppers down at the South Pole.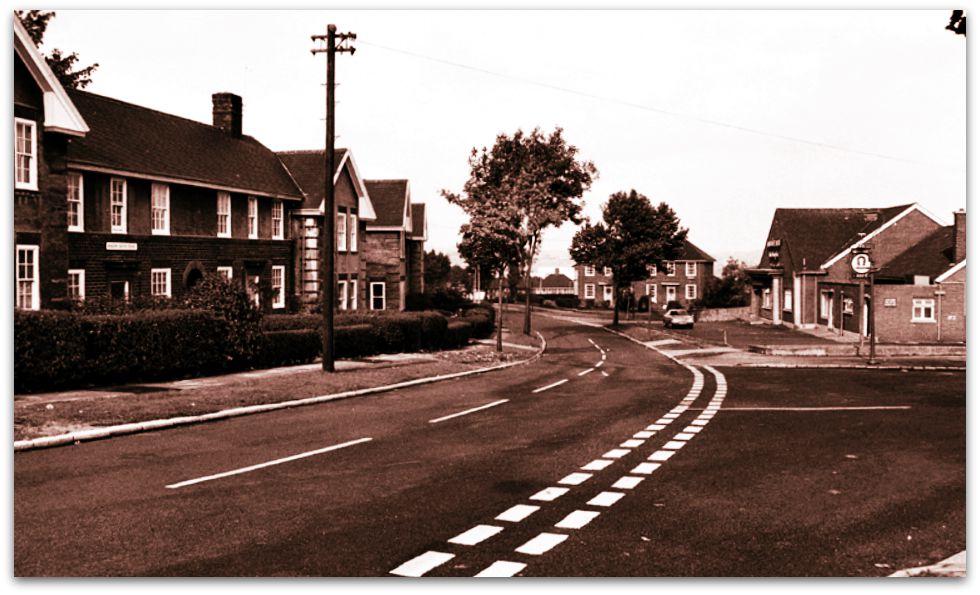 Lower Shiregreen might only be a mile from my house, as the air-rifle pellet riddled crow flies, but this less than salubrious council estate has a reputation as a neighbourhood for ne'er-do-wells. I'm at The Penguin with my old school friends from the Stunt Kites – punk rock flies in Sheffield's musical ointment - and some friends of theirs, a new band called Vendino Pact, to whom I'd been introduced at a ClockDVA gig at The Penthouse Club a couple of weeks earlier. We are here as both bands are desperate to play gigs, and the main Sheffield circuit of The Limit, The Marples, The Saddle, The Broadfield and NOWSOC at the University has either been done recently or remains out of reach.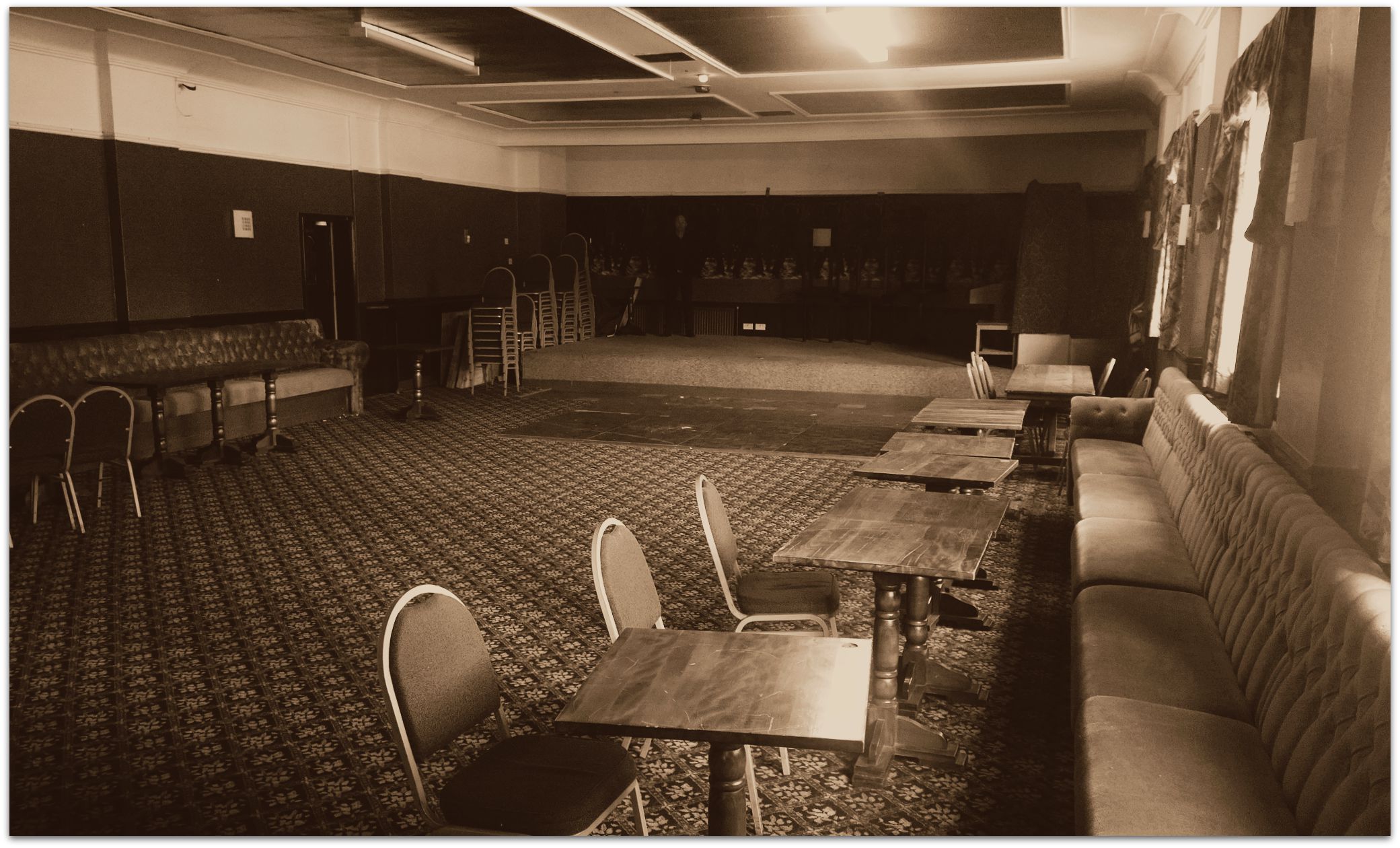 The Penguin bar contains more characters than the Japanese alphabet, all sitting and supping on this Thursday night; a gauze-like fug of fags and farts is the only filter to the unremitting glare of the stark strip lighting. I'm telling Stunt Kites' drummer Brent about my new discovery, a record and book shop on Division Street called Rare and Racy.
"It's brilliant!" I enthuse, "loads of great second-hand stuff, a proper Aladdin's cave. I got "Evening Star" by Fripp & Eno, a reggae compilation and "Fahrenheit 451" all for three quid!"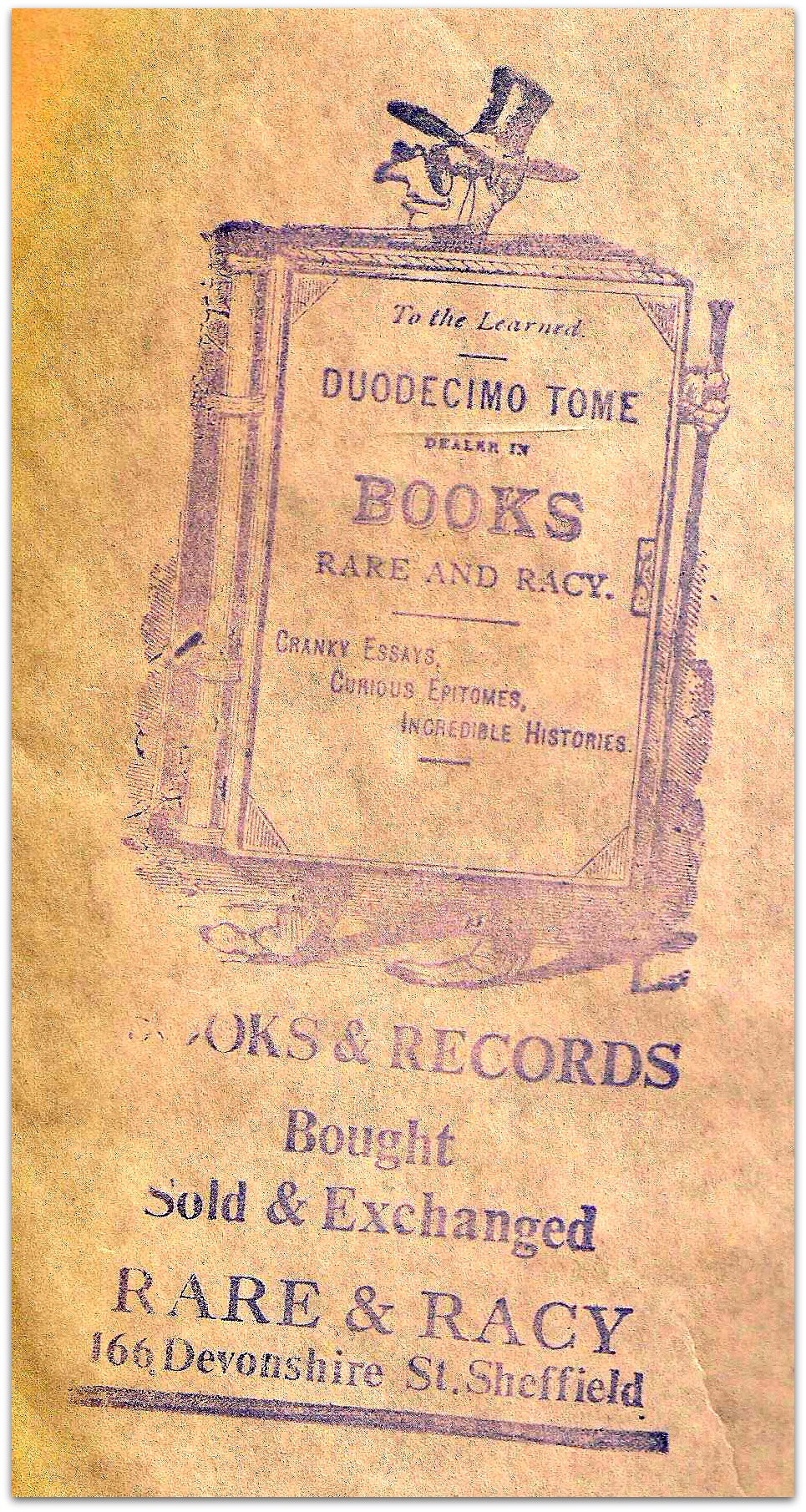 Until this discovery, I had only come across second-hand records and books in charity shops, usually rubbish by Max Bygraves and Barbara Cartland. To find somewhere that actually stocked decent stuff you wanted to buy, at affordable prices, was a revelation. As I entered my first autumn of unemployment, this was a new way to get my music and literature fix, and stretch my dole money that little bit further.
Conversation turns to the debut album from Cabaret Voltaire, 'Mix-Up', which has just been released. Through playing with ClockDVA, I've now met "The Cabs" a number of times. I've also bought the long player, from Revolution Records in the Castle Market, out of loyalty, friendship and a masochistic desire to lacerate myself on the cutting edge of the Sheffield scene.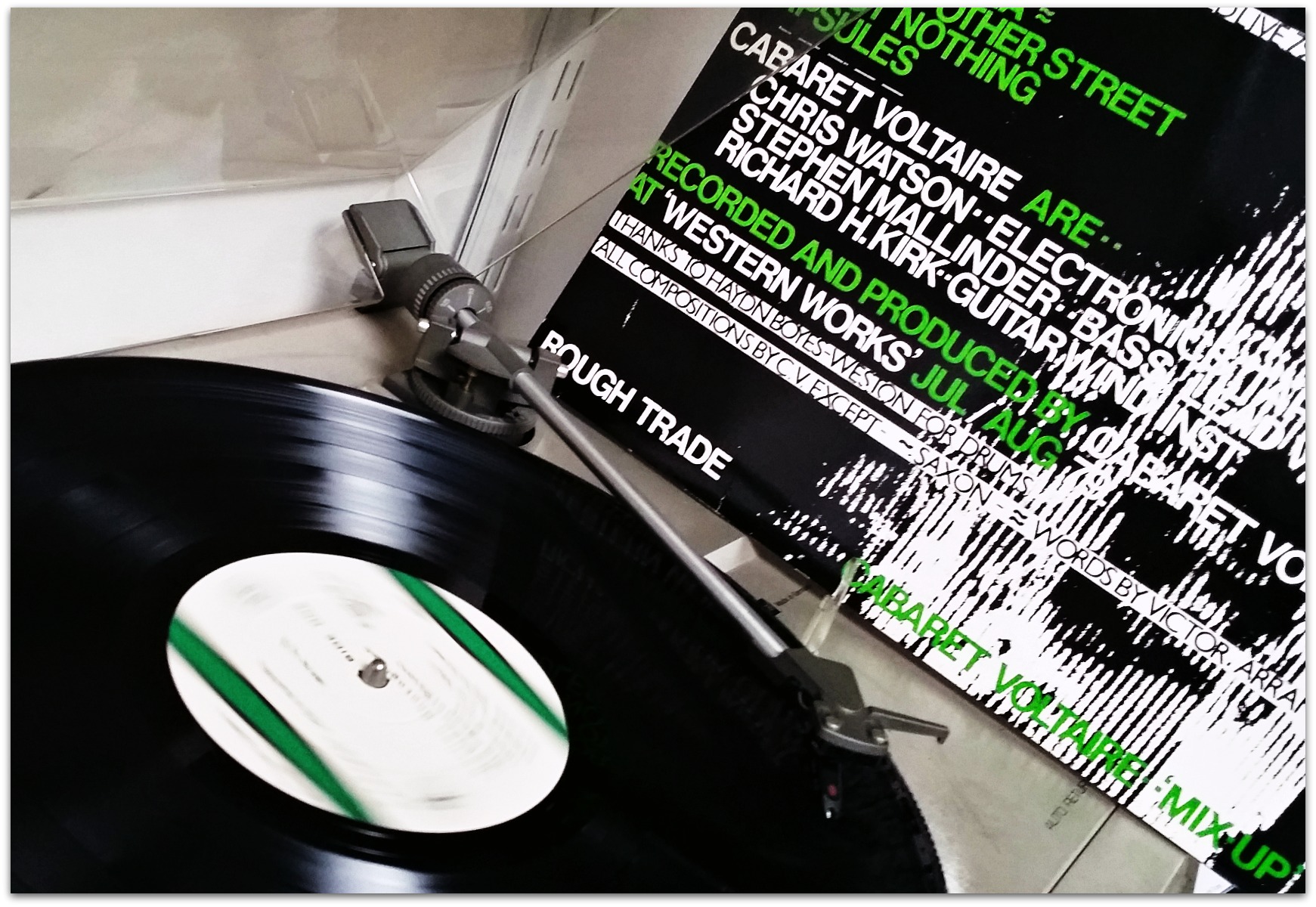 We are distracted by an old bloke sitting alone close by, peevishly monologuing over a pint of mild:
"Comes in, smelling of drugs, up 'n' down fuppen stairs like a babby elephant", the sploshy clack of his dentures like castanets, "sleeps all day, stops out all neet, fuppen nocturnal, like a fuppen vampire." Peter Tinniswood's Uncle Stavely made flesh: "Go t'Gun, allus buy us a drink in't fuppen Gun."
At the other end of the bar, Jeff Beck sings on the jukebox, Hi Ho Silver Lining trying in vain to break through the grey autumnal clouds of nicotine, ale and bitterness that permeates the room.
Someone finds the switch to the flick off the fluorescent tubes, and Vendino Pact clamber up onto the low stage in the semi-murk. A five-piece made up of first-year students from the University, they lurch into their opening number. The two guitarists appear to be ill-matched, one is insouciant and cherubic, the other ursine and brooding; but their respective playing styles mesh unexpectedly and surprisingly well - Sheffield's Salmon Pastures meets Crazy Horse's Zuma Beach. They are sturdily abetted by a nerdy looking lad on a Hofner bass and a drummer who is an unseen but well heard rhythmic presence.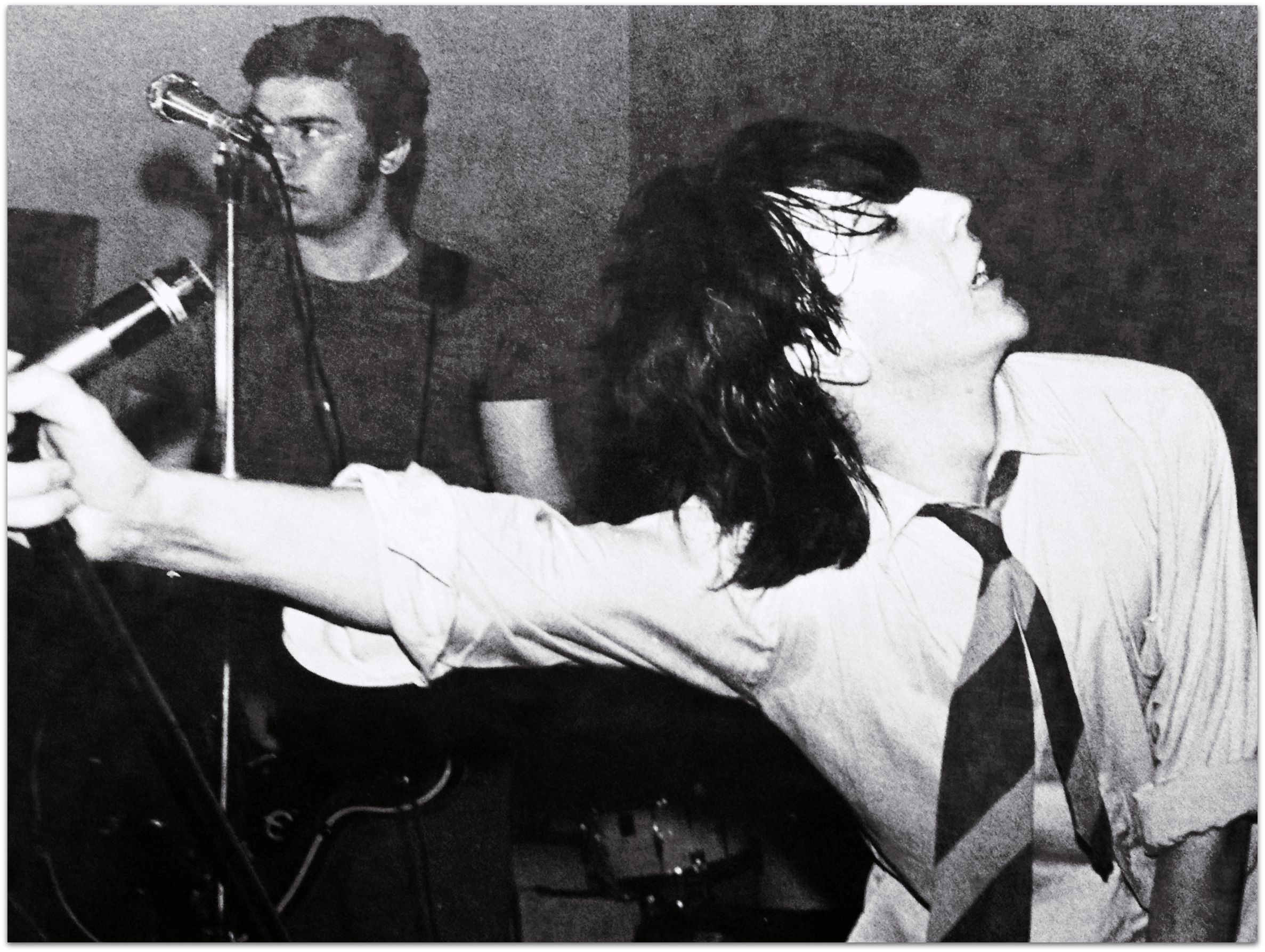 Vendino Pact: Bryan Hall and John Stuart.
Front and centre is the singer, John Stuart, an elfin presence with a mop of floppy hair, cheekbones by Tamara de Lempicka and a rich, potent voice. Vendino Pact are not what you'd call punky; their tense, writhing, anxious music calls to mind The Velvet Underground or early Pink Floyd. A slightly brittle psychedelia handled with a practical, Northern sensibility - The Plumber At The Gates Of Dawn.
The song ends.
"Play summat we know!"
Vendino Pact lean in, looking for purchase, hoping for a peg, nook or cranny that will lend a foothold on the Eiger of apathy that stands before them. Another pearlescent gem reveals itself, shades of The Only Ones here, sparkling shards of guitar fragment, silver dust falling on oblivious ears, as John Stuart's haunted incantation – Howard Devoto meets the Lizard King - drifts out into the North Sheffield night on a mantle of Players No. 6 and general indifference. I'm impressed.
Thirty memorable minutes later and the sonorous stargazing of Vendino Pact appears to have lulled the locals into a strangely becalmed torpor.
Enter the Stunt Kites.
"I've been in morgues with more atmosphere." deadpans John Allen, singer and provocateur-in-chief, as the Brillo pad bellicosity of "Europe" scrapes into shape – "SHOOT HIM IN THE HEAD, SHOOT HIM IN THE HEAD".
Drink has been taken, by both band and audience. I've seen The Stunt Kites soar on thermals of adrenaline and fire, but tonight their flight falters; there are false starts, fluffed solos and botched endings.
"Play some Elvis!"
"Elvis is a corpse; you can smell the stink from here."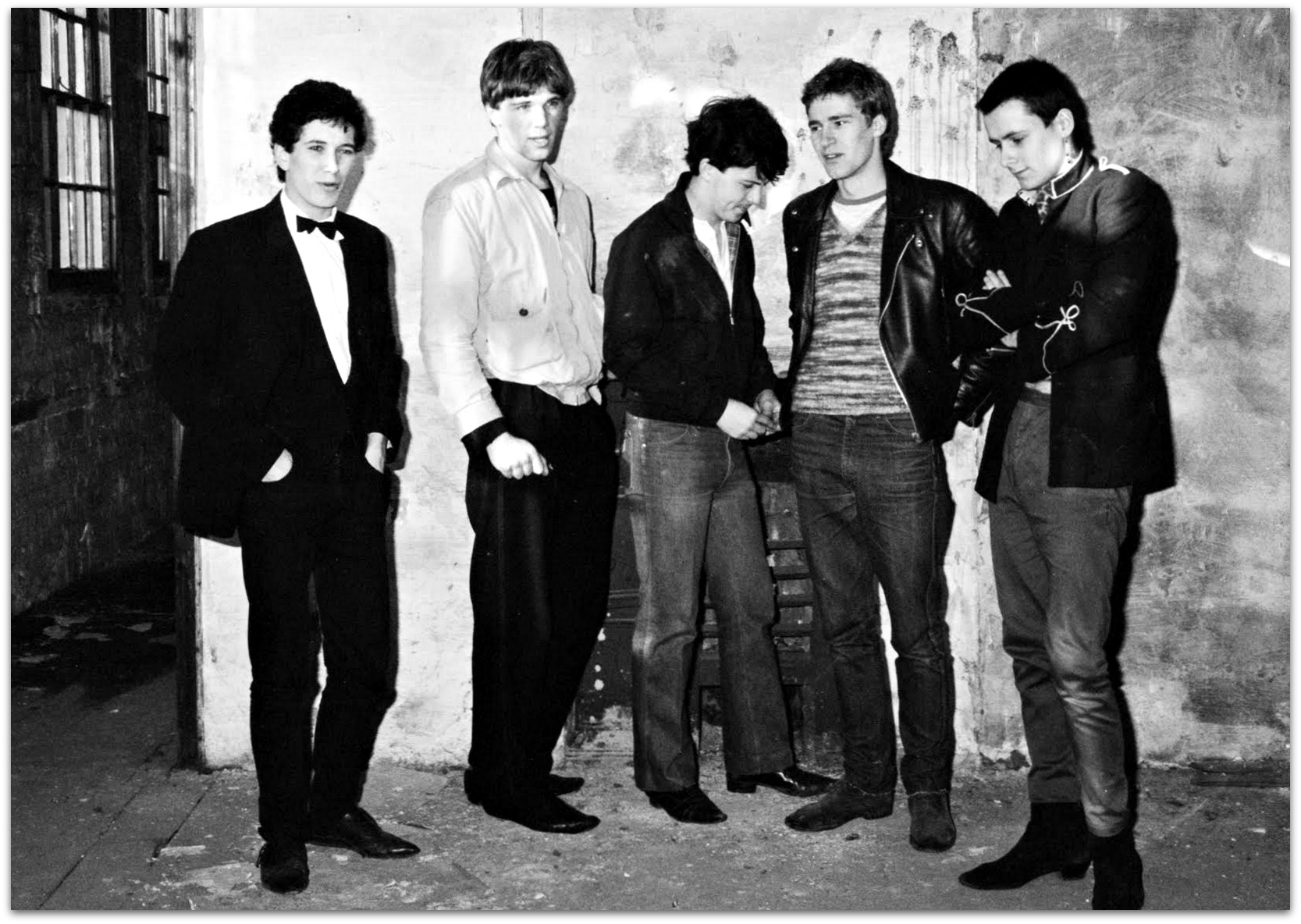 Stunt Kites Mk. II line-up - (L-R) John Allen, Nigel Renshaw, Brent Sharp, Ashley Eckhardt, Steve Chapman.
Photo by Pete Hill.
And so it continues. The jowly, growly locals are as easy to wind up as a Chad Valley cuckoo clock; they are unable to process this skinny streak of piss in a scruffy suit, with his posh, plum, not-from-round-here, BBC accent. He wails away with this shambolic shower of so-called musicians; but round here, when minds are closed, clenched fists soon follow. There is menace afoot, and verbal threats are shaping up to become physical actions, a mic-stand is broken. Rescue comes in an unlikely shape – Uncle Stavely and a couple of other senior citizens:
"Leave 'im alone, he's nobbut a daft lad."
With this stand-off, we are escorted from the premises by our ancient Knights in faded flat caps. Once outside, we find the Vendino Pact lads, anxiously protecting the gear and the van; circling the wagon in front of the middle-school miscreants who have gathered in the gloom of the car park. The only thing they've kicked so far is the tyres, and before that can change, we kangaroo-hop the van up Mason Lathe Road, back to where we feel safe and sound.
Later, at home, I'm lying on the sofa, headphones on, listening to Fripp & Eno; Mum and Dad's living room barely illuminated by the lime-green glow from the Sanyo music centre. I've discovered another new local band to get excited about, got into a bit of a scrape alongside some old mates from school, and I'm slowly losing myself in the hypnotic "Index Of Metals". A good day.
---
Vendino Pact - John Stuart, plus Ade Mahon on drums, Andy Henley on bass, Bryan Hall on lead guitar, and Steve Richmond on rhythm guitar - were one of the great unsung Sheffield bands of the post-punk era.
You can listen to their track 'Secret Thinking', produced by Cabaret Voltaire at Western Works here.
Their single - 'Indentical Twins' / 'Niagara' - was released in 1982, and the band broke up in 1984. John Stuart went on to join Chakk.
John lives in Barcelona, you can listen to his new music here: https://soundcloud.com/orlandosound
Andy Henley's new music lives here: https://soundcloud.com/atfhenley
Mix-Up: Postcard From Sheffield October 1979 Spotify playlist here.
More pics etc. at https://www.tumblr.com/blog/mylifeinthemoshofghosts