I've got a new jacket. A shiny, black, leather box jacket, bought from a store on London's Oxford Street on a shopping trip. Two smiling Indian lads worked their slick sales patter on me and out I walked, jacket in bag, £150 lighter in the wallet. Their confident assurances that I looked "well cool" rang in my ears as I crossed the street to the Virgin Megastore.
"It looks too new, Roger. You need to scruff it up a bit," says Richard Kirk, commenting on my recent purchase in the pub on a Sunday night. "Yeah," chimes in his girlfriend Lynn, "you should screw it up, stick it under the mattress and sleep on it."
A well-worn leather jacket is a must-have piece of kit for a Sheffield musician. Martin Fry had one that looked like it had been handed down from Baron von Richthofen. Band-mate Paul has a beaten-up one he got from Judd in the DVA days. Richard himself could pass for a member of The Black Rebels Motorcycle Club, Marlon Brando's biker gang from 'The Wild One'.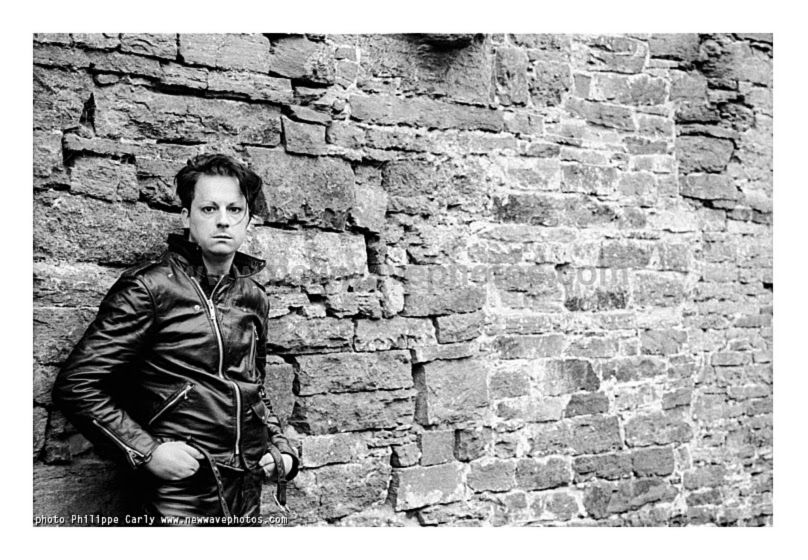 This sartorial advice from Richard and Lynn is proffered during one of our regular Sunday night pub crawls. Richard, Lynn, Paul, Charlie and I usually meet in The Beehive on West Street at opening time - 7pm on the sabbath - sometimes with girlfriends, sometimes without. The ensuing boozy meander takes in a mixture of The Hallamshire, The Mail Coach, The Saddle, The Dog & Partridge and The Lord Nelson. Sometimes we finish up in The Yorkshire Grey, where, much to Charlie's delight, the bar staff whip out tambourines when Freda Payne's 'Band of Gold' comes on the jukebox. Or we might have last orders in The Washington, next to Devonshire Green, gazing in glassy-eyed wonder at the extraordinary collection of kitsch china and earthenware the landlady has on display. Because of which The Washington became known to us as 'The Teapot'.
Very occasionally, we'll venture into the trendy pubs in the city centre, like The Stonehouse or The Pig & Whistle. On any other night of the week, these bars are chocka with Sheffield's very own Pam and Bobby Ewings, and a scruffed-up leather jacket and scuffed Doc Martens would earn you a stare, a sneer or worse. Presumably these well-scrubbed folk stay in on a Sunday night, watching 'Bergerac' and allowing their shoulders to recover from the weight of the padding piled upon them.
I duly take Richard and Lynn's words on board. The jacket is slept on, shagged on, left outside and rained on. Much to the incredulity of my Mum, who cannot fathom why on earth you would spend so much money on an item of clothing only to try and make it look ruined. By the time the end of summer rolls around, the jacket is distressed enough for me to wear it out to see Richard, Mal and new drummer Al Fish at Cabaret Voltaire's first Sheffield gig in ages. Headlining the newly re-opened - for the second time in less than twelve months - Lyceum Theatre.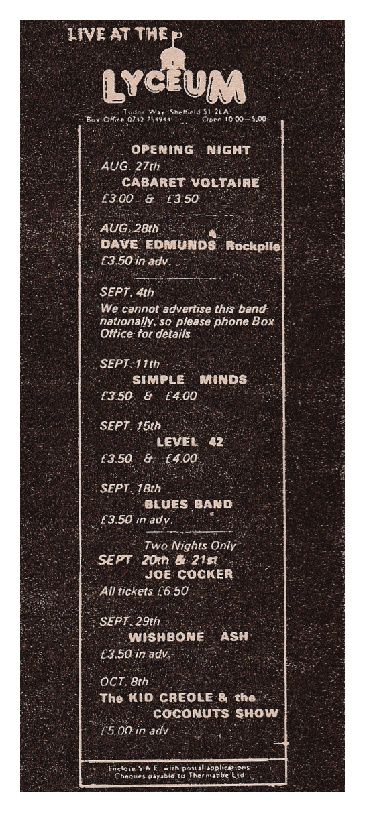 This gig has been a long-time coming. The band were scheduled to play The Royal Victoria Hotel, an imposing but unloved pile down by the canal basin, in June, as part of a UK tour around the release of their 2 x 45 album; but that idea was ditched. With The Leadmill still closed, awaiting local government funding, the Cabs appeared to be out of options.
Meanwhile, having blazed brightly for the autumn and Christmas period of 1981, The Lyceum found itself shuttered again. The potholes, star-lit sky views and cascading rainwater having more in common with the nearby Peak District than a city centre music venue. The new owners, the same team that runs the hugely popular Limit club on West Street, are determined to make a go of it, even if it means throwing more money into a seemingly bottomless pit.
Cabaret Voltaire are announced to be the band to herald in the resurrection of The Lyceum, live in concert on Tuesday August 3rd.
Tickets go on sale, but the gig is pushed back to the end of August. It could be that it's the middle of the summer holidays; it could be that Sheffield's huge student population are busy getting sunburnt, picking grapes in the Loire Valley and beyond; or it could be that The Lyceum still isn't ready to receive paying guests.
On the face of it, the Cabs are an odd choice to re-open The Lyceum, the festive fare, pre-closure, having included pop chart regulars such as Slade, Squeeze and The Stray Cats. While they have the respect of their fellow local musicians, the street cred that comes from the approval of the UK music press, and the cachet of having completed a triumphant debut Japanese tour, they don't scream "box office dynamite". However, with The Human League having played two nights in the ramshackle room last November, ABC eyeing a City Hall date later in the year, Def Leppard in the studio recording a new album and Living In A Box yet to be invented, it falls to Cabaret Voltaire to get the party started, again. Apart from a benefit gig, thinly-disguised as The Pressure Company, at Sheffield Uni back in January, this is their first hometown show in more than a year. And, furthermore, their first here without co-founder Chris Watson.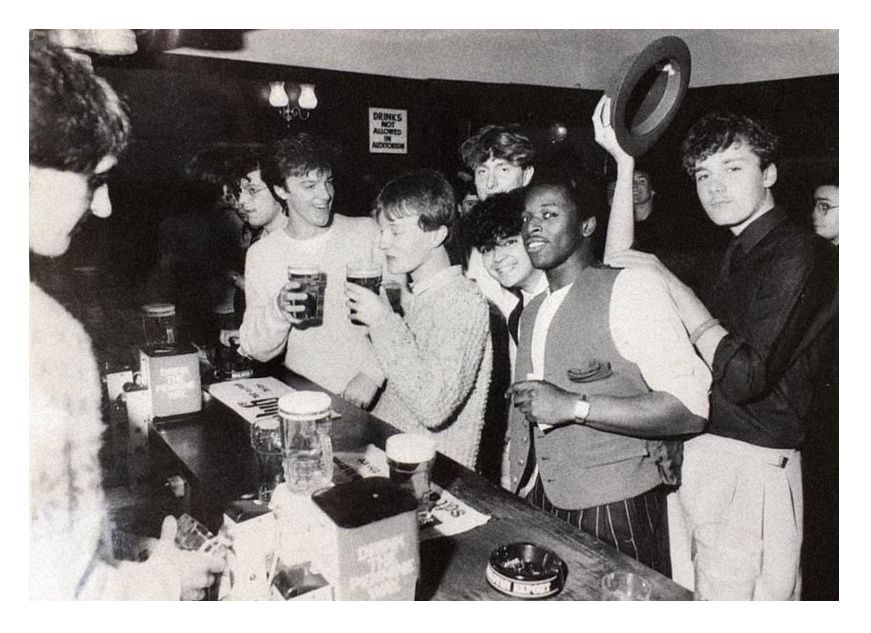 The lengthy guest list makes the feeding of the five-thousand look like a family picnic in Endcliffe Park. Once inside, it is clear that the management have splashed the cash necessary to meet the required health and safety standards, and to restore some dignity to the old Edwardian lady. The make-shift bars are gone, and I only spot one bucket collecting water from an errant leak somewhere up in the rafters. Mostly it's plush. Old chandeliers have rediscovered their sparkle, plaster cherubs have had a fresh lick of emulsion.
While I imagine it is still some way off its glamorous post-war peak - Dame Anna Neagle would think twice about taking her coat off - it's good to be back here for the first time since seeing Bow Wow Wow last October.
Following Eric Random, opening the evening with his auricular cave paintings, Cabaret Voltaire are in a remorseless mood. No 'Nag Nag Nag', no 'This Is Entertainment' or 'Kneel To The Boss'. Any olive-branches are burnt for kindling as the trio aim to ignite the huge stage and fire up the audience.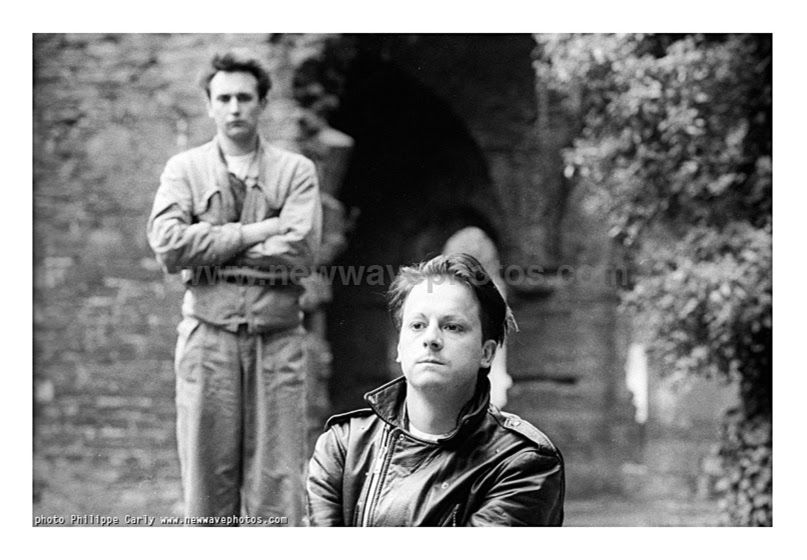 There is one major design flaw with the new Lyceum. You cannot bring a drink into the auditorium, stalls or circle. Booze has to be supped in the bars. Pretty soon there's a gulf-stream of neckerchiefs, moccasins and, yes, knackered leather jackets flowing out of the room in search of liquid refreshment. I have a sense that Sheffield audiences use Cabaret Voltaire gigs as a backdrop to catch up and gossip with pals they haven't seen in a while. An indie-music Henley Regatta where you like the company and Pimms (or pints, this is Sheffield after all) but have no interest in seeing a boat. I recall that the famous CV and Throbbing Gristle gig at Sheffield Uni in the summer of 1980 was blighted by the same capriciousness.
Which is a shame, as this new line-up, less dependent on the drum machine and increasingly Fish-fuelled in the rhythm department, is surprisingly danceable. True, theirs is a particularly cerebral funk - no-one is going to mistake them for Liquid Gold anytime soon - but this new music mostly skips along with one eye on the dancefloor. Even if the other is still keeping a paranoid watch on the CCTV. These are all new songs to us, so we only decipher the occasional repeated phrase. One track has Mal snarling "see you, see you" again and again, which could be a tribute to Richard's beloved Russ Abbot and his 'See You, Jimmy' character. You never know with the Cabs. Al Fish, currently moonlighting from Hula, seems to be gelling well with his other band.
Mal, black-cap, Soviet sailor top, shades of 'Querelle', is free to roam the stage thanks to a hands-free, remote microphone set-up, which sits on a stalk just beyond his lips like a blackened marshmallow. And this is a big area to roam around, more than half an acre. It's something of a surreal experience for Mal, whose Nan used to bring him here for the annual panto when he was a nipper. So vast is the space that if the crowd shouted "He's behind you!" tonight, a glance behind would suggest that upstage ends somewhere near the Peace Gardens.
Some jobsworth cuts the gig short. They don't want to lose their licence on opening night. After all, they've got Dave Edmunds tomorrow and Yazoo next week. Cabaret Voltaire depart, dignity intact, enigma maintained. They have a Live in Japan album and a European tour to look forward to. Bye-bye Sheffield, we look forward to soundtracking your next dirt-dishing evening in 1983.
I go home. I take off the leather jacket and stick it back under the mattress. I'm also going to Europe soon, with my band, and I need to look the part.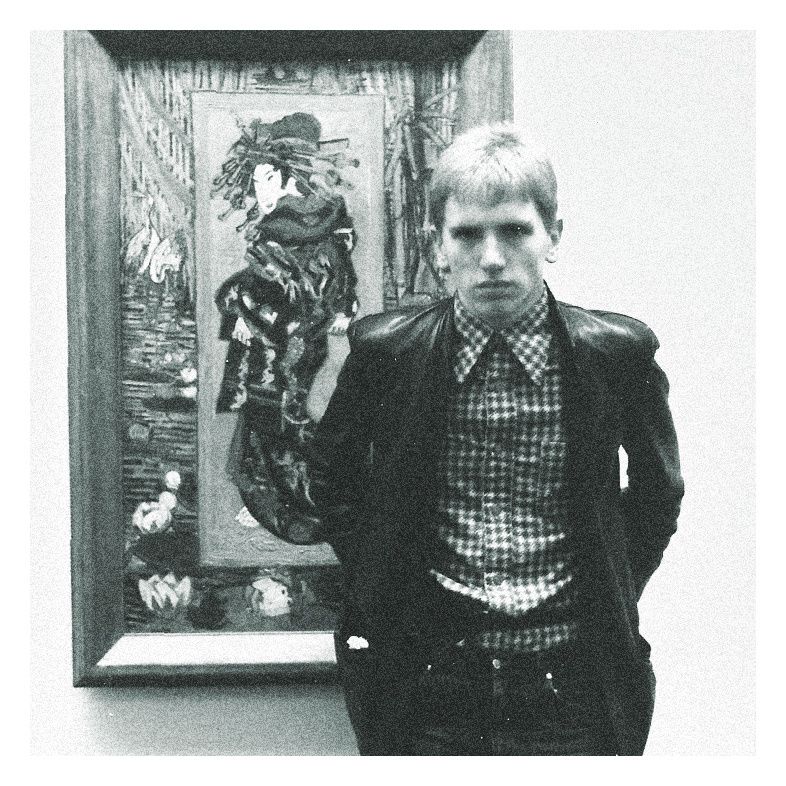 ---
This one is dedicated to Richard H. Kirk, somewhere out in the Interzone, still looking great in a leather jacket.
---
Special thanks to Mal, Alan Fisher, Simon Dell, John Quinn, Philippe Carly, Russell Fearn and Nigel Floyd.