We have to get signed in. There are five of us: Wilma, Vinner, Lango, Timbo and me. I've just turned 17, and this is my band. Or rather it's the band that I hang around with. We are here, Sheffield University Lower Refectory, to see The Runaways – California girls, teen queens of rock 'n' roll, the chicks with licks. Loitering at the entrance to the Student Union, foreign turf; sheepishly asking passing clouds of hemp and patchouli "would you mind signing us in please?" After 20 minutes, we are in; vouchsafed by two amiable heads in cheese-cloth and denim.

No-one thinks about getting a drink, none of us look old enough, and none of us are brave enough to risk it. Instead, we make our way into the hall, and go down to the front. It's already busy; the audience is 99% young males. The Runaways played here last year, and the lead singer Cherie Currie wore a basque and stilettos, and very little else.
I think a basque is someone who lives in northern Spain.
Too young to have seen Stacia from Hawkwind in her prime, we are a heady mix of high hopes, hormones and Hai Karate; we are here for titillation, hopefully with an emphasis on tit.
But first: 999.
999 are from London. Front man Nick Cash has form, before punk happened he was plain old Keith Lucas; in Kilburn & The High Roads with Ian Dury. At the end of 1976 he seized the chance to make Gabba Gabba Hay while the sun shines; and like many other pub-rockers; hitched on board the punk bandwagon just as it pulled away from The Nashville Rooms.
999 - 'Nasty! Nasty!' - released October 1977.
And it's working for him. 999 have signed to United Artists, home of Buzzcocks and The Stranglers, who have just released their second single - "Nasty! Nasty!", barely three months after their debut. Get on with it, bash 'em out, very punk rock. Looking down on us tonight, Nick Cash is 28, he's positively ancient, but he's getting away with it.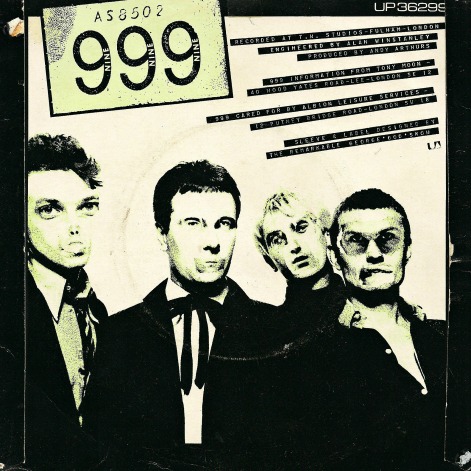 999 - 'Nasty! Nasty!' - reverse sleeve.
We're bored. 999 might have a string of sputum-strewn singles under their belts, but a bunch of spiky-topped geezers from Down South are not what we are here for. Possibly sensing this restlessness, Nick Cash takes a sup from his lager and swoops low over the monitors and strafes us with a mix of phlegm and alcohol.
There is uproar.
It's 1977, but, to be honest, we are not a very punk rock crowd, more Health & Safety than barf and safety pins. Is he trying to provoke us into spitting at them? We will not sink to his level! Instead, a wave of booing - not unlike the sound heard up the road at Abbeydale Cricket Club, when Dickie Bird takes off Yorkshire for bad light - fills the Lower Refectory.
999 declare.
We wait.
Stranglers' fans to a man: "Bring On The Nubiles" is chanted and clapped.
As we wait.
Roadies saunter about, checking the gear, "one two, one two", flashing torches.
Finally we are ready.
Pandemonium.
Fandemonium.
Young man-demonium.
Down the front, we're getting squashed.
"Hey guys, y'all wanna step back a little?"
Hang on. That's not Cherie Currie.
Joan Jett is talking to us. Joan is 19 years old. Already this year she's toured America, been to Japan, released two albums (Queens Of Noise and Live In Japan), and recorded another – the freshly hatched Waiting For The Night. This European tour has already taken in Ireland, Switzerland and France, with a UK run and trips to Sweden, Germany, Holland and Belgium still to come.
Joan looks knackered. Knackered - but in control.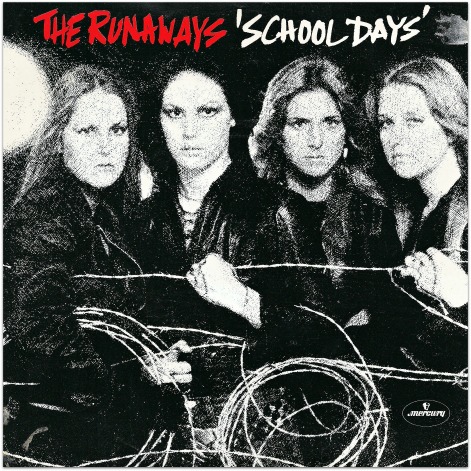 The Runaways - 'School Days' - 7" single.
(L-R) Lita Ford, Joan Jett, Sandy West, Vicki Blue.
Cherie's gone. So too has bass player Jackie Fox. Formed just two years before this gig, under the watchful (some might suggest manipulative) management of rock 'n' roll era Svengali Kim Fowley, this band of combat fatigued G.I. Jane's are over-worked, over-tired and over here. Mercurial music men like Kim know how to extract the silver from quicksilver, and exploit the window of opportunity before it slams down shut on their finger tips.
With the departure of Cherie, the lingerie has gone. The band has sacked the satin cat suits in favour of tee shirts and jeans. All; except guitar heroine Lita Ford. Metal acolyte to the end, Lita is a vision in studs and spandex, plunging neckline, flowing hair and Flying V. I don't appreciate it at the time, but this is Joan Jett and the band standing up to Kim Fowley; the kohl-eyed tomboy won't kowtow to a his idea of what an all-girl rock 'n' roll fantasy should look like. The stripper's poles on the 'Queens Of Noise' sleeve replaced by barbed wire on the cover of 'Waiting For The Night'.
The music is meat and two veg US rock: somewhere between Kiss, Alice Cooper and Grand Funk Railroad. There's a sense that the new songs: 'Wasted', 'School Days' – wipe their snot on their sleeves in recognition of the changing times, but this is Tonka Toy Metal: it trundles but it never rumbles.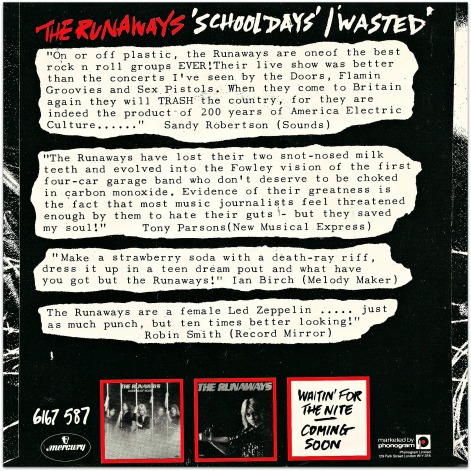 The Runaways - 'School Days' - reverse sleeve.
Drummer Sandy West brings another song to an agricultural halt. One of our gang manages to catch the eye of new bass player Vicki Blue, and flicks a business card in her direction.
Vicki picks it up and reads it.
"What is it?"
"It's for our band!"
This says a lot about our band, or rather, the band I hang around with. The Clash have just unleashed 'Complete Control', the Sex Pistols' 'Holidays In The Sun' is new in the shops. These bands have badges, fanzines, and flyers. These bands have notorious managers: Bernie Rhodes and Malcolm McLaren.
We have Francis Butler, and his business cards.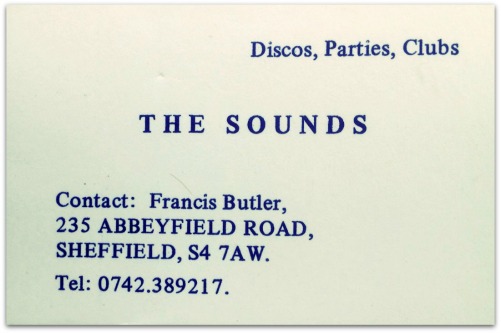 Kim Fowley is masterminding The Runaways. He's been having hits since B. Bumble & The Stingers. When Keith Emerson of ELP plays 'Nutrocker', Kim gets paid! Our band's impresario is a local Liberal councillor, with connections at Dial House Working Men's Club.
Nonplussed, Vickie Blue drops our business card and turns away as Sandy West 1-2-3-4s the band into the next song.

Press ad for the single and UK tour. Note that the Sheffield date was originally scheduled for the much bigger and grander City Hall venue.
Before tonight, the closest I had come to a proper local gig was holding a copy of Dr. Feelgood's 'Stupidity' album in WH Smiths on Fargate, which was recorded just up the road at Sheffield City Hall. My older brother had talked about taking me to see Roxy Music on the Country Life tour, but it was just talk. Not for me Eno & The Winkies at the City Hall, nor The Clash at the Top Rank (it was just last week!)
True, I went to a "free pop festival" in Concord Park when I was 14. In years to come I'll convince myself I saw John Peel favoured Lancashire rockers Tractor at this. "Hey it's like Woodstock out there" said the bearded front man optimistically: "people with babies!"
However, I never counted this as my first gig as:
It was free.
It was on a Sunday afternoon.
I was with my Mum.
So tonight, seven-eleven-seventy-seven; Joan Jett and The Runaways popped my gig cherry (bomb).
---
Within months, The Runaways and Kim Fowley will go their separate ways. In a July '78 NME interview, Joan is talking about being a woman in a man's world. a theme that will resurface on more than one occasion. She says: "Girls have got balls. They're just a little higher up that's all".
After another punishing year of touring, The Runaways played their last gig on New Year's Eve 1978.
Joan Jett went solo and, taking custody of the Arrows' 'I Love Rock 'N' Roll', enjoyed a global smash in 1982. An inspirational figure for the Riot Grrrl movement, she continues to tour and make records on her own independent Blackheart Records label.
Lita Ford, under the tutelage of Sharon Osbourne, became a Pop-Metal Pin-Up in the late 80's. For a time she was married to W.A.S.P. guitarist Chris Holmes. Her 2012 solo album is entitled 'Living Like A Runaway'.
Cancer claimed Sandy West in her 47th year.
Nick Cash and 999 are still touring.