We are divided into tribes, cultural camps divided by hair length or flare width. Modelling a baggy mohair jumper, a neat Motown logo, or the wrong type of footwear can open up a sartorial chasm. Our clothes are a visual manifestation of an attitude or outlook, but behind the glad rags it's music that sets the agenda.
There are the Bowie and Roxy fans: the thin white kooks and their lady-trons, all taking a Revlon drag on the fag-end of glam. You'll find them midweek at the Crazy Daizy on High Street, where they've recently been joined by the punks. Safety pins are thin on the ground here, nearby Rotherham and Doncaster have better scenes; but there's enough common ground in the arty androgyny of the Siouxsie fans and louche Ferryites. All are united in their mutual hatred of the atavistic Teds.
Teds: drapes, crepes and quiffs. Heartbreak Hotel Herman Munsters with Merchant Navy tattoos, still beetle-crushed by the death of Elvis. Friday night Rock 'n' Roll at The Broughton Inn down Attercliffe way, Saturday afternoon at Windmill Records on The Wicker. I'm so intimidated by this place it takes me three years to pluck up courage to go in. Having made my purchase, a 7" of 'Get A Job' by The Silhouettes, I beat a hasty retreat.
More elusive are the Northern soul boys and girls - vampire weekenders only spotted after dark at Samantha's above the ice rink. These amphetamine acrobats in Brutus shirts and Sta-Prest Levi's are spinning tops until the music stops at 8am on Sunday morning.
By far the biggest tribe are the rockers, working class lads from the factories and steel works. Bessemer's boys: sons of Vulcan on the day-shift, sons of Thor on the night-shift. Their daily working lives punctuated by the relentless, sonorous clang of the drop-forging hammer at Firth Brown's: the hammer of the Gods. Their only escape from the Tinsley tinnitus? The one thing louder than steel on steel – Heavy Metal.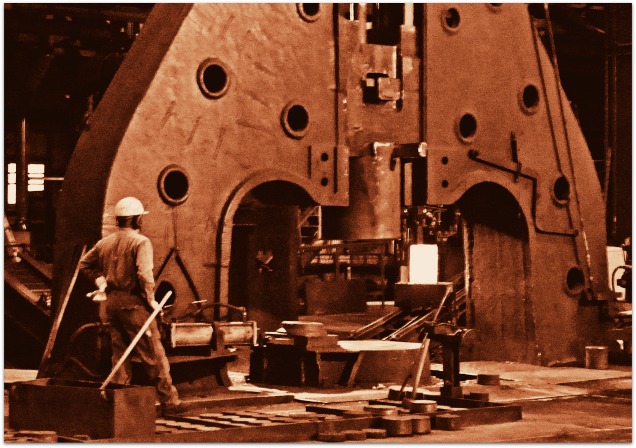 You'll see these Supernauts in the Peace Gardens on a Saturday afternoon, wistfully eyeing up the Don Valley Valkyries. Emblazoned and embroided, their denim is pock-marked with permanent marker pledges and badges for Tull, Heep, Zep and the Ash. An occasional Manticore or '2112' patch: sewn-on symbols of devotion to the high priests of sonic Sturm und Drang.
The rock lads shop at Virgin Records at the bottom of The Moor. I sent my Mum down there to pick up a copy of 'Relayer' by Yes on day of release. She returned, shaken, with tales of hairy beasts, jungle drums and darkened recesses, as if she had been sent in search of Dr. Livingstone rather than Jon Anderson.
It's a Wednesday night. Exams are looming like icebergs in an otherwise becalmed half-term ocean. It's GCE General Studies tomorrow, but am I revising? No, I'm out with Timbo, Lango, Vinner and Wilma – fellow members of our own nascent band - to check out Rokka. We're in The Sportsman pub on Cambridge Street, just a toppled Marshall stack from The Wapentake, which is hard-rock Valhalla to the hirsute hordes of Sheffield.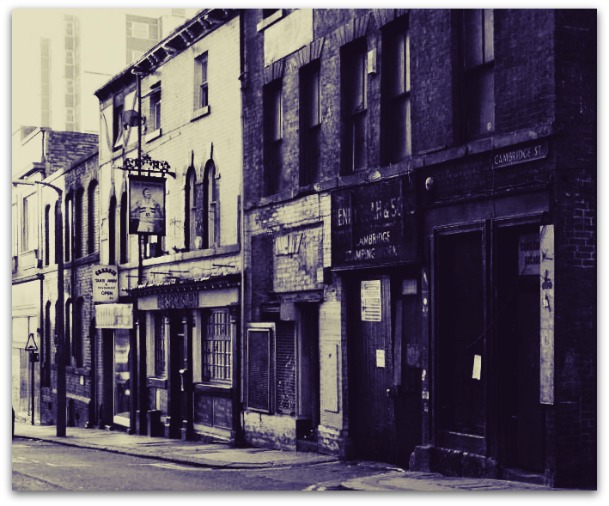 The sportsman in question is Roger Bannister, depicted chasing immortality on the sign above the entrance to the inn. Inside the locals at the bar look like they'd have trouble drinking a four-minute pint, let alone running a four-minute mile. It's pretty quiet, the band has brought girlfriends and family for moral support, and then there's us, clutching our bitter-shandies and cokes, checking out the competition.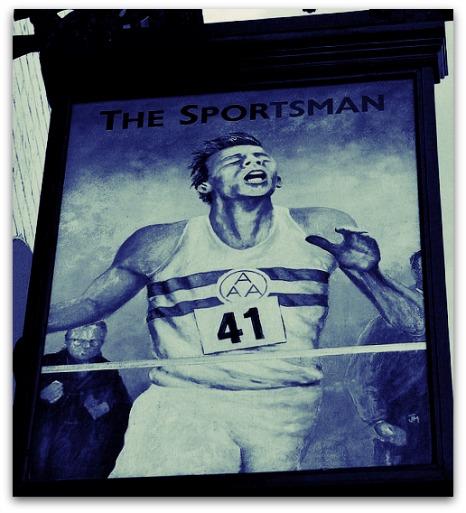 Rokka are set up at the back of the pub, in front of the fireplace - no stage here. Unflattering bar lighting which illuminates the russet velveteen wallpaper. It's only flock 'n' roll, but already we're unsure about it. A five-piece: bass, drums, two guitarists and a singer, Rokka are raw. They're a little bit older than us, early twenties; local lads from Hillsborough. They're unpretentious, rudimentary rockers, so we amuse ourselves playing 'spot the influence' with their songs: Quo, Lizzy, Rory Gallagher, a touch of Jethro Tull.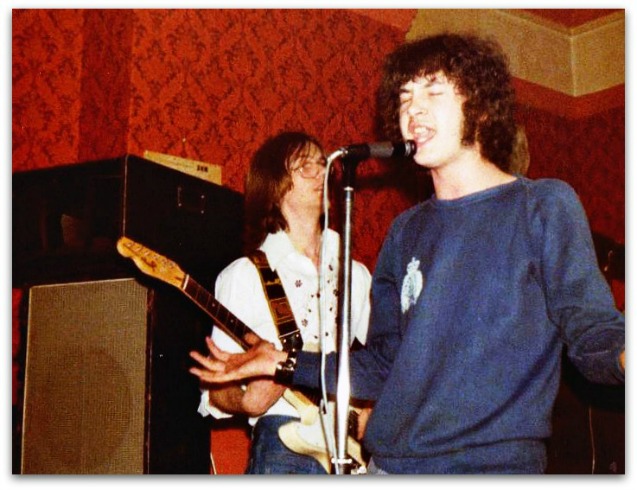 Rokka - Glenn Marples on guitar, Phil Casey on vocals.
Right now, in terms of local competition, Rokka are ahead of the game. Def Leppard won't play in public until July, and 10 miles up the road in Barnsley, the rough and ready Son Of A Bitch are about to change their name to Saxon. The band rumbles on, in their element with this elementary boogie, but we're not fussed. Talk turns to another new band that Vinner, Lango and Timbo went to see at The Limit last night:
"Cabaret Voltaire, what's that? Show tunes?"
"No, they're really weird!"
"How weird?"
"They haven't got a drummer, and the guitarist plays clarinet."
"That's weird."
Our attention drifts back to Rokka, who finish off with a couple of reliable Quo tunes, 'Backwater' and the already evergreen 'Caroline'. Musically and literally they're maintaining the status quo.
"We are Rokka, thanks and goodnight!" Nonplussed, we head for the bus. Our tribe is still teenage schoolboys. In the morning we have an 'O' level appointment with the Joint Matriculation Board. We're going to see The Extras on Saturday night, maybe they'll be better.
---
Rokka self-released a single, 'Come Back', in 1980, but singer Phil Casey left soon after.
Lead guitarist Glenn Marples, drummer Andy Freeston and guitarist Rick Corcoran formed the well-regarded Panza Division, perennial promotion contenders in the New Wave Of British Heavy Metal leagues.
Following a spell in the AOR-focused Lonely Hearts,
Glenn Marples left Sheffield in the early 90's for Ibiza, where he continues to live and make music today.
Windmill Records continue to supply rare Rock 'n' Roll records to the world.
Spotify playlist here