In November 1974, I presented my sister-in-law, Susan with a short list of albums from which to select my Christmas present. This list comprised:
Paul McCartney & Wings – "Red Rose Speedway" (Apple)
Eno – "Here Come The Warm Jets" (Island)
Barclay James Harvest – "Everyone Is Everybody Else" (Polydor)
Come Christmas morning, either the pulsating banshee wail of 'Baby's On Fire' or the punishing, monotonous dirge of 'Driving Me Backwards' triggered the inevitable cry of "What's THIS rubbish?!" from my Dad. Off came Eno; on went Pepe Jaramillo with his Latin American Rhythm.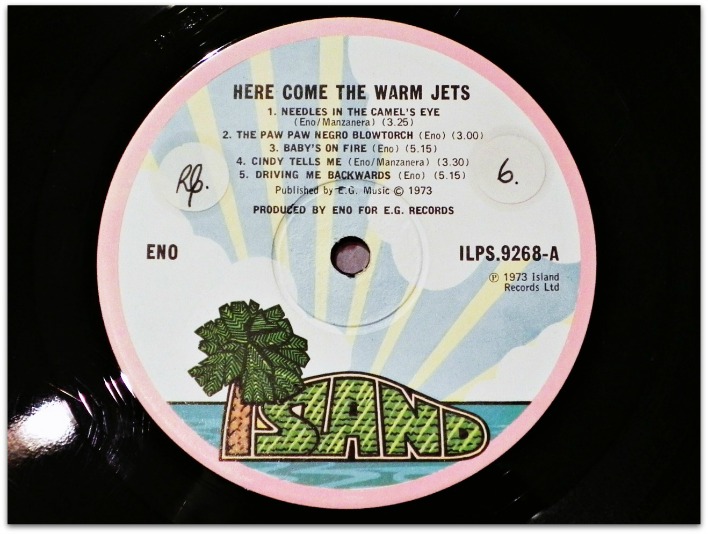 Pop culture historians like to point to David Bowie's performance of 'Starman' on Top Of The Pops on 24th August 1972, as a UK glam-meets-gay equivalent to The Beatles' first US TV appearance on the Ed Sullivan show, stirring, as it did, strange, new feelings in tumescent adolescents from Bolton to Basildon. In Sheffield, while Bowie's spaced-out oddity undoubtedly blew some minds, it was Roxy Music's first appearance on The Old Grey Whistle Test on 20th June 1972 that struck a strange, atonal chord with young Northern men of my generation.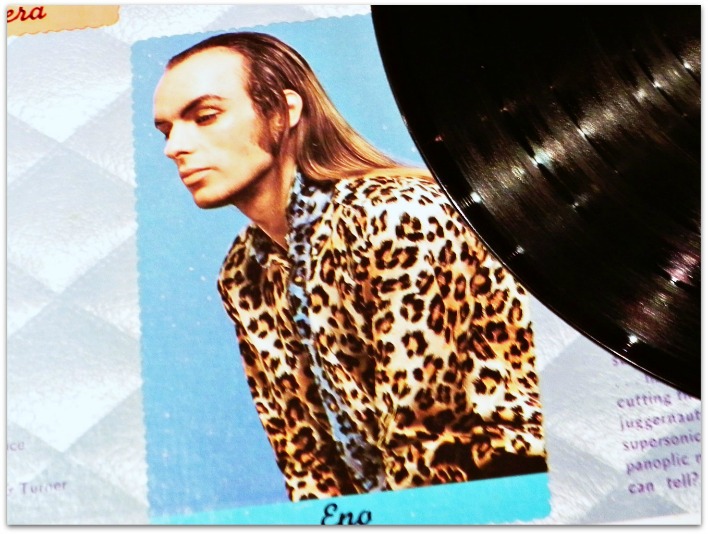 On the show, Roxy Music performed 'Ladytron' from their debut album, and amidst the arcane oboe, stampeding drums, lascivious vocals and stun-gun guitars, there was Eno – part peacock, part programmer – playing something you couldn't describe as a musical instrument. What was he doing? Tracking Soviet bombers from a Fylingdales golf ball? Pinging the Sonar on a nuclear sub? To see this other-worldly creature twiddling knobs and joysticks rather hitting skins or strumming wires was unlike anything we'd ever seen before. Oscillating wildly, Eno set the reference tone for an emerging generation of non-musicians in Sheffield.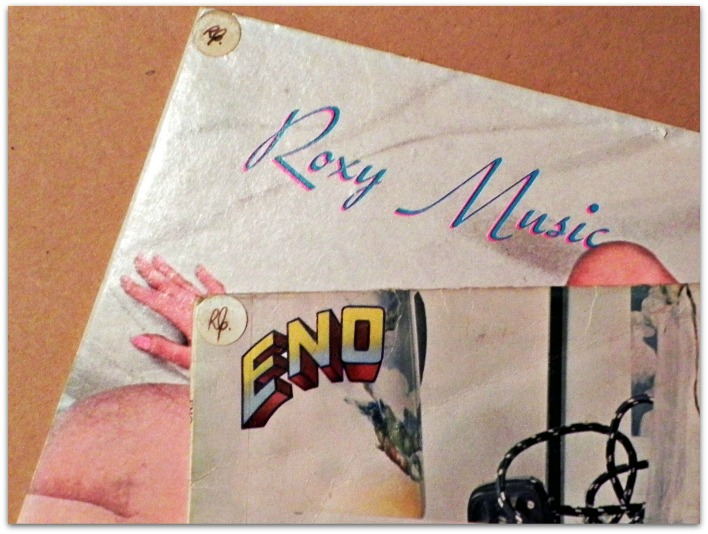 So when Eno left Roxy Music after the release of their second album 'For Your Pleasure', my tendency to support the underdog drew me to 'Here Come The Warm Jets' rather than 'Stranded'. As it turned out, I was delighted with Susan's Christmas choice; Eno's first solo album was a wonky Wendy House of circuit boards and soldering irons that I lived in for many teenage years. At this stage my album collection comprised the following:
Sweet – 'Sweet Fanny Adams' (RCA)
10cc – 'Sheet Music' (UK)
Procul Harum – 'A Salty Dog' (Music For Pleasure)
The Kinks – 'Golden Hour Of The Kinks' (Pye)
Various Artists – 'The Warner Bros Music Show' (Warners)
My Roxy / Eno collection slowly grew. A well-meant gift from my Mum – 'Zeit' by Tangerine Dream, was exchanged for the first Roxy Music album at Violet May's vinyl emporium. I swapped 'What Becomes Of The Broken Hearted' by Jimmy Ruffin for Eno's brilliant proto-punk 'Seven Deadly Finns' single. Then I was back in the Ferry camp for 'All I Want Is You'. So when one of the lads from our band, still dreaming of cracking the Sheffield WMC circuit, suggested "Let's go and see The Extras at the Poly on Saturday? They're a bit like Roxy Music." I was in quicker than you can say 'Pyjamarama'.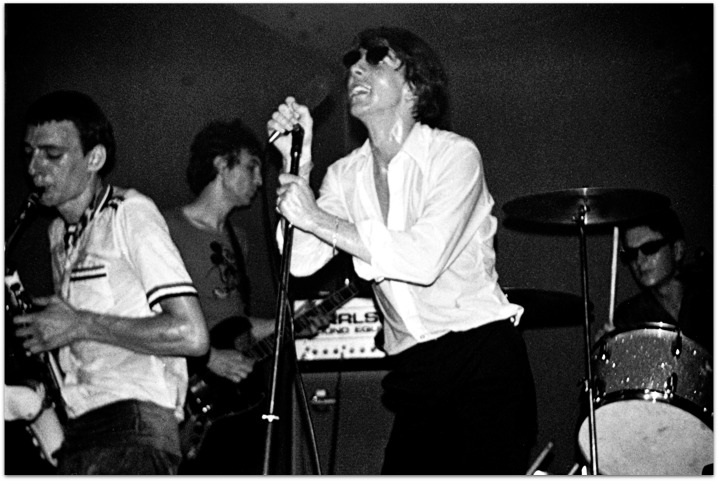 The Extras at The Broadfield, photo by Kitty Parker.
The Extras had established their local reputation as The Next Big Thing with a residency at a pub called The Broadfield in 1977. They were in with the thin crowd, and their gigs had become a lodestone for punks, art-school students, fellow musicians and motley misfits. If you wanted to go and see a band in a pub where you wouldn't get groped (the girls), or beaten up for wearing eye-liner (the boys), chances are you'd be at The Broadfield, listening to The Extras playing Velvet Underground covers and Leonard Cohen songs, rather than crowd-pleasers such as 'Hi Ho Silver Lining' and 'Smoke On The Water'.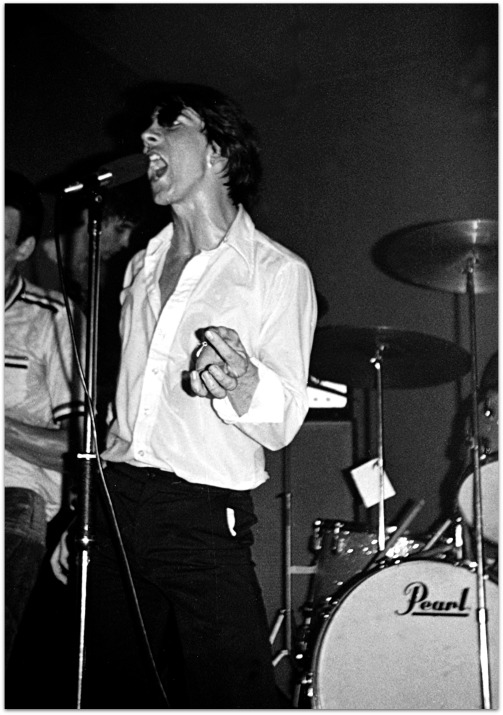 John Lake at The Broadfield, photo by Kitty Parker.
The gig at Sheffield Polytechnic was a step up from The Broadfield. I was back there with Vinner, Lango and Timbo - lads from our band - and as we waited for The Extras, my tragic love-life was being sympathetically analysed over cokes and shandies. To paraphrase Bryan Ferry – In Every Council Home A Heartache. I'm carrying a triple D battery-sized torch for Eleanor Moore; but she is inexplicably drawn to maths swot in residence Sid Peach. I'm in a band! I know who Eno is! I'm at The Extras with the cool kids on a Saturday night. It just doesn't add up.
"Timbo, what does she see in him? What's Sid got that I haven't?"
"Dunno Rog, spots?"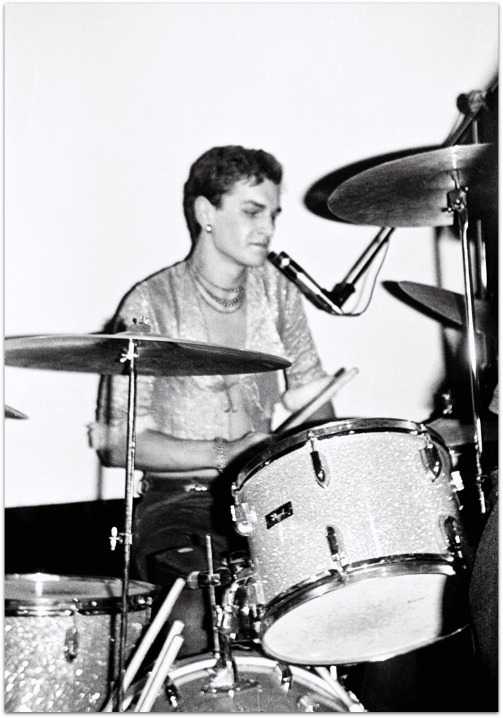 Nick Dawson, The Extras, at The Broadfield, photo by Kitty Parker.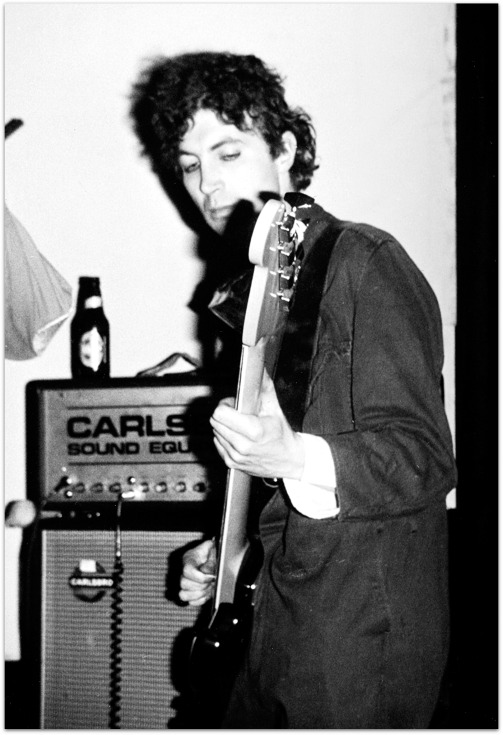 Mick Cartwright, The Extras, at The Broadfield, photo by Kitty Parker.
The Extras have the same line up as Roxy Music – singer, guitarist, sax, keyboard, bass and drums - and a similar penchant for tectonic tempo-shifts in the space of the same song. They project a punky, pell-mell attack with a patina of Pall Mall sophistication; but behind the satin and tat lays a basic, well-drilled R'n'B band with arty pretensions, as if Magazine's Howard Devoto had awoken from his Mancunian reverie to find himself fronting The Blockheads at The Hope & Anchor.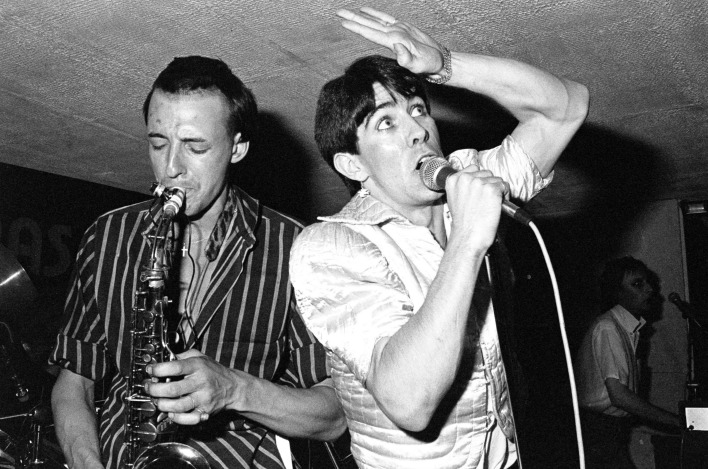 The Extras at The Limit, photo by Pete Hill.
They have a sense of theatre, a flair for the dramatic, and they are not afraid of a rummage in the dressing-up box. Teessider John Lake is their captivating, elfin focal point. Singing in a clipped, mannered style not unlike John Foxx of Ultravox, Lake is the first front-man I've seen live on stage unencumbered by guitar and mic stand, leaving him free to roam, cajole and tease the audience.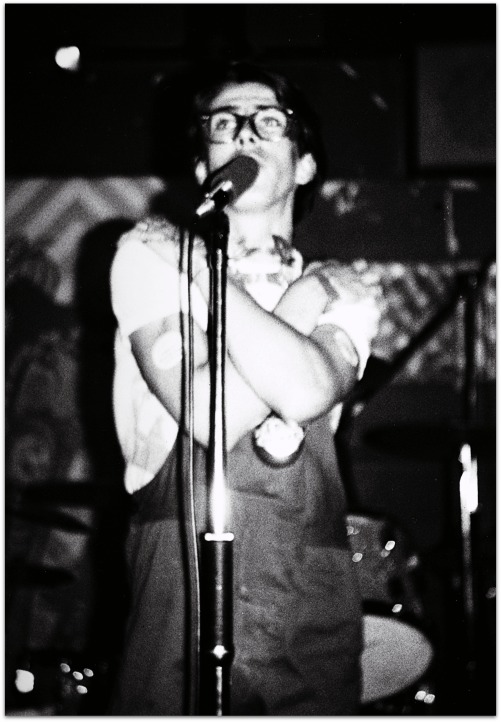 John Lake, venue unknown, photo by Kitty Parker.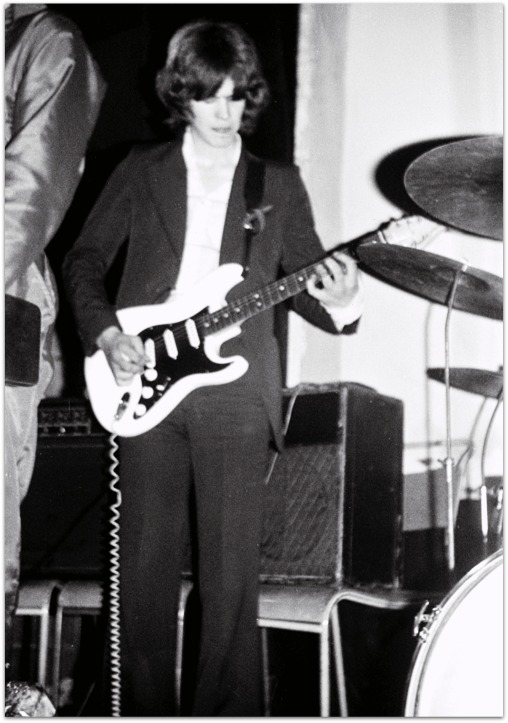 Simon Anderson, The Extras, photo by Kitty Parker.
This is only my sixth gig, I've only seen Bowie, Ferry and Jagger on the telly, and to 17 year-old me, John Lake seems to channel a thrilling cocktail of androgyny, petulance and arrogance I associate with my rock 'n' roll idols, teetering on the tightrope between real cool and ridicule. The songs: 'Diamonds', 'Playback', 'Goldee', 'Some Kind Of Hero' and 'Good Time Girls' are dispatched with gusto, verve and panache.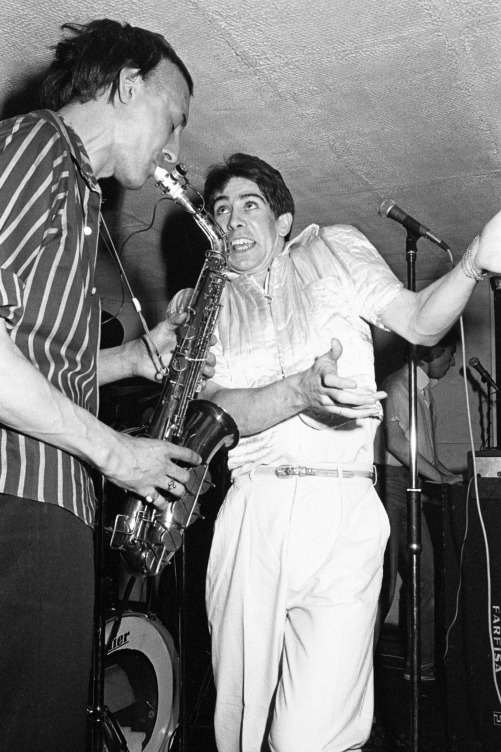 The Extras at The Limit, photo by Pete Hill.
After the gig we are buzzing, could this be a band on the cusp of something big? Could John Lake be the Middlesbrough Moses? Parting the River Don to lead the young bands of Sheffield to the Land of Moogs and Money?
---
It didn't work out that way. A combination of hubris, folly and mismanagement put an end to The Extras in 1979. Too late for glam, too soon for the new romantics, too proggy for punk, it turned out that playing proxy music wasn't enough, and The Extras, surplus to requirements, found themselves falling between any number of artfully sculptured Bertoia bar stools.
John Lake drowned on holiday in Malaysia in 2003, aged 48.
Guitarist Simon Anderson succumbed to cancer in 2011 aged 56.
Many Thanks to Kitty Parker and Pete Hill Photography for the band photographs.
The Extras left no recorded legacy. To find out more about them, check out Eve Wood's documentary 'Made In Sheffield'
Spotify playlist here