Timbo's Dad was a cop. Plain clothes, CID. Through his connections on Sheffield's night-life scene he engineered a gig for our band, The Sounds, at a salubrious spot called Baileys, just a collar-feel away from South Yorkshire Police headquarters.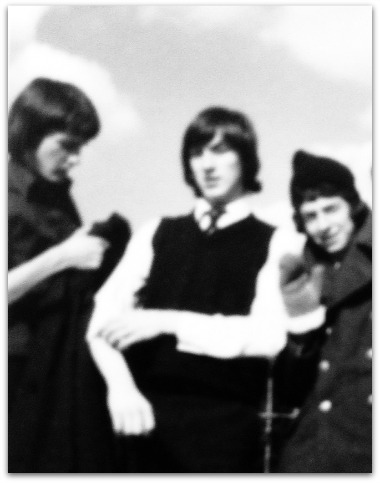 Three-fifths of The Sounds.
(L-R: Vinner, Timbo, Wilma)
Even better, he arranged free entry for us – Timbo, Lango, Vinner, Wilma and I – every Saturday night, so we could check out other groups on the club circuit, to pick up some stage-craft tips. This was a reasonably big deal for us, 17 years old with notions of making it "playing the clubs", but with no clear plan as to how this might be accomplished. Especially as we perceived the night club scene to be more sophisticated than the working men's club path: more chicken-in-a-basket than pea & pie supper.
Saturday Night Fever was inescapable in the summer of 1978. We'd seen the film back in April, and had come away surprised by its dark, bleak themes. Unwanted pregnancy, racism, suicide, class struggle, loss of faith: a lot more going on than a working class bloke pointing in a white suit on a Battenberg dance floor. At this point, we thought John Travolta was cool; pure Bronx bravado as he strutted along with his tin of paint. By September, with the release of 'Grease' and his ascension to teen idol – Donny Osmond with a quiff, we despised him.
I happened to have my own version of Travolta's iconic three-piece suit, bought by my Mum at Hitchen's department store, an antediluvian TK Maxx in Attercliffe, "for weddings and job interviews". A wine-bottle green ensemble with lapels so wide that Brazil's Carlos Alberto could overlap down them, and flares that flapped with enough extra cloth to fashion a sail, should the wearer happen to be ship-wrecked after a night at Studio 54. Suit on, brogues polished, I was ready for the floor.
Bailey's was part of a chain of around 20 clubs around the UK. The Sheffield venue, previously the Cavendish, was not as upmarket as local rivals Scamps or Josephine's. A subterranean bunker in shades of ochre and indigo, it was slowly crossing the line from ravishing to simply ravaged.

Being a DJ at a night-club that summer must have been the easiest gig in the world. The double vinyl album of the Saturday Night Fever soundtrack would pretty much get you through the night. T-Connection's "Do What You Wanna Do" or "Voyage" by From East To West would keep the feet shuffling, but the Bee-Gees' "Night Fever" or "Stayin' Alive" would spark a satin-clad stampede for the dance floor, hillocks of handbags suddenly appearing, tacky totems to sashay around.
On the quiet, I fancied myself as a bit of a disco diva. Both my parents were very good dancers, albeit in the ballroom, modern-sequence style; so I was convinced that hoofing was hereditary. My Dad was appalled by the "jigging about" that passed for rhythmic self-expression in the 1970's. Baileys provided me with an opportunity to perfect my moves, but two things became clear. Firstly, we couldn't get "a round for a pound"- the cost of drinks for five in our favourite local Pitsmoor pub - because liquid refreshment commanded premium prices in the rarefied environs of Baileys. Secondly, any reserves of chutzpah left after a trip to the bar, having fluked the "Are you 18?" interrogation, would dissipate like reflections from the mirror-ball at the prospect of talking to a member of the opposite sex. The girls at school were knowable, maybe even kissable; but the idea of conversation with a woman, an actual adult stranger, filled me with dread. Unaffordable drinks, unknowable females, there was nothing to do but dance.
As soon as the band came on, the floor would invariably clear. Despite this Baileys persisted with the cabaret-style entertainment as if the atavistic club format was still de rigueur. You could have seen living legends like The Four Tops and The Jackson Five round the corner at the Fiesta; but it was evident that Barry, Robin and Maurice – the three horsemen of the discopalypse with their armour piercing falsetto flechettes, were ushering in a new era of dance floor dominance.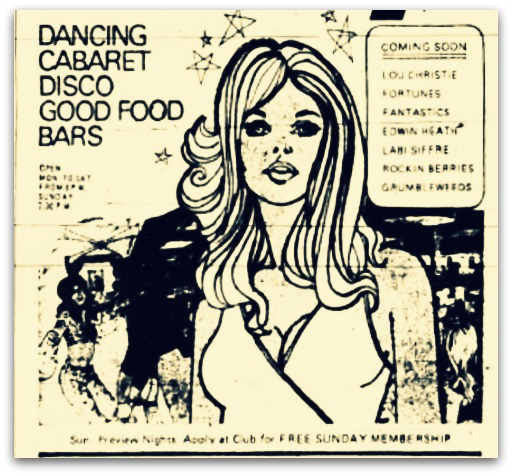 Of the bands we saw at Baileys that summer - the anaemic, insipid Street Choir, or Steeley with their snarky banter and a cover of 'Band On The Run' which was a slick, dovetailed counterpoint to our own spindly, Bostik'd version - it was a band called Magic who left the deepest impression.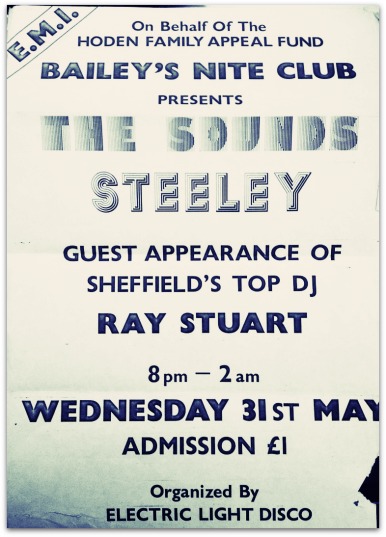 Saturday 10th June. After an afternoon of jamming, playing cricket and record shopping (I bought 'Don't Fear The Reaper' by Blue Oyster Cult), Timbo, Lango and I headed into town for a night out at Baileys. Lango didn't get past the cloak room, as the bouncers took exception to his suit 'n' sneakers combo, and promptly ejected him for "inappropriate footwear".
Magic, a six-piece made up of lads their mid-twenties, were disciplined, well-drilled and driven entertainers, four years on the circuit already. The club scene demanded note-perfect reproductions of the hits of the era - the now ubiquitous tribute act network has its roots here; and their Memorex renditions of songs by ELO, The Beach Boys and The Four Seasons were crafted counterfeits of the originals. They closed with an audacious Airfix-scale attempt at 'Bohemian Rhapsody' which they executed – cod opera section et al – with no little aplomb. Bewitched, bothered and Bismillah'd, Timbo and I were enthralled. Magic's attention to detail was intimidating - each cramponed chorus, every belayed bridge needed to scale Mount Freddie. We could just about negotiate 'Dizzy Miss Lizzy' without rupturing the rhythm or crashing the chorus. Could we ever be this good?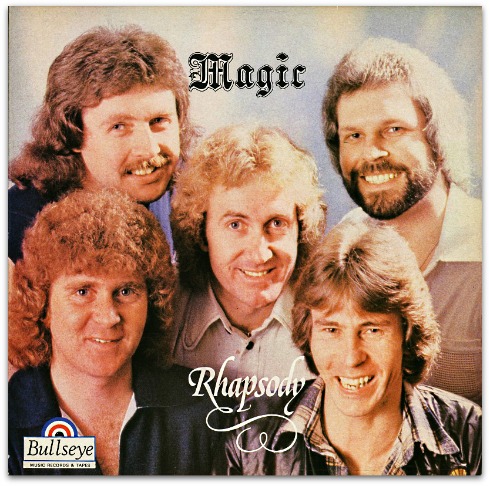 My summer of disco came to an unseemly end on the dance floor at Baileys, around 11pm on Saturday 24th June. Inspired to break out some new moves by the irresistible, nuclear groove of 'Disco Inferno' by The Trammps, an attempt at a Cossack-style knee squat resulted in a loud, tearing sound around my nether regions. My sartorial selections for that night, aquamarine Birmingham bags, topped off with a navy-blue blazer, couldn't cope with the terpsichorean torment. I edged off the floor - cheeks blushing, buttocks clenched - praying that no-one could see the purple nylon pants exposed by a Polyester parting of the seams.
A problem shared gives everyone a good laugh, and Timbo, Lango, Vinner and Wilma split their sides with the news of my split strides. That night's band, Mother Nature's Children, would go unseen by me. That's how disco dreams end, not gyrating to Gloria Gaynor under the glitter-ball of the Gods, but alone, trousers in tatters, on the last bus home.
---
Magic were well placed when the demand for UK tribute acts hit its stride in the 1990's. They continue to work today as one the most popular Queen shows on the circuit, also touring with evenings devoted to the songs of ELO and Fleetwood Mac.
Spotify playlist here.
Postscript.
After I originally published this post, Dave Fusaro from Magic got in touch and shared some of his memories of this era.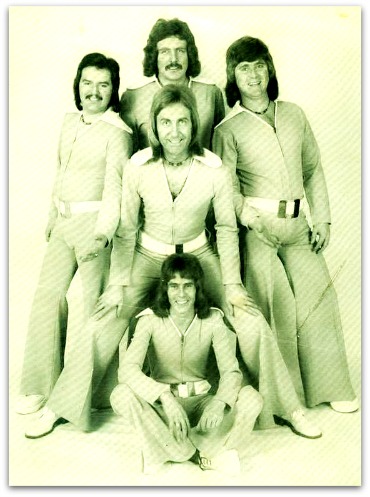 Here's Dave...
The band actually got together in 1973 and at that time our ages ranged from 21 to 27.
In the days of Sheffield Bailey's we were just happy to be making a living in the music industry and trying our best to be amongst the top bands on the club circuit. I suppose we were one of the top earners on the circuit but we were never well off financially, I don't think many acts could say they made a lot of money in the clubs. That wasn't the point though we just loved being "pro" musicians.
Sheffield Bailey's was quite a good, maybe prestigious, venue and there was a chain of them at that time. One in the North East (South Shields), which was the head office if my memory serves me right, one in Birmingham and possibly others that I cannot remember.
We had had record deals in our early years and had a few singles released but no real success on that route. In those days it was the common thing to have songwriters and bands and generally most bands didn't write. The Beatles and Stones were the pioneers for songwriting bands. We did dabble with writing in the late seventies but never came up with anything any good. We were performers and loved what we did.
There were a few good bands on the club circuit in the seventies and as you mentioned Bitter Suite was one of them. They were a top band but like us had no real success in the recording world apart from one member of course, John Parr.
There was Canned Rock, a three-piece that were originally part of a band called The Endeavours where Trevor our lead guitarist and Roger the lead singer also had their roots. Another local band to Sheffield was Greengage who did pretty well on one of the 70's talent shows, "Opportunity knocks" I think. I can't remember any others just now but I'm sure there was, but we didn't see them as competition as it was good for the industry to have a good choice of quality acts.
In those days we covered songs by the The Four Seasons, E.L.O. (it had to be 'Mr Blue Sky') The Beach Boys and Queen. The Beach Boys masterpiece was 'Good Vibrations' so that had to be played; just like Queen's 'Bohemian Rhapsody' had to be done if Queen was going to be covered. Canned Rock also played "Bo Rhap" and did quite a fair job of it for a three-piece, but their special song was 'Music' by John Miles.
'Bohemian Rhapsody' has been very special to us over the years, and since we have been doing the full Queen tribute it has help to make us stand out from other tributes as we are the only ones to play it completely live, opera section and all.
There have been changes to the lineup since we started. When we played Bailey's in Sheffield we were probably on our third bass player (Stan) and since then there have been two others. The rest of us Roger (lead vocal), Trevor (lead guitar), Rob (drummer) and myself (second guitar) have been there since the birth of Magic. We were joined by Dave Chapman, the keyboard player, who is the brother of our present bassist Colin, originally to support us when we put together an E.L.O. tribute show which we still do alongside the Queen tribute. Dave joined us a few years ago on a permanent basis to add extra power to the Queen show.