Firth Park Comprehensive School, the Brushes Building. It's a July afternoon near the end of term, and lessons are over for the day. I'm in the music room, sitting behind a drum kit. Opposite me, the music teacher Mr. Jackson sits at an upright piano.
"Follow me Roger: and one and two and three and four."
The jaunty opening chords of "Wilkommen" ring out across the desks and chairs, but my life is not a Cabaret. I gamely tap away at the snare and hi-hat, struggling to play along.
Mr. Jackson stops abruptly.
"Tempo, Roger, Tempo! You are slowing down, keep up with me."
John Jackson, music teacher, responsible for the production of school's annual musical. He dreams of dinner with Delfont, gossiping with Gubbay; but his reality is more prosaic, a dizzy arrhythmic drummer in a South Yorkshire comprehensive, tip-tapping away to Kander & Ebb.
"Can you play this Roger? Can you keep time? Show me what you do with that pop group you're in."
Encouraged, I attack the drums and cymbals, and the indelicate clatter reverberates out into the deserted corridors. I'm channelling my heroes – Keith Moon, Charlie Watts and cartoon octopus Squiddly Diddly.
Or so I think. In truth, my Moon has waned, my Watts are low and Squiddly Diddly means diddly squat. As a self-taught drummer, my relationship with time-keeping extends to turning up to practice at the appointed hour. Anything after that is frankly a bonus.
Deafened and unimpressed, Mr. Jackson harrumphs: "Let's try again next week, Roger; this is "Cabaret" not rock and roll!" No cymbals are thrown, but my own personal 'Whiplash' is deferred. The show is due to open in mid-September, it'll be all right on the night, surely?
Our high school musical version of "Cabaret" has already been plagued with production problems that would test the mettle of Broadway's finest. Some concerned parents have questioned if the show is appropriate for 17-year-olds, given its adult themes and decadent 1930's Berlin setting. For John Jackson, the fine chalk line between impresario and emperor has long been rubbed from the blackboard, and he is loath to compromise his artistic vision.
After negotiations with the headmaster, a consensus has been reached. Performances will not take place on school premises, but across town at the university drama studio. The depravity of "Cabaret" is to be leavened with the addition of Sandy Wilson's flappers 'n' fringes fluff piece "The Boyfriend", recently filmed by Ken Russell with Twiggy in the lead role. Finally the headmaster will inspect a dress rehearsal line up of the sixth-form girls cast to play the Kit-Kat Club dancers, to personally ensure they suitably attired for public display.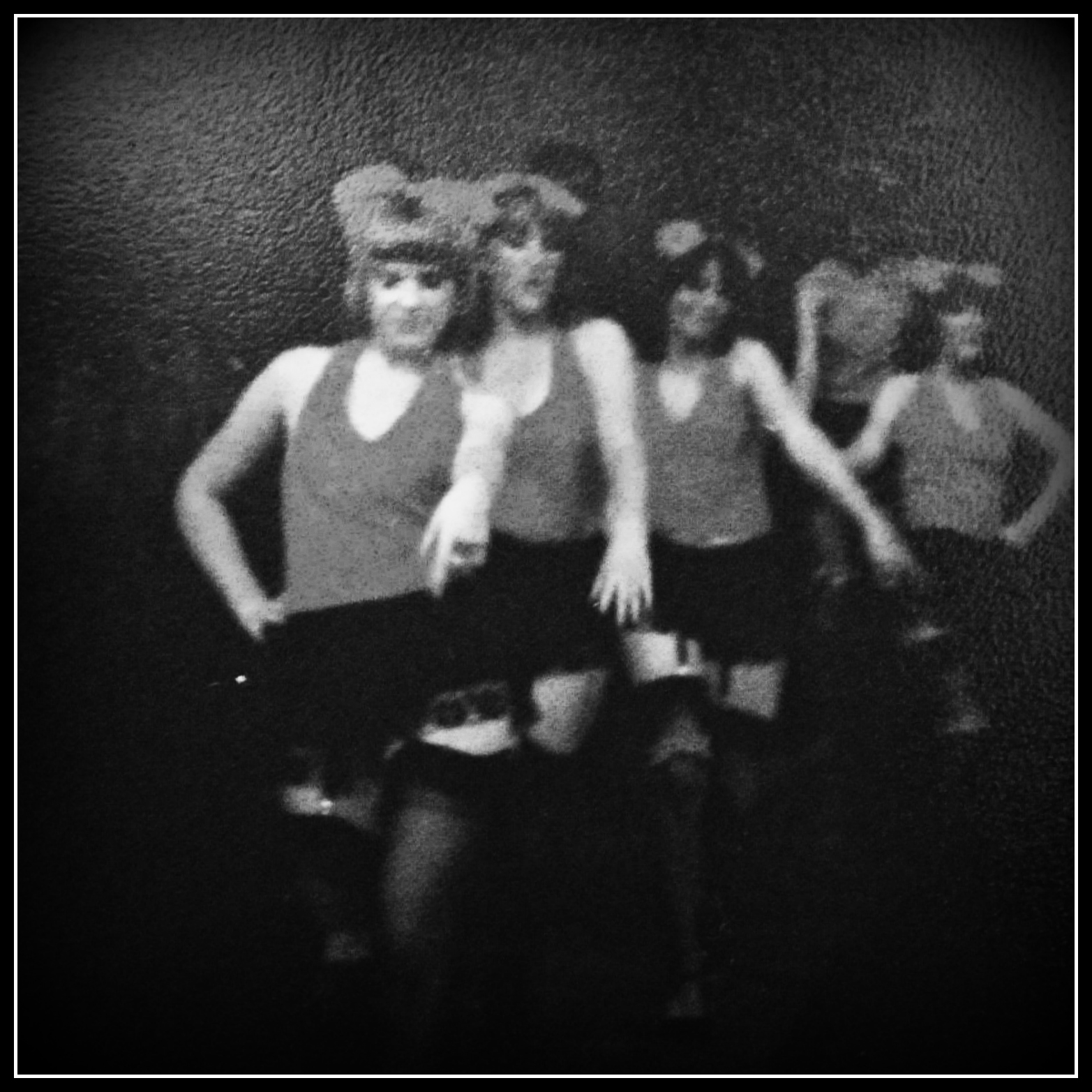 Kit-Kat girls, September '78.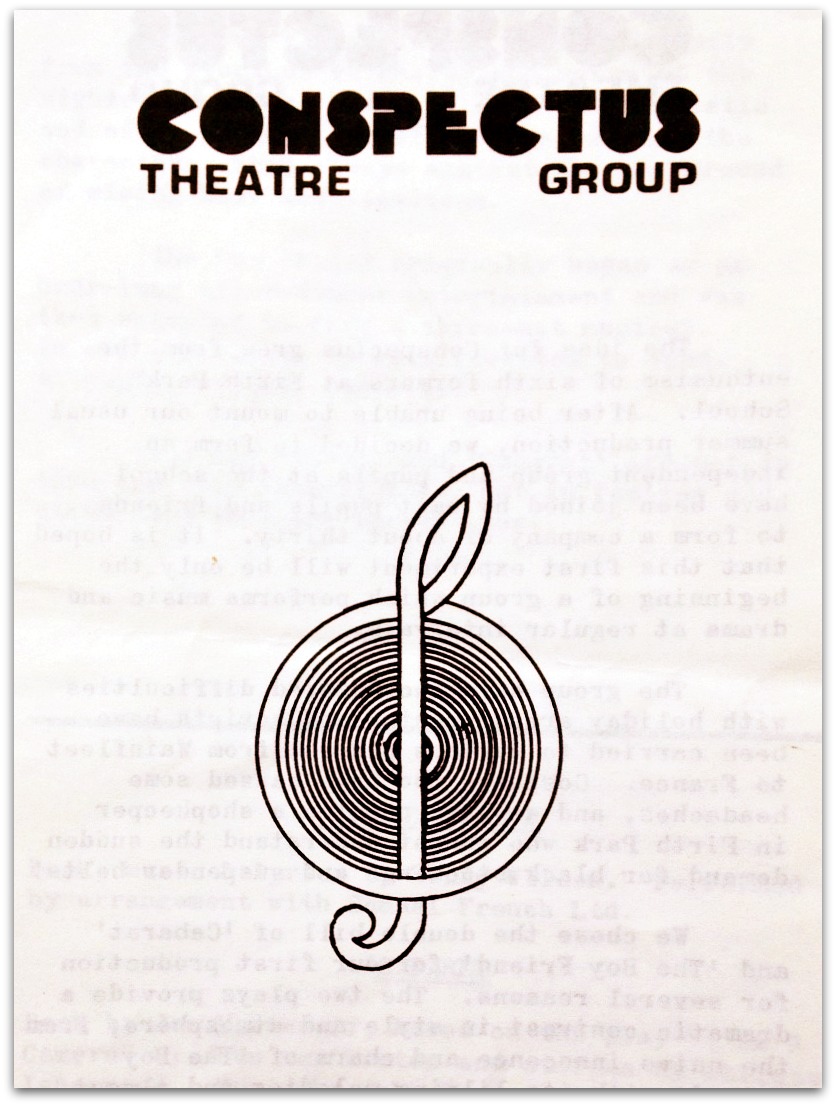 School term resumes in September, and the loftily-named Conspectus Theatre Group's double-header presentation of "The Boyfriend" and "Cabaret" opens on Thursday 14th September for a sold-out three-night stand. Any fears that Jackson's folly will flop are unfounded. Channelling the can-do spirit of Rooney & Garland's "Let's put on the show right here!", we teenage troupers deliver a creditable first night performance. As well as my percussive role in the Kit-Kat Club band, I've also been cast as Bobby in "The Boyfriend". It's not exactly a testing role, largely involving the wearing of white slacks, the carrying a tennis racquet, and repeated ejaculations of "swell".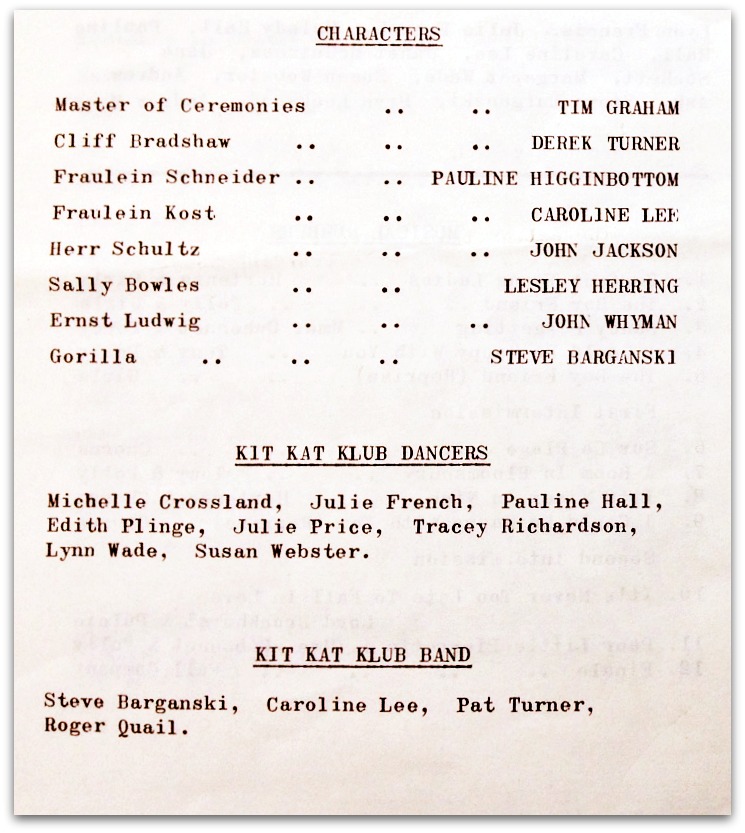 The part of "Cabaret" that the lads like best is when the chorus sings "Tomorrow Belongs To Me", because we all know it from the eponymous Sensational Alex Harvey Band album. Proud but puzzled parents can be heard discussing why the young folk of the Weimar Republic suddenly sound like a gang of Clydeside dockers.
Baptismal butterflies behind us, the Friday night show is a resounding success. Giddy on greasepaint and the roar of the crowd, I meet up with band mates Vinner and Lango at the stage door, and with the curtain calls still ringing in my ears, we head down West Street looking for a drink.
We arrive at The Limit club, which has a late license. Down the steep stairway we trot to the ticket booth.
"Who's on?"
"Snips."
"What?"
"Snips. It's New Wave."
"How much?"
"50p."
"Three, please."
The Limit is half empty. The typical hardy mix of misfits, under grads and musicians have been supplemented tonight by a smattering of townies, taking advantage of the clubs relaxed door policy – no jacket and tie required.
Snips are on stage. It's confusing because Snips is the name of the singer, while his band are called the Video Kings. Snips himself is a vision in chartreuse green and leather; the band have Clash-style guerrilla print shirts with Video Kings emblazoned across the front. Snips (or Steve Parsons to his Mum) was in a band called Sharks with Sheffield guitarist Chris Spedding and ex-Free bass player Andy Fraser. Sharks released a couple of albums on Island Records earlier in the Seventies.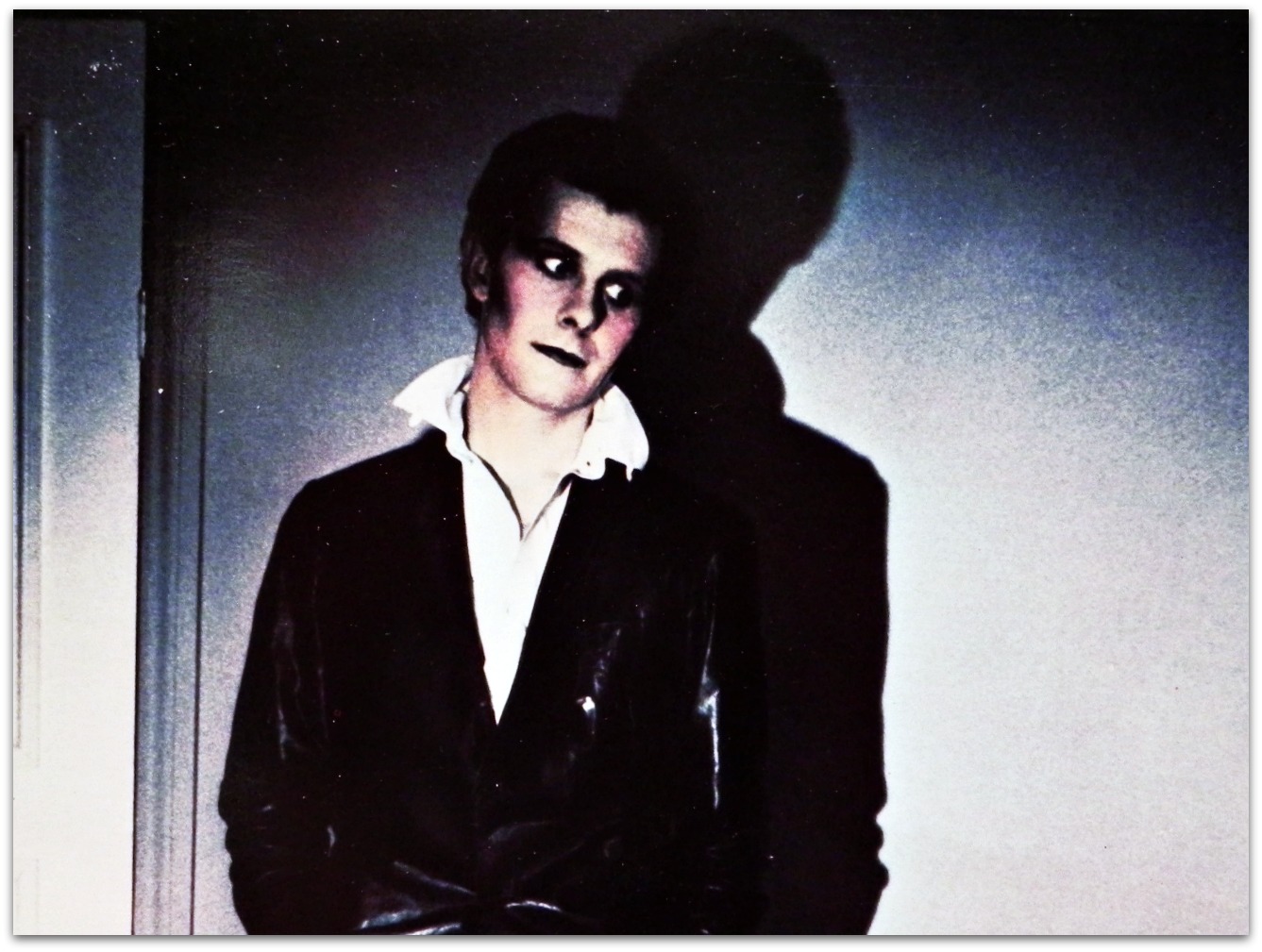 Like countless other twentysomething musicians at this time, Snips is clinging to the spittle-splattered undercarriage of the last New Wave chopper, as it claws for the air beyond the roof of the Hope & Anchor pub, scattering denim, clogs and cheesecloth in its downwash. Record labels are snapping up bands that have slashed their guitar solos, narrowed their lapels and nicked their Dad's skinny black funeral tie. Hence Snips is signed to Jet Records, home to those punk rock titans Lynsey de Paul and the Electric Light Orchestra.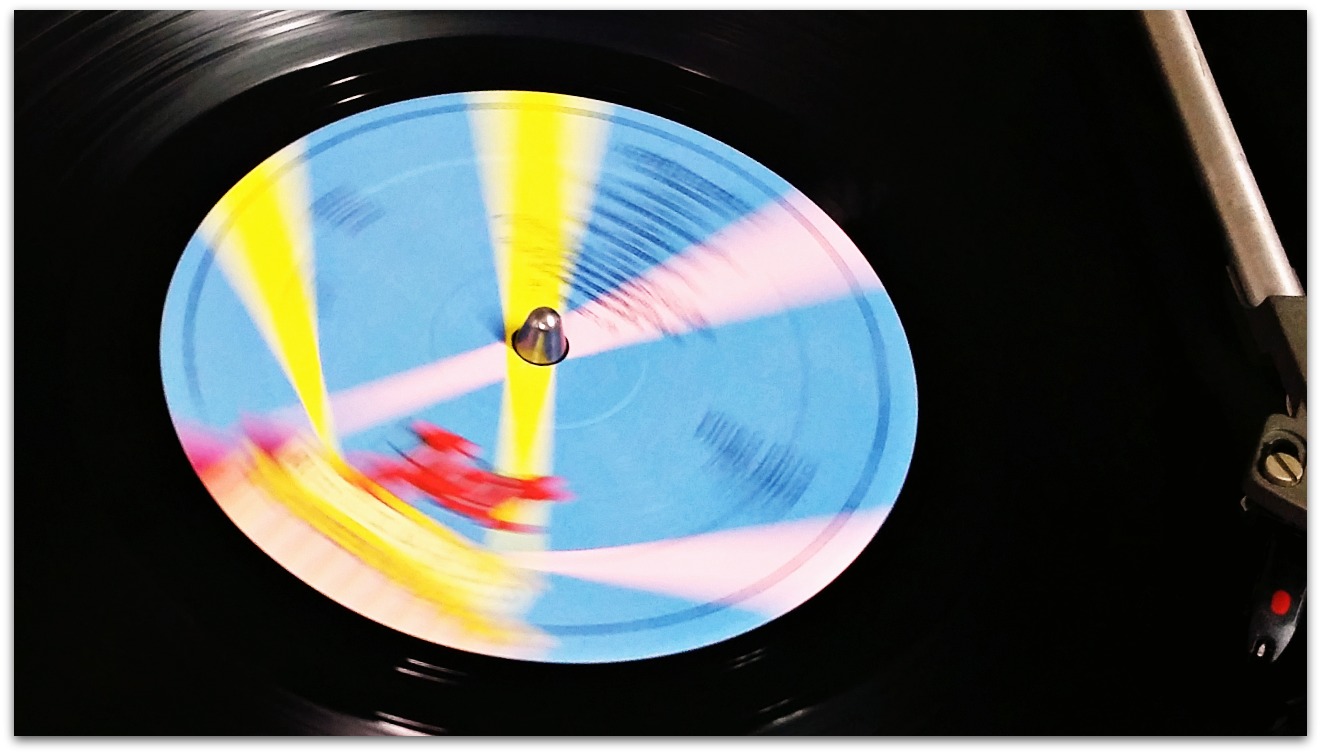 The Video Kings are hired hands, guitarist Mick Dyche was in Wild Turkey with Jethro Tull's Glenn Cornick; drummer Graham Deakin plays with The Who's John Entwistle on his solo adventures; Rhythm guitarist John Bentley was in Blood Donor, bass player Jackie Badger was in all-girl rock band Mother Superior. She is the first woman I have seen on stage since The Runaways last November.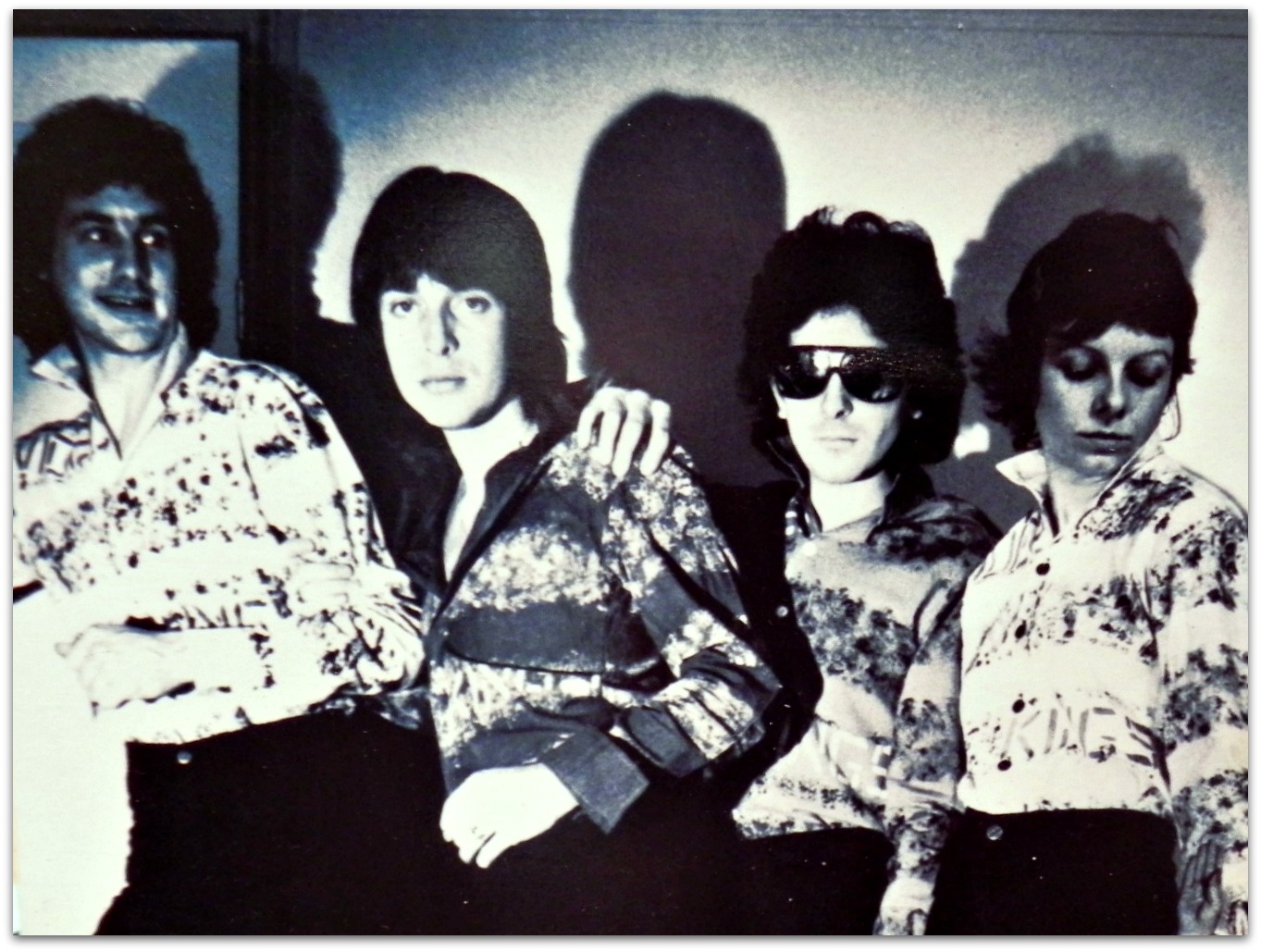 Video Kings: Mick Dyche, Graham Deakin, John Bentley & Jackie Badger.
Tresses have been shorn, beards have been banished, and flares have been tapered. An album, also entitled 'Video King', has been recorded with young producer Steve Lillywhite, best known for his work with Ultravox and Siouxsie & The Banshees. Snips and the Video Kings are in Sheffield warming up for a big UK tour supporting the Ramones. Their sound guy has evidently decided to set the PA volume for the big Apollos and Odeons they will be playing with Da Brudders, and we are being broadsided by the band in our little Sheffield bunker.
Snips himself is a camp hybrid of Noel Crombie from Split Enz, Leo Sayer and, serendipitously for me, Joel Grey from the film version of "Cabaret". Gone is the bluesy rasp of his Sharks era voice, replaced by a clipped, fey, post-punk bleat - brambles uprooted for manicured orchids. He's a watchable frontman - part-mummer, part-meerkat – who's unafraid to play the fool or add mime shapes to his act. "Good luck doing that in front of the Ramones' audience", I say to Vinner.
Behind him the Video Kings blunderbuss their way through his punky "thou-shall-not-exceed 180 seconds" pop template. They sound a bit like The Cars, but without the hit singles. A song called "Dracula" puts the ham in Hammer Horror, coming out more 'Carry On Screaming' than 'Nosferatu'. Ironically, it's only when they stretch out into the almost prog territory of set closer "Animal Century" that they ignite, and we happy few surrender like seals, bludgeoned into submission by the drummer of The Ox.
Steve Parsons, twenty-eight years old, looks out across the flotsam of a Sheffield Friday night, and beyond us into the vast oceanic uncertainty of the thirty-plus rocker without a hit. He's changed his name, changed his band, his hair, his clothes and he's even changed his voice; but can he change his luck?
---
Snips parted company with Jet Records after the 'Video King' album.
He married bass player Jackie Badger.
Mick Dyche went on to play guitar on "Drivers Seat" by Sniff 'n' The Tears.
John Bentley went on to be bass player with Squeeze.
A second Snips album "La Rocca" was released through EMI in 1981. Guests included Midge Ure, Bill Nelson, Chris Spedding and Dave Mattacks, sometime member of Fairport Convention.
Lead single "9 O'Clock" was not a hit.
Steve Parsons works in film and TV, and formed King Mob with Chris Spedding in 2011.