A job.
Finally, I have a job.
Almost a year to the day since I left school, and after twenty-five job applications this year alone, I am to be a pensions and insurance clerk at the National Coal Board.
Mum and Dad are delighted. A proper job, with much better prospects than that odd pop group with the unpronounceable name that I play with.
I have an Aunt in management at the NCB, who's apparently on first name terms with Arthur Scargill. She tells my parents that I got the job on merit, which immediately sends me scurrying for a dictionary to check the definition of nepotism. No matter, at £61 a week, plus over-time, bonuses and flexi-hours, I'll take it. Mammon come for me.
T.Rex, "Unicorn", the Spiders from Mars, Jet Silver and the Dolls of Venus. All these cherished exotic creatures from my teens are ill-prepared for the meteorite of adulthood that finally threatens to obliterate my adolescence. Once again, it's time to don the fern green suit, traverse the cobblestones of Sheffield's Paradise Square like a one-man Birnam Wood, and descend upon my own personal Dunsinane at the NCB's Queen Street offices. Can I balance a steady 9-to-5 job with my dreams of rock'n'roll stardom? A Clark Kent of the coal board by day, an industrial jazz-punk Keith Moon by night?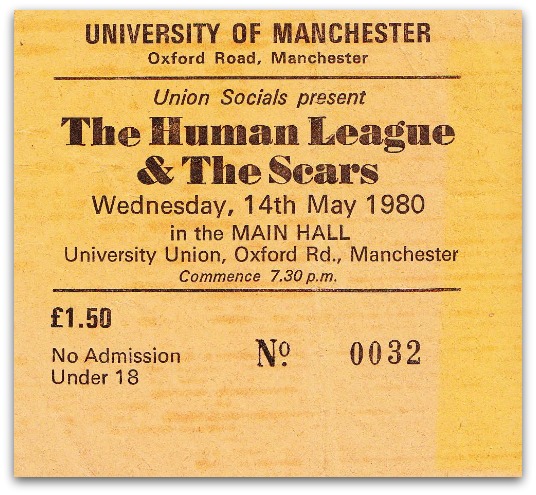 Ticket courtesy of Rob Kerford (gig was originally scheduled for Wednesday 14th May)
The first test comes with the news that Clock DVA will be opening for The Human League on two nights of their UK tour, in support of their new album 'Travelogue'. (Or Travelodge, as we quietly call it amongst ourselves down the pub.) After a trip to Manvers Main Colliery for an X-ray and a medical - this is the one and only time I will actually visit an actual mine - I'm able to slip away for the afternoon to meet the band at our rehearsal room, a damp garret in a yard next to The Limit Club.
"Everyone takes a cut of your fee at The Limit, people with totally ridiculous jobs like plectrum polisher." – Martin Fry.
We head off in the van over the A57 towards Manchester, with strapping Stockport lad and general bon vivant Martin as our on-board human sat nav.
"Imagine getting lost in Manchester and asking Ian Curtis for directions." The van chuckles as half a dozen arms flail around in a clumsy, affectionate tribute to the Joy Division singer's frenzied Saint Vitus dance, blithely unaware that his own final tragic dance with his demons had ended just hours earlier.
We arrive at Manchester University, where young fans are swarming around the stage door hoping to meet The Human League. The band have just appeared on Top Of The Pops for the first time, miming to their cover version of Gary Glitter's 'Rock 'n' Roll Part 2' from the 'Holiday '80 EP', pop princes awaiting coronation. We are on-stage, completing a rudimentary sound-check, when the venue doors open and a fizzing stream of student fans pour across the hall to get the best spot up against the barrier in front of the stage. They gaze up at us in curious expectation. Here we are now, entertain us. No time for stage clothes, no time for intro tapes; we shrug and start to earnestly assault their senses with our truculent plague of virulent noise. To which, in fairness to ourselves, they are surprisingly responsive to.
Our brief, 25-minute set completed, our gear is swept away by previously unseen hired hands to make room for The Scars, who are the main support on all the tour dates. Edinburgh lads, about the same age as us, they have a connection with the Fast Product label, who released the first Human League single. The Scars blaze away, running through their porcupine pop songs with the bravura of a band who have a run of shows under their belts. Then the roadies re-emerge from the shadows, to set up the stage for The Human League.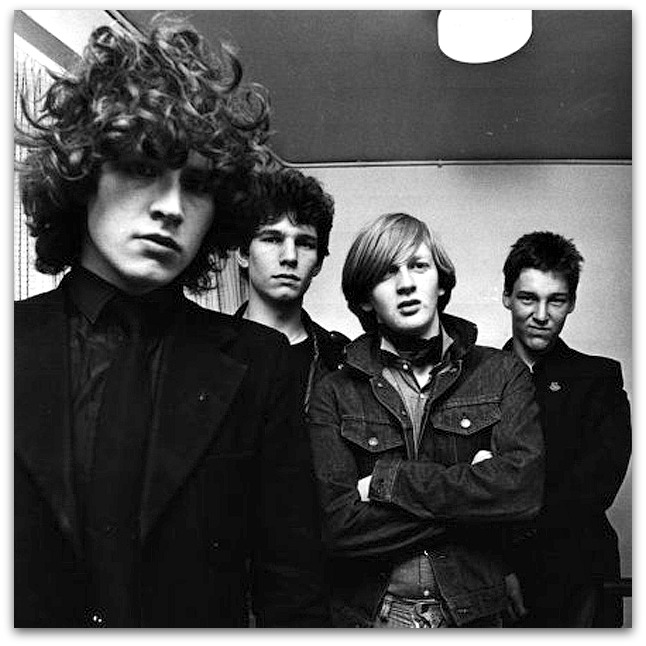 The Scars.
This is my first time seeing "The League" live. I was too young for the infamous night at The Limit Club, when they shared the stage with Def Leppard. So while I bought 'Being Boiled' and liked 'Empire State Human', there always seemed to be something else to spend my dole money on.
Three huge screens dominate the stage as the intro tape gives way to the ominous creep of 'The Black Hit Of Space'. The song explodes into life – John Barry meets James Burke atop a synthetic sledge-hammer beat. Suddenly the screens are alive, a constantly rotating, pulsating patchwork of imagery. JFK, B-52 bombers, radio transmitters, John Wayne, Vargas girls, moon landings, Lolita and more. Sex, money and power: a bewildering myriad of pop culture imagery endlessly shifting in front of the eyes. Disney's "Black Hole", Janet Leigh, helicopter gunships, Lauren Bacall. All coupled with the tumultuous torrent of sonic energy pouring forth from the PA. I am instantly utterly transfixed and amazed by the sensory overload. This, then, is the gift of sound and vision I have been waiting for.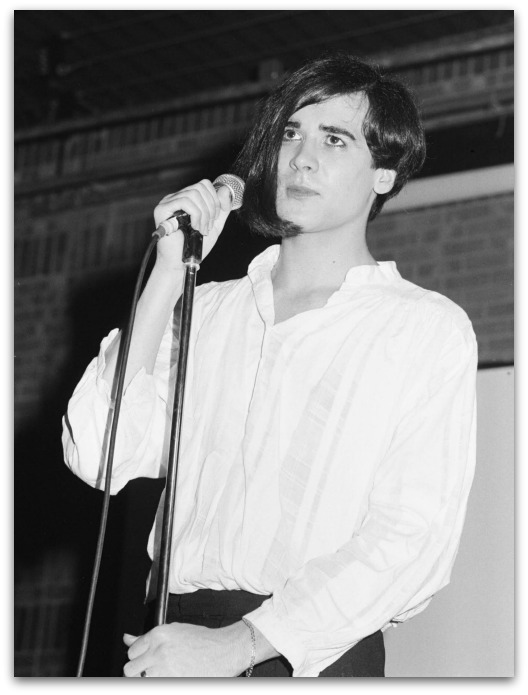 Phil Oakey, Sheffield 1980. Photo by Pete Hill.
Phil Oakey, his hair like a Hokusai wave, is centre stage, wearing what could be reasonably described as a big girl's blouse. The hypnotic, undulating pulse of 'Dreams Of Leaving' begins, as Phil, with extraordinary prescience, dusts off his crystal ball to foresee a distant twenty-first century future of civil wars, human trafficking, desperate refugees and displaced immigrants.
"I felt I had to come here,
I thought things would be better
The situation's changed but I find I'm still resented
Someone wants my job it is someone in this building
Someone's spreading rumours and I don't feel I can stay here."
Just behind Phil stands Adrian Wright, studiously attentive at his work station, ring-binders of slides illuminated by an anglepoise lamp, cueing and triggering the imagery which continues to mesmerise the audience. I'm fascinated by the juxtaposition of futuristic sounding music and visuals which evoke the recent past.
Next up is Lou Reed's 'Perfect Day'; the stage darkens, allowing Adrian to change the slides in the projectors behind the screens. Martyn Ware, sporting a CHiPs shirt and a Joy Of Sex beard, accompanies Phil's stentorian rendition on piano. Today is Martyn's 24th birthday. Then it's the Jodorowsky disco of 'A Crow And A Baby' and a giddy electro romp through Mick Ronson's 'Only After Dark'. Ian Craig Marsh, wearing headphones the size of oven-gloves, stands in front of a small telephone switchboard of snaking wiring, prodding the beats along, dutifully keeping an eye on the two Revox tape machines churning out the backing tracks. What with the slide presentation, work station, telephone exchange and the hypnotic, unspooling reels of tape, this could be the opening act of "IBM: The Musical". Starring Phil and Martyn as the bright lights of sales, with Ian and Adrian as the unsung, unassuming back-room boffins.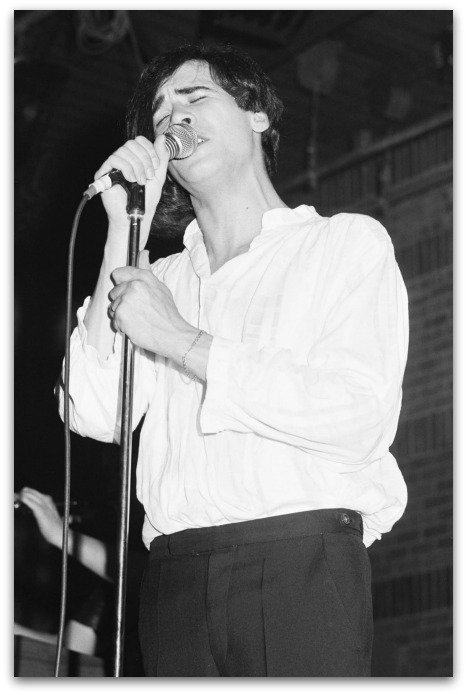 Photo by Pete Hill.
Phil flicks his Niagara curtain of hair, as the last song, 'WXJL Tonight', shimmers gracefully around the hall - Harry Chapin's 'W.O.L.D.' re-imagined for the digital age, and eerily predicting the takeover and homogenisation of independent radio by the Clear Channel behemoth of the 1990's.
"Automatic stations came
and sent them all away
And now I'm left alone I haven't got a word to say."
We head home in good spirits, over the Snake Pass, gazing at the stars over Kinder Scout. In bed by two-thirty, back at my desk at nine, this touring lark is a slice of Battenberg.
---
"The way I see it, it's just less competition for us".
Ian Curtis is dead. Down-to-earth, no-nonsense saxophonist Charlie Collins is unmoved by the news, as the van heads down the M1 towards Derby, for our second and final support slot with The Human League. Blunt, seasoned and unsentimental, Charlie's seen it all before. He saw The Doors at The Roundhouse in 1968, and he wasn't that bothered when Jim Morrison died either. He's a wise old owl, and he's right, this is a competitive business; but nonetheless I'm upset by the news. 'Unknown Pleasures' is one of my favourite albums, sound-tracking countless epic air guitar sessions in front of the living room mirror, or as a subconscious echo to existential mooching around town. No-one in the office asks the new kid in the green suit why he's wearing a black tie at work.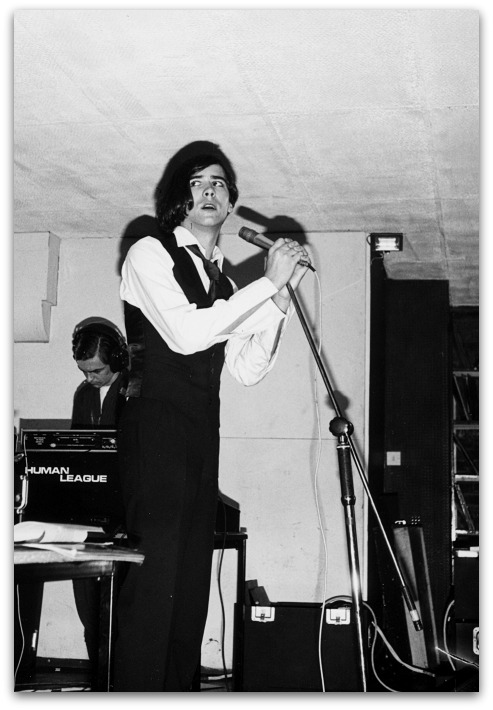 Ian Craig Marsh and Phil Oakey. The Limit Club, Sheffield.
Photo by Kitty Parker.
The gig is at the cavernous Derby Assembly Rooms, an unlovely concrete shed which has just hosted the British Snooker Championships. News of The Human League's imminent promotion to UK music's top flight has been slow to reach the East Midlands, and we play with great gusto to polite pockets of applause from a well scattered gathering. The Scars fair a little better, I'm hugely impressed with their interpretation of 'Your Attention Please', Peter Porter's terrifying poem of impending nuclear obliteration, which we studied at school. It's set here to thunderous riffing, martial drums and a passionate, desperate invocation by vocalist Rob King.
Back-stage we get chatting to The Scars; they are sound, affable lads with humdinger Scottish accents. All their gear was stolen after the Manchester gig, and they are stoically getting by on loaned equipment. Someone mischievously suggests we drink The Human League's rider. Until now I've thought a rider is some poor unfortunate who's become unseated in the 3.30 at Plumpton. Only now do I discover that this is the name given to the snacks, beverages and fluffy towels requested by the head-liner at each venue. Some years hence I'll discover who actually pays for this privilege, but tonight in Derby all I can see is FREE BOOZE. We talk about Ian Curtis; we talk about music, good gigs and bad gigs. There is laughter, there are toasts, and I'm young and naïve enough to hope that there might be some kind of camaraderie of the road between musicians. Perhaps this is what it feels like.
"Where's the fucking money?" A row breaks out in our camp, bursting the bubble of bonhomie. Internecine falling out is a regular occurrence, especially over matters of finance, and this one has been brewing like a fart in a full Ford Transit. "One for all, and all for one, except when it comes to money" mutters Charlie, darkly.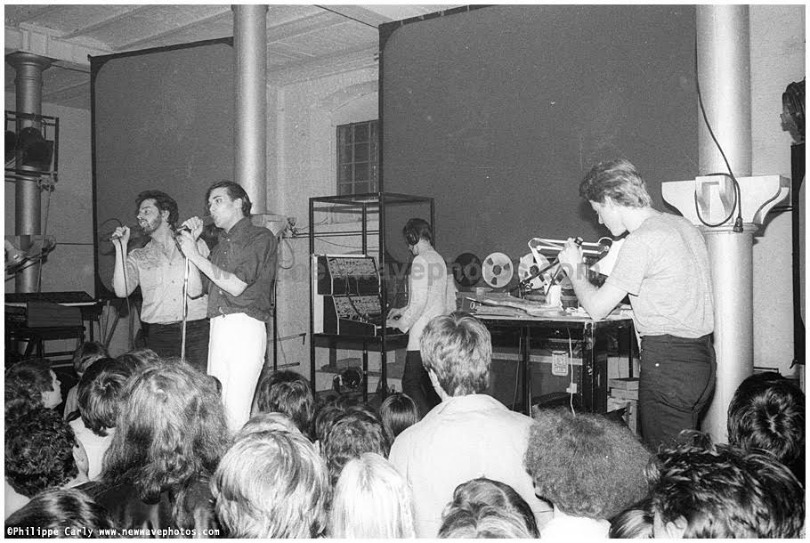 The Human League. Live in Brussels 1980.
Image copyright Philippe Carly.
See more at his website www.newwavephotos.com here.
I step out, take a seat at the side of the auditorium and watch the band. Their dazzling son et lumière has entranced the small but enthusiastic crowd, and they have been called back out for a three song encore: brand new dance floor-filler 'Marianne', near-hit 'Empire State Human' and the as-seen-on-TV 'Rock'n'Roll Part 2'. I take a seat at the side of the auditorium and watch the band. They're professional recording artists, on the same label as Captain Beefheart and the Sex Pistols, and from my home town. Eighteen months ago they were a hospital porter, two computer programmers and a film student. It can be done, I tell myself.
I cast my glassy eyes up to the rows of vacant seats on the balcony and find myself thinking about Doug Mountjoy, Bill Werbeniuk and Ray Reardon. I think about my Mum and Dad and growing up, and the futile but oddly comforting habit of watching Pot Black on a monochrome telly.
Next day I'm staring into a VDU, trying to make sense of the microfiche reader while managing my first ever hangover at work. Meanwhile, The Human League are sound checking at Tiffany's in Coventry, just two more shows away from a head-liner at London's famous Hammersmith Odeon. Clark Kent, can you hear me?
---
The Scars released their only album - 'Author! Author!' - in 1981. You can find out more about the band at: http://researchgtr.20m.com/
This line-up of The Human League split in November 1980.
Phil and Adrian put together a new band, and went on to enjoy huge international success with the release of 'Dare' in 1981.
Martyn and Ian started the British Electric Foundation, with spin-off group Heaven 17 finding fame with a string of hit albums and singles in the 1980's. Martyn produced Trent Trent D'Arby's multi-platinum selling debut album.
Both The Human League and Heaven 17 continue to tour today.
---
Spotify playlist of Sheffield fanzine NMX reader's chart from May 1980 here.
More pictures and reviews over at http://mylifeinthemoshofghosts.tumblr.com/
Thanks to Charlie Collins, David Hammond, Paul Research, Kitty Parker, Pete Hill, Simon Dell, Philippe Carly and Peter Bargh.