"We've got African brown rice and lentils, mung bean noodles, a tabbouleh salad. . ."
"'Ave yer got any chips?"
"We don't do chips."
"Those bananas look a bit funny."
"They're not bananas, they're plantains."
Welcome to The Leadmill, Sheffield's newest alternative music venue. With the demise of our beloved Blitz Club, and The Limit full of tanked-up lads with SWFC tattoos, numbly swaying to Gary Numan, we avant-gardeners are in dire need of fresh pastures on which to sow the seeds of our existential angst. Our destination is a dilapidated warehouse on an anonymous-looking street halfway between Pond Street bus station and Bramall Lane.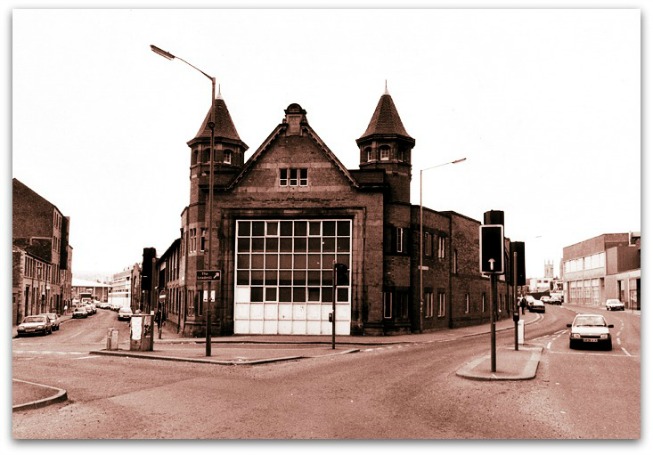 Junction of Leadmill Road (left) and Shoreham Street.
My first impression is that I've been Tardis'd back to the 1971 set of 'Here Come The Double Deckers!'. It's a cavernous, ramshackle space - lots of exposed pipe-work, extractor fans, dust sheets and scaffolding. Skylights are rendered opaque by decades of dirt, deposited by rain and industry. Still, I reckon if we all raid our Mum's pantry's for BacoFoil, we can have it looking like Warhol's Factory quicker than you can say Joe Dallesandro.
Scooper, Billie, Sticks and the rest of the Double Deckers gang are nowhere to be seen, having been replaced by a patchouli cloud of amiable, scruffy, willing but slightly clueless Wolfie Smiths. I know these people. A couple of years ago I spent a few evenings at an ashram in Pitsmoor, listening to The Doobie Brothers sing 'Jesus Is Just Alright'. These are HIPPIES. They might have swapped their clogs for Kickers, Afghan coats for over-sized Dennis The Menace jumpers, and the long flowing locks for a hacked-off-at-home scalping, but I know who they are. 'The Great Rock 'N' Swindle' came out in May, and we've already learned the "Never trust a hippie" mantra.
There's a strong smell of sawdust and wet paint, which mixes with the piquant aroma of exotic whole foods on sale. For a moment I wonder if this is how The Queen feels on a state visit to a Bombay carpentry exhibition. My limited palate isn't yet primed for foreign food; I've been reared in a household where Heinz tinned Ravioli is considered nouvelle cuisine. Instead I make my way to the make-shift bar, selling cans, wine from a box, soft drinks, tea and coffee from a wallpaper pasting table. It's been a good day, I've picked up the new Pere Ubu single from Virgin Records, borrowed 'Africa/Brass' by John Coltrane from the record library and watched Bjorn Borg win his fifth consecutive title, beating John McEnroe in an exhausting, five-set Wimbledon final.
I watch local poet Mark My Words go through his paces. I'm a huge John Cooper Clarke fan, so it's good to see someone from Sheffield unafraid to take to the stage with only a scabby book of poems for protection. With NHS specs and bobble hat, he looks like Where's Wally, in particular that illustration of Wally hidden in the West Street dole queue. Mark has been toiling away in grubby upstairs rooms in Sheffield pubs, and this is a big space to tame; but he does well tonight, winging it on adrenalin, humour and home-town charm.
Tonight's gig is a fund-raiser for the venue, although local council arts funding is apparently in the pipeline. It's the fourth time I've seen Cabaret Voltaire this year. With good reason, Sheffield is sometimes called "the largest village in England", and I've got to know Chris, Mal and Richard over the past year. They are affable, enthusiastic, absurdist and encouraging. Good company in the pub, and knowledgeable about music, film and art, they also have a nice line in self-deprecation. This is in complete contrast to their onstage presence. When the lights go down, they seem able to draw on a tar pit of oily black malevolence at will. It's almost as if they bring their own weather system; perhaps, I ponder, it's on their rider?
24 x cans of lager (Red Stripe)
3 x bottle of vodka (Smirnoff)
6 x white fluffy towels
1 x frontal depression, of not less than 992mb, to be positioned over the venue for the duration of the band's performance.
Their second studio album, 'Voice Of America', has just been released. The Cabs step up onto the six-inch raised platform which passes for the stage, and spark up the live debut of 'Western Mantra'. A punishing, hypnotic, bovver-boot march stomps out of the speakers. Mal, in a bright red shirt at odds with the creeping filmic noir around him, spanks away at an ersatz Hofner bass, growling out the words in his own unique post-punk parlando. Richard's guitar rains flaky, red rust particles, while Chris picks out a wheezing, reedy motif. For a moment it sounds like the band are soundtracking a scratchy Czech cartoon about a sad, angular rabbit.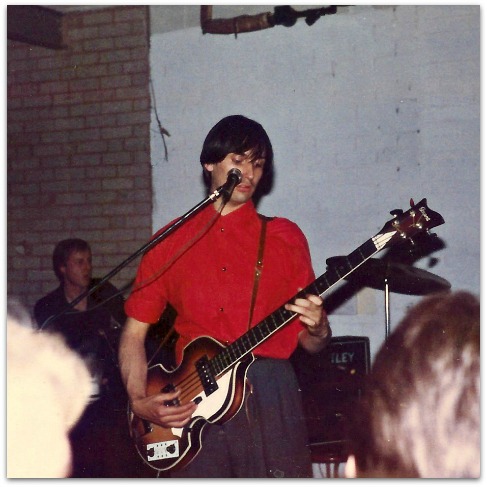 Chris (left) and Mal.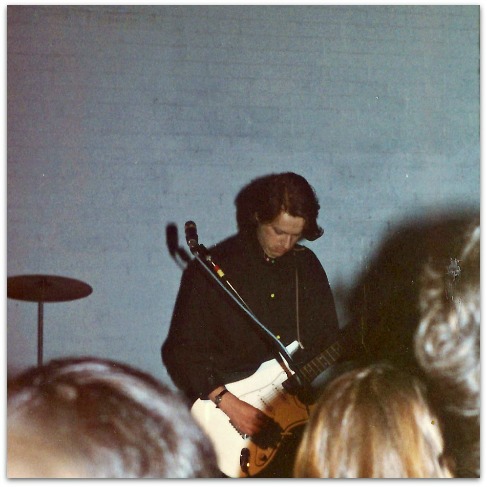 Richard Kirk (photos by Jon Downing)
Early single 'Do The Mussolini' is next, before the trio are augmented by John Clayton on bass and Haydn Boyes-Weston on drums. At first it's odd to hear these doyens of the drum machine playing with a tradition rock band rhythm section, and as the music uncouples from the rigid heartbeat of the mothership, exploring uncharted, improvised space, there are puzzled looks and a few heckles. Wasn't punk rock was supposed to have killed off jamming? Unperturbed, the group press on, exploring the possibilities as the sound clatters off the corrugated iron-clad brick work.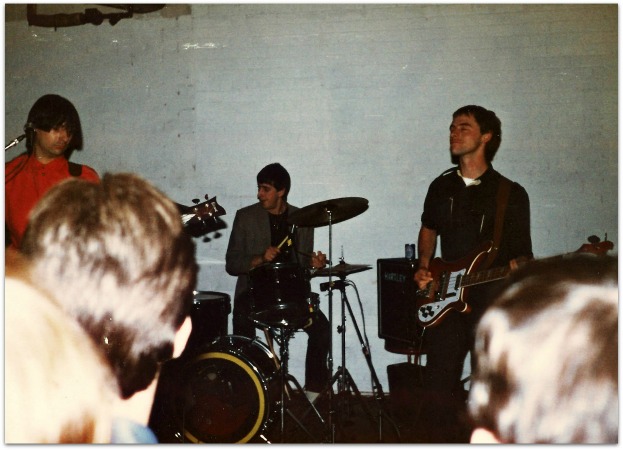 (L-R) Mal, Haydn, John.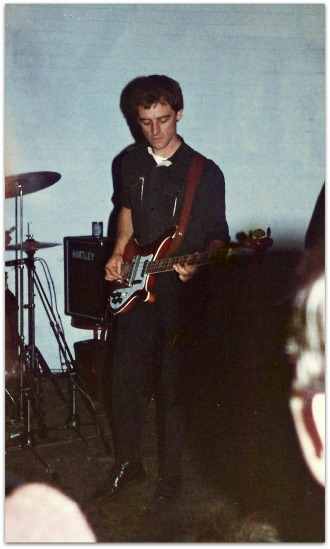 John Clayton (photos by Jon Downing)
These inventions give way to a blistering, twin-bass blast through 'No Escape', originally recorded by 60's US psyche-rockers The Seeds. Cabaret Voltaire suddenly and unexpectedly reveal themselves to be the best garage band you've never seen. Of course, this being the Cabs, the garage doors are sealed tight and the exhaust fumes within are puthering ominously. With that, the band go off, and the lights go up, as the DJ plays The Korgis - used to be Stackridge, more hippies - and thanks us all for coming out to support The Leadmill. It's curfew time for the venues temporary license.
Despite teetering uneasily somewhere between the bountiful enthusiasm of Mickey and Judy's "Let's Put On A Show!" MGM musicals, and a painfully slow and serious politburo decision making process, The Leadmill's big, agrarian, all-inclusive heart is pumping in the right place. Though I'd still rather have a Full English than a fava bean falafel.
---
Other gigs at The Leadmill in the summer of 1980 included the Bouquet Of Steel festival, headlined by Artery with an early appearance by Pulp, and the notorious ClockDVA, De Tian and Prior To Intercourse offal night on August 29th. Following a concert by the Dead Kennedys, The Leadmill closed in September. The venue reopened two years later and has remained a fixture on the Sheffield live music scene ever since.
Adrian Vinken, one of the original founders of The Leadmill, was awarded the OBE in 2006 in recognition of his work in the arts and urban renewal.
Gig photos by Jon Downing.
Thanks to Jon, Simon Dell, Charlie Collins and Mark Hurst.
More pics, set lists etc at http://mylifeinthemoshofghosts.tumblr.com/
Spotify playlist. NMX Fanzine Reader's Chart July 1980 here.