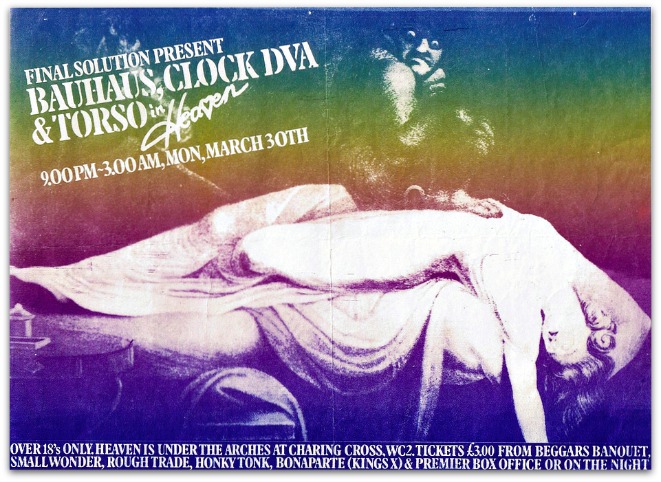 Gig poster courtesy of Simon Dell.
"Reagan's president elect
Fascist god in motion…
Brothers, sisters, we don't need this fascist groove thang."
Sheffield friends Heaven 17 have just released '(We Don't Need This) Fascist Groove Thang'. And despite Glenn Gregory pronouncing 'Reagan' as if it were the D.I. from 'The Sweeney' entering the Oval Office, the song's message is one that fellow, young, left-wing, liberal-minded musicians like us can get behind. So when the news comes through to us, supping pre-gig pints with some fans in the Griffin Tavern on Villiers Street, that President Reagan has been shot, the mood is somewhat celebratory. Indeed, what is more surprising to me is not that someone has attempted to kill the newly elected 40th President of the United States of America, but that ClockDVA actually have fans south of Chesterfield.
Our band is back in London to play at the Heaven Ultradisco, a gay club under the arches below Charing Cross station. Gig promoters Final Solution have started putting on shows here on Monday nights. Throbbing Gristle played at the venue just before Christmas, New Order last month, and my new heroes Pere Ubu just a couple of weeks ago. It is, in short, the new, cool place to play in London. We are nominally co-headlining with Northampton gloomsters Bauhaus, but a dance troupe called Torso is also on the bill.
I quite like Bauhaus's singles, 'Dark Entries' and 'Terror Couple Kill Colonel' - the latter of which reminds me of 'Seconds Too Late' by Cabaret Voltaire. What's challenging tonight is that we lack the army blanket security of opening for like-minded, industrial/electronic chums like The Cabs, Throbbing Gristle or The Human League. Tonight is a raid into unknown territory, to see if we can capture some of Bauhaus's followers. And what followers they are! Once inside Heaven, all dark, matt brick caverns and dim, labyrinthine passages, there is more preening than in an aviary. An aviary where all the exotic birds on display have the same colour plumage: black. The aubergine nail varnish reservoir at Boots must have been drained dry over the weekend.
The bands are billeted in The Eagle Bar, which is apparently the private members' club within Heaven. Yet more black; it feels like a dungeon. There is a contacts board on the wall, full of eye-opening (or eye-watering) messages. Bauhaus and their retinue arrive. Their singer, Pete Murphy, is accompanied by two young girls who appear to be dressed up as fairies, all in white. These are his ladies-in-waiting, who will help him get ready for tonight's performance.
This will take four hours.
For someone like me, for whom "getting ready" means popping on a clean white shirt in the bogs, this seems both ludicrous and vainglorious. Our guitarist, Paul, is tuning up close by. "Oh Peter!" one of the fairies exclaims, "You have your own guitar tuner!" Paul stares at her. Murphy, in fairness, is thoroughly embarrassed. Putting down his mirror and make-up, he apologises profusely.
We play first. Things go wrong: a bass string breaks, my kick drum pedal collapses. Nonetheless, the gathering throng manage to stop looking at each other for the forty minutes we are onstage. We depart – if not in triumph - having been afforded a fair hearing.
Back in the Eagle Bar, Project Peter is still being attended to. Naked from the waist up, he is being stitched into an elaborate, delicate costume made of gauze and muslin. This gossamer-light creation is being sewn together with filigree and ardour by his hand-maidens. Peter stands, arms out-stretched; Jesus in jodhpurs. We get chatting to bass player David Jay: "Do you realise" he proclaims, as if the meaning of life has just been revealed to him, "that dog is God spelt backwards?!" We thank him for his insight and go back out front for a look at Torso.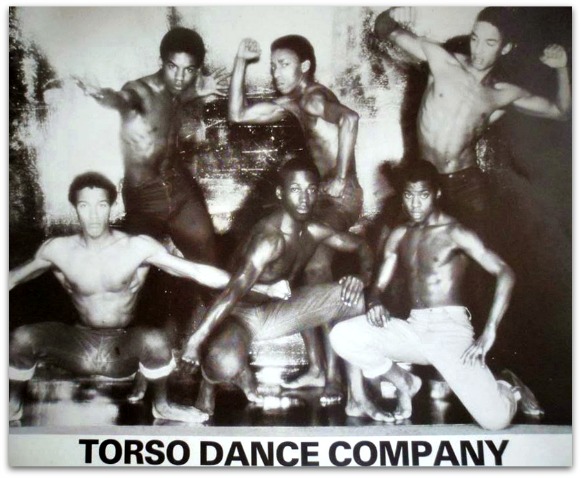 Six strapping black guys gyrate and pivot to a pounding electro-dance backing track. It's an impressive display of mime and free-movement, expertly choreographed, and the now-full room responds warmly to Torso's Terpsichorean parade.
Just after midnight, the finishing trinkets are attached to Pete Murphy, and finally Bauhaus are ready. An art-rock Mount Rushmore, I've never seen four such finely-chiselled young men.
Tribal, thunderous drumming is matched by rapid-fire bass playing. Guitarist Daniel Ash struts around like a peacock, while Pete Murphy does his best faux-Bowie impression, striding around the stage, portentously declaiming his lyrics. 'Terror Couple Kills Colonel' is steamrollered flat early on, and they cough up their own strain of the Creeping Funk virus with 'Kick In The Eye' – a mechanical bull on the Studio 54 dance-floor.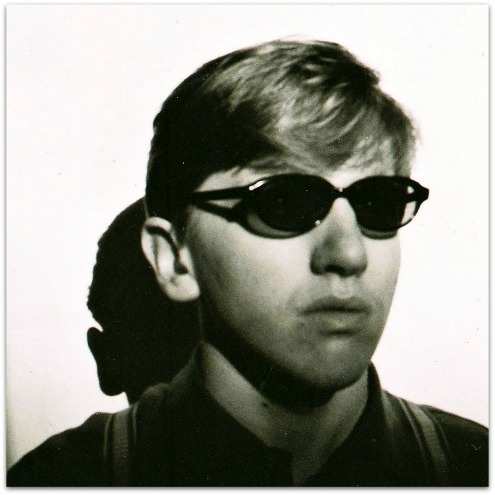 Arty, pretentious? Moi?
I don't get it. I should like this. I like arty, pretentious rock music. I'm in an arty, pretentious rock band. Bauhaus's album is called 'In The Flat Field', but it seems to me they are happy to plough the same furrow over and over again. Peel away the eldritch cloak and glam-theatrical trappings, and they are basically a competent, if somewhat ponderous, hard-rock group. Pete Murphy's lovingly hand-crafted costume is coquettishly strip-teased away, revealing a xylophone chest, before being tossed to his adoring acolytes and fought over as if his cast off vestments were holy relics. They plunder on. When they do change the tempo, on the spooky 'Hollow Hills' and a Nembutal cover of John Cale's 'Rosegarden Funeral Of Sores', they reveal a strange musical equivalent of football's ultra-defensive Catenaccio strategy: great at keeping possession, yet unable to create anything interesting from it.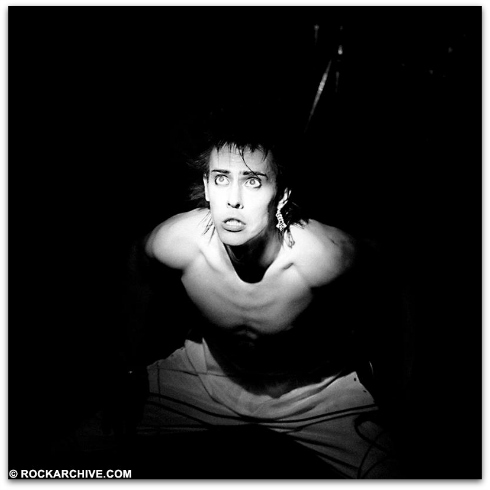 Peter Murphy, 30th March 1981. Photographed by Gerard McNamara / rockarchive.com
Finally, they arrive at 'Bela Lugosi's Dead' – the song that launched a thousand crypts - only for the power to go dead halfway through their signature song. Bauhaus troop off disconsolately, as an electrician is urgently sought. Backstage their manager is shouting at the promoter: "This hasn't happened to a band of mine since I managed Colosseum!" Colosseum: an unloved, jazz-rock Stegosaurus from ten years ago. All these proggy old farts were supposed to have been obliterated in 1977. I wasn't a conscientious objector in the punk rock wars for this. The Who were right, the new boss is the same as the old boss. Who needs a manager anyway?
Electricity is restored and Bauhaus return to finish their funeral parlour 'Freebird' and play three, rapturously received encores. St. Peter and his disciples ascend into Heaven. We pack up the van and head for the M1. The radio tells us that Ronald Reagan has survived the attempted assassination; the fascist groove thang will not be derailed after all. Friend-of-the-band and sometime road-help John Clayton puts the night in perspective: "Look at this way, that was like Sheffield United getting an away point at Arsenal. Difficult, but job done."
"Yeah, but how come we ended up playing before Ruby Flipper?"
We pull in for petrol at Watford Gap services, bleak and cruddy on the best of days, as welcoming as Windscale at 5am on a Tuesday morning. We're in Northamptonshire, home patch of the night's all-conquering heroes. The Blue Boar, Northampton, Bauhaus – all a load of cobblers.
---
Within a year Bauhaus were back in Heaven, performing 'Bela Lugosi's Dead' for the opening sequence of Tony Scott's 1983 vampire film 'The Hunger', starring David Bowie, Susan Sarandon and Catherine Deneuve.
Bauhaus split in 1983.
Peter Murphy was the face of Maxell tapes in the 1980's.
David J released a cover version of ClockDVA's '4 Hours' in 1985. To the best of my knowledge, the only artist ever to cover any song I had a part in writing. Thank you David J.
Bauhaus reunited in 1998, and again in 2005. An influential band, Bauhaus never lost their talent for self-mythologizing, the backstage rider for the 2005 tour included a stipulation that the fluffy towels provided must be black.
With thanks to Simon Dell, Paul Widger, Bob Baker, Brian Bradley.