Lost my virginity and my band. Some weekend.
Both events had been foreshadowed for a while, but to have experienced the ecstasy and the agony within twenty-four hours has left me both delighted and disappointed, relieved and rejected. After much fleshy fumbling, with 'Amateur Hour' by Sparks playing over and over in my head, Ava Greene stripped me of my chastity early on Sunday morning. Adding this sticky souvenir to her collection, just next to my heart, which I've been handing over to her in growing weekly increments since our first drunken dalliance a month ago. Come summer she'll be kicking the tyres of my soul, looking to have complete ownership of me by my twenty-first birthday.
Later on, two years to the day since I joined DVA, the clocks stop. The conceptualists sack the cricket fans. Judd and Adi keep the name, Charlie, Paul and I keep the rehearsal room. It's goodbye to the backstage bickering, umpiring who has or has not paid their share of rent, and the eulogies for the extended funk work-outs of A Certain Ratio, when the pavilion end are more excited by the pace attack of Dead Kennedys and Crass. Farewell also to 'White Souls In Black Suits' and 'Thirst', brave little records of our hopes and fears. Who knows what strange, foreign shores these scratchy messages in buoyant bottles will wash up on?
It's time to calm the turmoil. No point wondering what might've been. Should've, Would've & Could've never played The Budokan. There are no less than three bass-players on Charlie's gardening detail in the Parks' department, they must be easy to grow? He thinks one of them, Terry, is the right man for our new band. All we need now is a singer, and a name. Back at home, with Mum and Dad away on holiday in Weston-Super-Mare, there is a naked woman in bed with their youngest offspring - a super-nightmare for me if they ever find out.
Thursday night we decide to go to The Limit to see The Plastics, a Japanese New-Wave band I don't know much about, aside from a recent Paul Morley review in the NME. I think he likes them, sometimes it is hard to tell with Morley's writing. I thought my Limit era - teenage nights seeing Joe Jackson, John Cooper-Clarke and The Smirks – was behind me. But Ava is a regular, a party girl who likes the alternative music mix, from the electro-pop of 'Einstein A Go-Go' to the swashbuckling 'The Swords Of A Thousand Men'. And the opportunity to get blotto after the pubs have closed. Still, a night out seeing a new band with my decadent girlfriend/lover/empress, and then back to mine for more drunken sex? Surely too good to be true.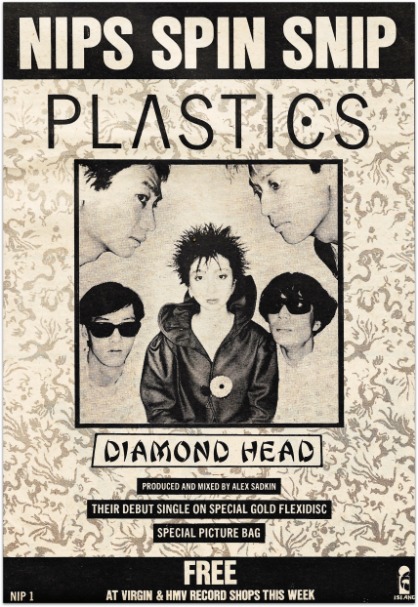 NME ad for Plastics' debut single. NME 28th February 1981.
Five petite Plastics emerge onto the stage and peer out into the beery congregation. Here we are, clutching our pints of snakebite and lager tops, stomachs lined with chips in curry sauce, scotch eggs, pork scratchings and other western delicacies. Odorous, pasty-faced wastrels who wear shoes indoors, gawping at the exotic visitors from 6,000 miles away. During The Plastics first UK tour, they've already sampled the delights of Edinburgh, Leeds and Norwich. Another night, another Miai. I'm sure we must all look the same to them.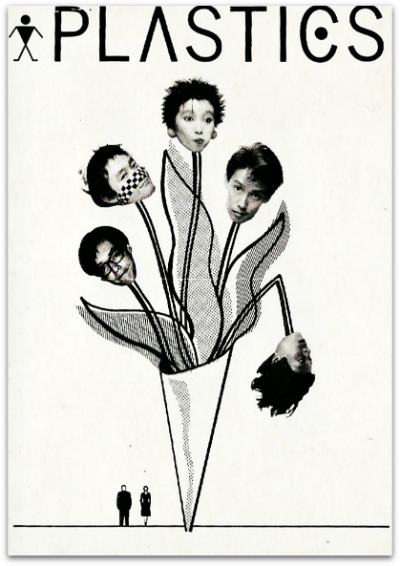 Sadistic Mika Band, Stomu Yamash'ta, Yellow Magic Orchestra, names I know from the music press and record shop browsing, but have never actually heard. Then there's poor Yoko Ono, still no-one's favourite Fifth Beatle. This then is my introduction to Japanese pop music.
Turns out I have chosen wisely, because The Plastics have come to party. Four boys and a girl, who shares lead vocals with one of the chaps. Dressed like a fire sale in a flag shop, they shimmer in a conflagration of polyester and acrylic. The girl, Chica, is striking and glamorous, an unsnuffable ten million candlepower charisma which she carries lightly, like a disposable lighter. The songs, all new to us, are oddball but catchy, sung in a what seems to be heavily accented Japanglish. I can't really make out the words, but maybe the bloke on the mixing desk is having a bad night? It doesn't really matter, as the rhythms, with more sharp angles than a hall of mirrors, keep the Limit dance floor hopping. The Plastics love a percussion break, cowbells clonk like a Jungfrau spring meadow.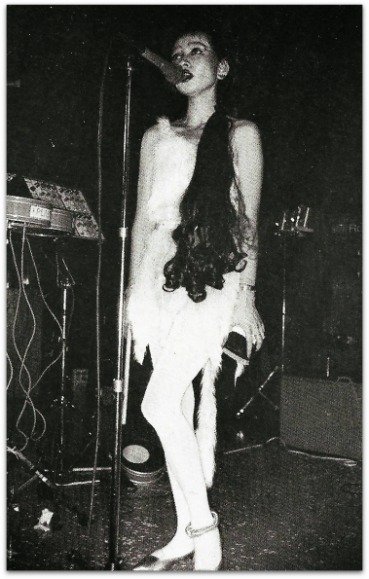 Chica Sato, photo by Ijima.
The Plastics' Day-Glo kitsch reminds of The B-52's, with whom they share both a record company and management; they brim with nervous energy, like a subway full of Salarymen before pay-day. They finish with one we know, poking sharp sticks into The Monkees' 'Last Train To Clarksville' with demented glee. Chica flashes her billion-yen smile, every lass in The Limit wants her as their new Japanese pen pal, every lad wants to get lost in her empire of senses.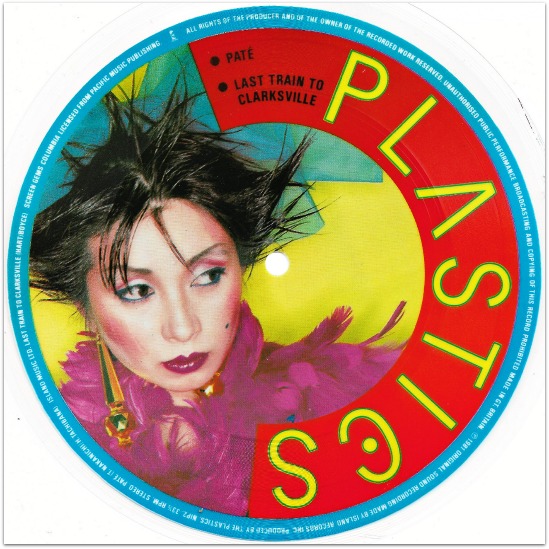 UK flexidisc single for 'Pate' and 'Last Train To Clarksville'.
Off they skip, next stop Heaven in London, leaving The Limit sweating like a sauna full of Sumos. The Plastics have travelled from the other side of the world and have conquered a hundred hearts in an English city they've never been to before. Which is proof enough to me that good music is universal, so doesn't need a translator or passport when it travels straight to your solar plexus. J-Pop could be the next big thing.
Three months from now, 'Japanese Boy' by Aneka will come along and ruin it for everyone.
---
The Plastics broke up at the end of 1981.
Chica Sato went on to form Melon with Plastics' band-mate and husband Toshio Nakanishi. He was diagnosed with cancer in 2016 and died the following year. Fellow founder member Masahide Sakuma died in 2014.
Some excellent live footage of the band playing a month after this gig in Atlanta can be found here.
In fairness to Yoko Ono, her then just-released 1981 single 'Walking On Thin Ice' remains a terrific record.
Check out https://mylifeinthemoshofghosts.tumblr.com/ for more related bits and bobs.