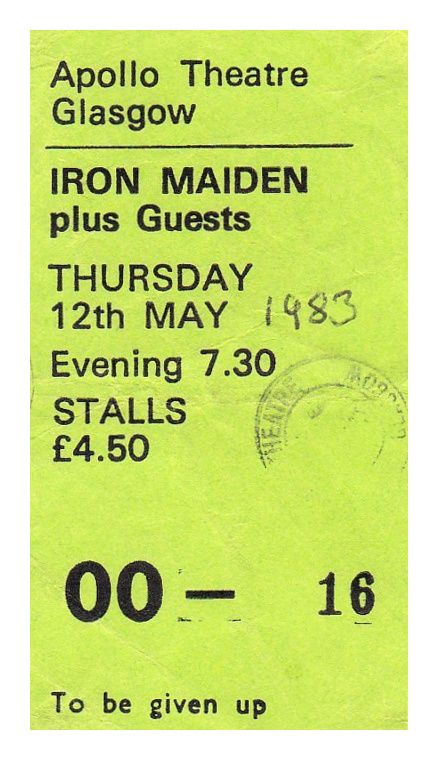 "Look, a White-tailed Eagle!"
We've just entered Scottish airspace, flying up the A74 in our Boeing Transit, en route to Glasgow. It's my first time North of The Border and - in the Scotland of my imagination - the land of the Lisbon Lions of '67, Billy Connolly, The Sensational Alex Harvey Band and 'Gregory's Girl' awaits. Picturing Clare Grogan frolicking in the wild, purple heather, complete with running streams of copper coloured whisky, I'd naturally expected the epic skies to be populated by wheeling, screeching birds of prey.
"Not an eagle." Charlie Collins, saxophonist, percussionist, horticulturist and now, apparently, ornithologist. "A buzzard, at best. More likely a raven that's perched on wet paint."
Buzz killed. Charlie has unpicked my tartan dreams before we've trod on Scottish soil.
With The Box now playing regular gigs around the country, bird-spotting has become something of a pastime in the van, whiling away the hours spent on motorways. One of our favourite games is 'Kestrel!' This involves keeping a keen eye on the air above the central reservation and grass embankments along the six lanes, hoping to spot Falco tinnunculus in classic hover position, scoping out a mouse or newt, then shouting "KESTREL!" before anyone else.
When we're not twitching, we're bitching - picking over morsels in the music papers, laughing at the absurdities of Spandau Ballet and Modern Romance. With the Spands at number one, old Sheffield friends The Human League and Heaven 17 occupy the number two and three spots on the pop chart. Even Chesterfield school teacher Tom Bailey is in the Top 10 with The Thompson Twins. Not that we'd sully our blossoming reputation as tailors of tumult by chasing the hit parade. We've already paid the deposit and are seeking planning permission for the ivory tower we intend to occupy.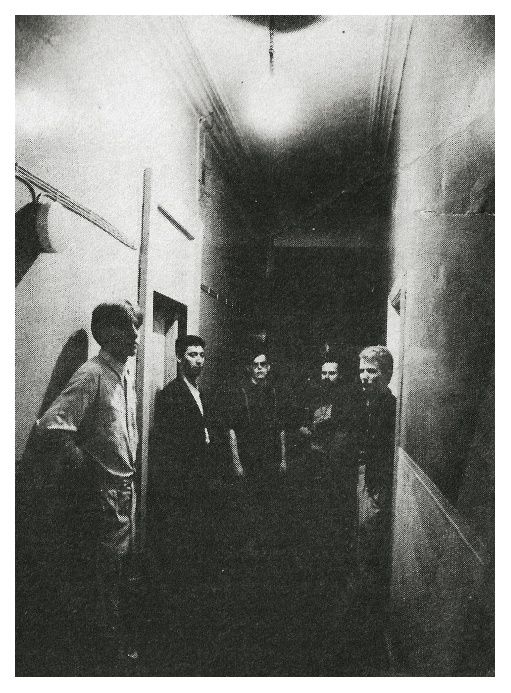 Last night was the in vogue Haçienda club in Manchester, which felt like playing in an empty branch of Habitat festooned with black and yellow chevrons nicked from Knutsford services. This evening's gig is at Night Moves, presumably named after the Bob Seger & The Silver Bullet Band album of the same name. I like the idea of this, a no-nonsense blue collar venue for a no-nonsense Glaswegian crowd.
We have a new sound engineer with us. A West Yorkshire lad called Mark, who likes motorbikes and has a pet rat. Once we've loaded in, sweating and cursing our way up four flights of stairs to the club, which is perched atop a Chinese restaurant, Biker Mark has some news for us.
"I've got us on the guest list for Iron Maiden tonight."
It turns out that in the torch-lit, gaffer taped world of roadies, techs and lampies, Biker Mark has a mate who is part of Iron Maiden's road crew. For a few minutes, this stumps all of us. Beyond a band-unifying respect for Motörhead and their reductive approach to hard rock, I don't think any of us listen to heavy metal. I know Paul saw Led Zeppelin when he was a kid, but I wouldn't call them heavy metal. Trust Charlie, who has probably seen more gigs than the rest of us put together, to have a story. He saw Sheffield's Def Leppard when they were just Leppard cubs, in 1978 at an outdoor gig in Pitsmoor when he was playing with the Free Music Group. I'm not sure if any of us have actually ever heard Iron Maiden, but with no other plans before we play much later, we decide that we might learn something. In the way you might from attending the Royal Institution Christmas Lectures or a night of cockfighting in Manila.

"Sure, why not? Let's go. It might be a laugh."

It's a short walk from Night Moves on Sauchiehall Street around the corner to The Apollo on Renfield Street. Built in 1927 as Green's Playhouse, with a 4,000 seat cinema and ballroom on top, it's an imposing six-storey edifice occupying an entire city block. It's approaching its tenth anniversary as The Apollo, and in that reasonably short period of time has established itself as a legendary concert hall in the UK. Status Quo's enduring double live album, a record I know well, was recorded here in 1976.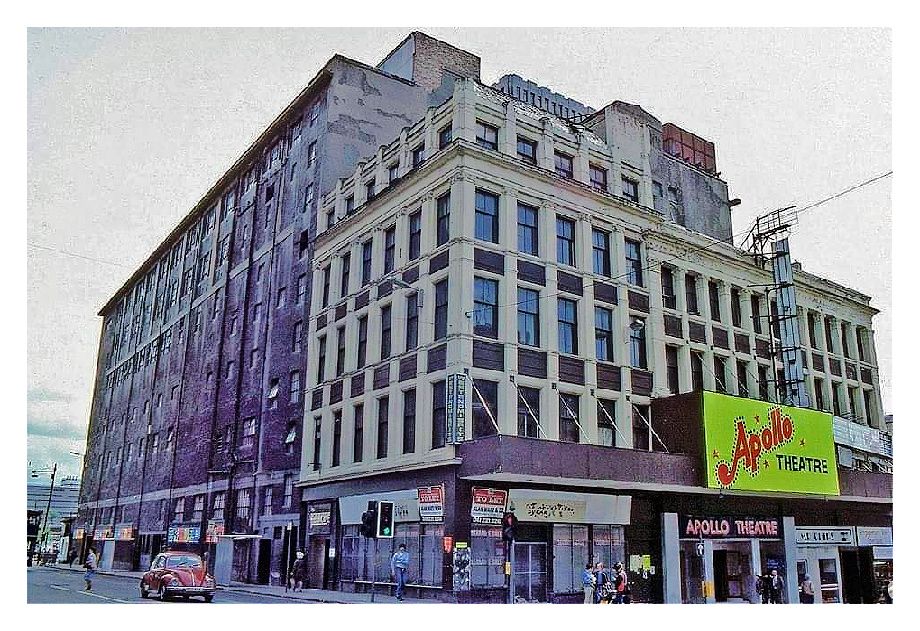 There's a few minutes of awkward shuffling in the foyer while Biker Mark negotiates the guest list with the box office, he returns grinning with six sticky passes, we're in.
Rock music rules in Sheffield and has done since the Stringfellow brothers booked Jimi Hendrix to play the Mojo Club in 1967. After all, it's the steel city and we welcome metal of all kinds, the heavier the better. Throughout my teenage years I witnessed buffalo herds of longhaired lads migrating up Fargate in grey army surplus greatcoats, heading for the City Hall on Barkers Pool for a night of headbanging and air guitar to Thin Lizzy or Rush.
The Apollo feels like Sheffield City Hall, but can accommodate an even larger number of Dan Druffs and Clearasil Kids. The band, Biker Mark and myself stand there like Kirk, Spock, Bones and crew, freshly beamed down to Planet Denim and breathing in the new alien atmosphere. They had a flood here last year and there is a pervading smell of dank carpet mixing with the beery farts and B.O. of the 95% young male audience: eau de Clyde. Everyone is in a good mood, down-to-earth lads excited to be present at this gathering of the metal clans. As we often find, Charlie is the only man in the room with a full, luxuriant beard. Tonight the eager rockers of Glasgow equate beard with drug dealer, and he politely fends off numerous enquiries for hash and speed.  
Appearing at The Apollo between Johnny Mathis and Kajagoogoo, Iron Maiden are in Glasgow on the ninth night of their latest world tour. Their 'World Piece' jaunt will finish 141 shows after this one in mid-December. By their own punishing standards, this is them easing their pedal off the metal; they played 188 gigs last year.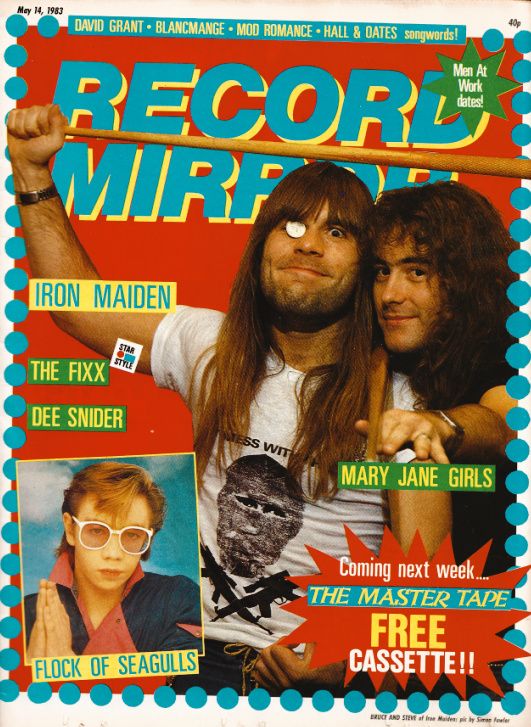 There's a Sheffield connection here. Singer Bruce Dickinson was born in nearby Worksop. After being expelled from Oundle public school as a young teen he enrolled at King Edward VII in Broomhill in 1976. (Part of a remarkable five-year period which saw Phil Oakey and Martyn Ware of the Human League, Joe Elliott of Def Leppard, Graham Fellows of Jilted John / John Shuttleworth fame and future BBC Radio 1 controller Matthew Bannister all pass through the school.) Dickinson has played at The Broadfield in Sheffield in forgotten bands, as we all did when we were starting out.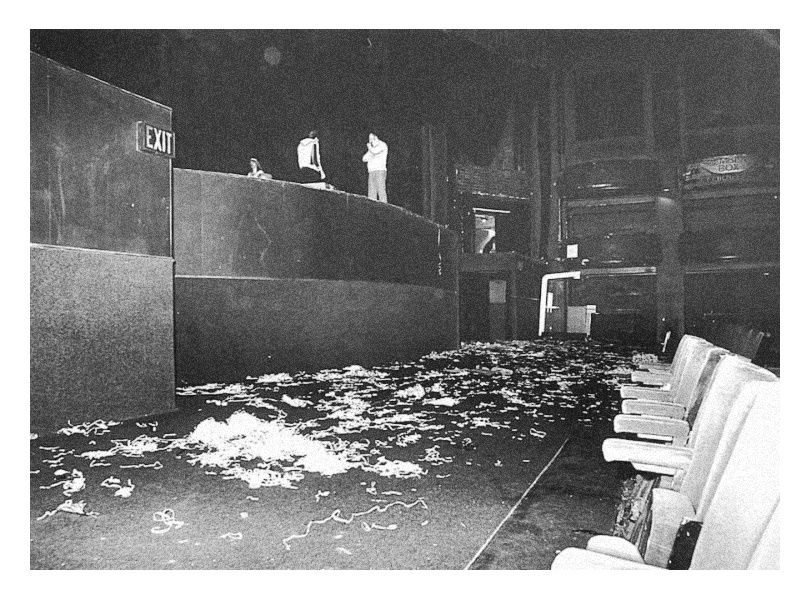 The Apollo house lights go down and the theme from 'Where Eagles Dare' swoops through the PA. The stage here is very high indeed - anyone planning a fan invasion will need rope and crampons. It sits imperiously above the stalls like an Aztec temple. Appropriately enough, as three and a half thousand Scots scream their approbation, ready to sacrifice themselves to the metal gods. Ron Goodwin's theme reaches its crescendo, and with an almighty wallop of the drums Iron Maiden are off and running. And boy oh boy is there a lot of running. Bruce Dickinson sprints around at the kind of speed that would put him on the podium at the AAA Indoor Championships at RAF Cosford. Meanwhile the bass player has the look of a man charging back to the house to set the video to record 'Only Fools And Horses'.

Two lead guitarists join in mortal combat as, way up behind them, on a platform raised high enough to have its own weather system, the hidden drummer lays into a colossal kit. I can't see him but I bet he has impressively unshorn locks like the rest of his hirsute bandmates. Above them, an enormous lighting-rig the width of the stage descends from the rafters like something from a Spielberg sci-fi blockbuster. Down here in the stalls, and presumably up above us in the balcony, young Glasgow is having a pure dead brilliant time. As opening numbers go, this garish collision of theatrical bombast, thunderous noise and adrenalised athleticism has me grinning from ear to ear.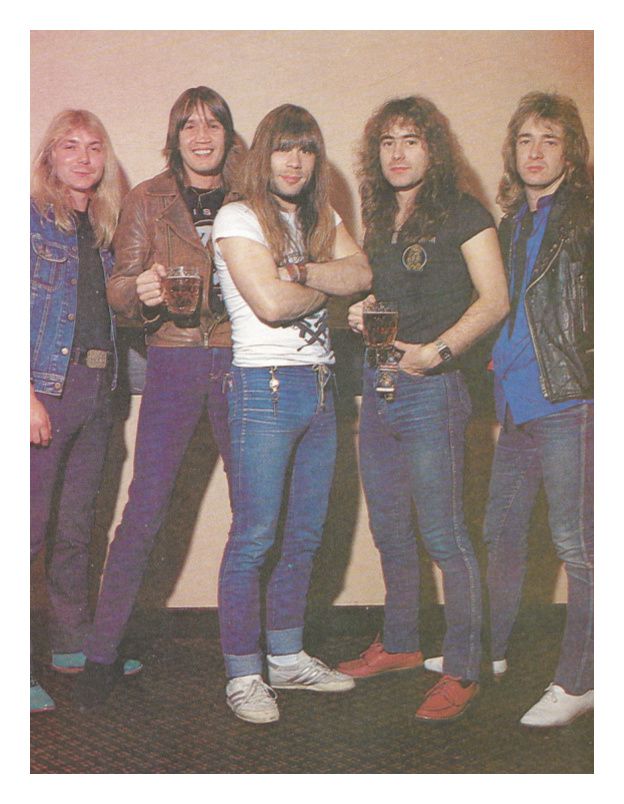 Tish-tish-tish-tish. Four smacks on the hi-hat and Iron Maiden storm into the second song. I notice Bruce has an odd way of running with his legs wide apart. This makes him look like a turkey wishbone from the waist down. A turkey wishbone clad in harlequin-patterned spandex trousers. Given the amount of climbing he does, up on the fold-back monitors, waving a flag from the top of the wall-to-wall facade or clambering up to  visit the elevated drummer, Bruce is always ready to leap into action. A likeable collision of Visigoth and Nureyev.

Apparently they have a new album coming out next week and are going to play a lot of it for us tonight. All these songs are new to us Maiden virgins, and after a while they all start to blend into one another. The band hammers out a relentless, juggernaut assault and the two guitarists play a lot of twin-lead melodies, which remind me of Thin Lizzy. Imagine a Deep Purple where Richie Blackmore has successfully cloned himself, sacked Jon Lord and his funky Hammond organ and decreed that they are now only going to play fast songs. On one effort Bruce Dickinson plays guitar as well, albeit as more of a claymore to conduct the crowd with. Odin only knows what a band with two loud electric guitars needs with a third, but I suppose that's heavy metal. The top only exists so you can go over it. There is a nod to Motörhead and punk in the needle-nudging-Mach 1 tempo, but with lyrics about the Crimean War and Greek mythology rather than Thatcher and the dole.

After 40 minutes, we decide to call it a night. We've got our own gig to get ready for. We head over to the Chinese restaurant beneath the club and pick over the evening. For the first ten minutes it was one of the most exciting things I have ever seen, with diminishing returns from thereon in, as the novelty soon wore off for me. Biker Mark points out that Iron Maiden will be playing that exact same show every night of the tour for the rest of the year. By contrast, we almost never play the same set twice. At what point does it become automatic? 'The Mousetrap' played out in denim and leather?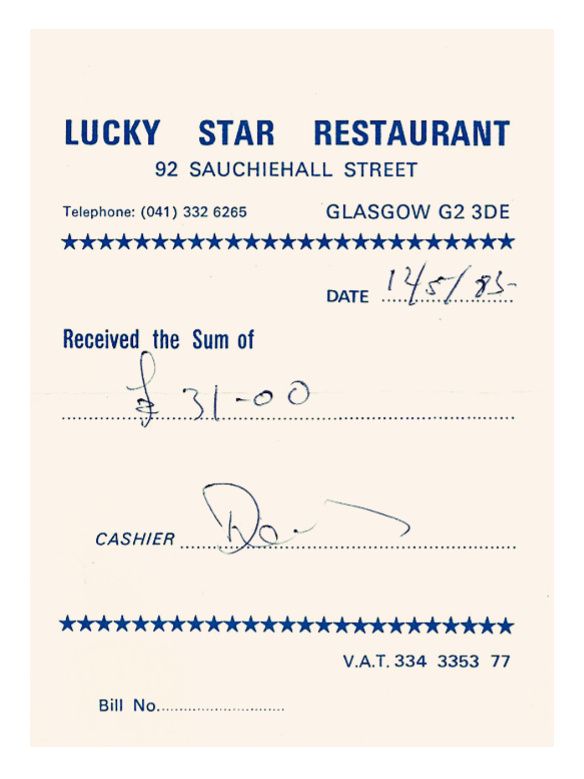 It's the intoxicating devotion and fervour of the fans that impresses me the most. These callow lads, in their teens or early twenties, believe in heavy metal in the same way that little kids believe in Father Christmas. The comradeship, excitement and anticipation is infectious. Like Santa, heavy metal always delivers exactly what you want on the big day.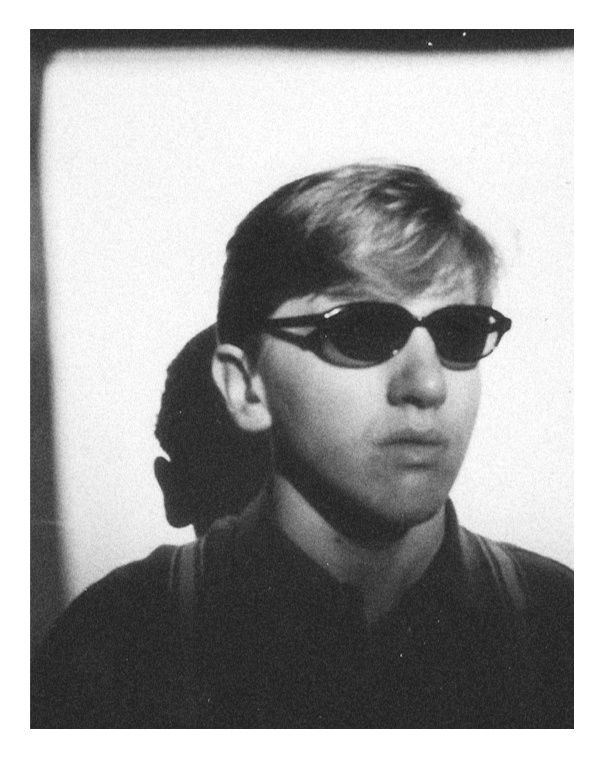 We ask Biker Mark to put Iron Maiden x 5 on the guest list for our gig. Sadly, they don't turn up. They aren't the only ones. In a room that would comfortably accommodate five-hundred people, we manage to draw about fifty. Afterwards the promoter, who could not have been more accommodating, is apologetic as he hands over our £250 guaranteed appearance fee. David Bowie has just announced big shows in Edinburgh and apparently that's taken a lot of money out of the local gig market.

I almost feel sorry for him.
Almost.
---
With thanks to Paul Widger and Charlie Collins.
Special thanks to my editor Nigel Floyd.
---