Sunday night. Mum and Dad have gone to bed, and I'm alone watching the late film on BBC2 – Elliott Gould in 'Getting Straight'. He's a bit of a hero to me since an end of term school screening of "M.A.S.H", part of a progressive, enlightened programme which also included "Butch Cassidy and The Sundance Kid", "All Quiet On The Western Front", "The War Game", Polanski's "Macbeth" and, most unforgettably, Jenny Agutter's glistening, naked body in "Walkabout".
Elliott Gould is cool. He was cool as Trapper John McIntyre, cool as Philip Marlowe in "The Long Goodbye", and he brings his cynical sangfroid to Harry Bailey, a Vietnam veteran turned teacher in "Getting Straight".
So when Harry / Elliott says: "I was shafted, you were shafted, she was shafted. We all get shafted the same", it resonates with me. We're eight months into Thatcher's new Tory government and unemployment, inflation and interest rates are all on the rise. I've been signing on at the dole office on West Street since leaving school in June. The latest of many recent knock-backs is a rejection letter for a nice looking job at Sheffield City Libraries on Surrey Street, for which I had at least been interviewed. This means I'll be entering the eighties at the end of a long line of 1.5 million unemployed. I still have hopes for my alternative career as a music industry titan, if only DVA could gig more often than a typical lunar phase cycle, while staying off the liquor and drugs, at least on show days.
It's the Tuesday before Christmas when I sign on for the last time in 1979. The rest of the day is spent drinking coffee and reading the papers in the same library by which I've just been declined employment. The decade is dying, and everyone, from Joan Bakewell to Robin Day, is reflecting upon the past ten years. Malcolm Muggeridge is unavoidable.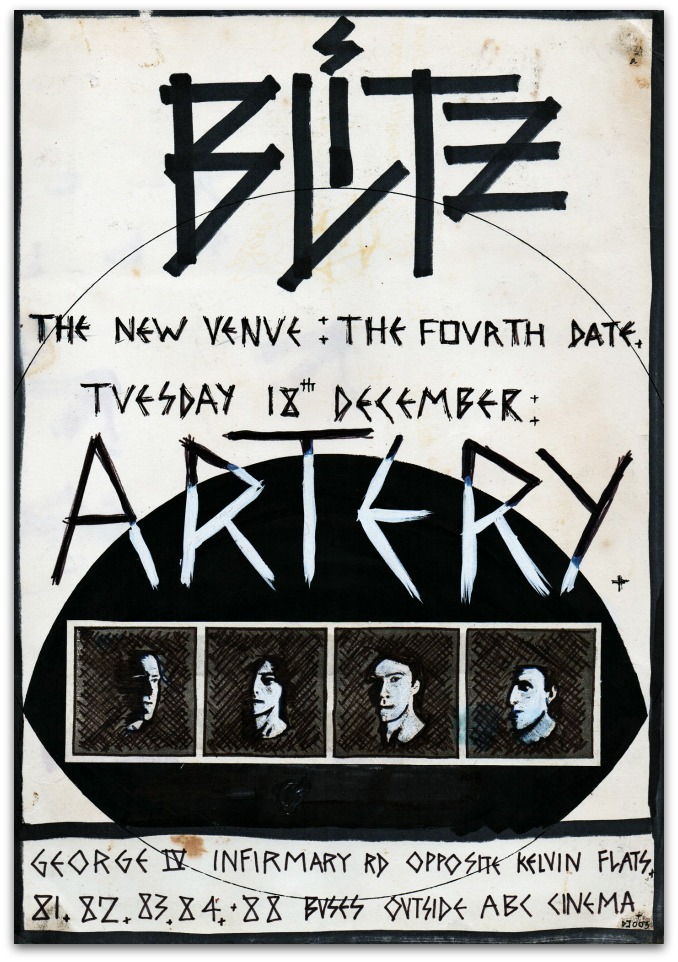 Original gig poster courtesy of John Blyther.
Tuesday also means my weekly visit to the Blitz Club, the No-Wave High Chaparral above the George IV pub on Langsett Road. Corralled by local scenester, DJ and face-about-town Disco John; this local saloon is the fashionable watering hole for Sheffield's square pegs, misfits and broken biscuits.
Up first tonight are Shy Tots, two blokes and two lasses from Doncaster. All appear to be dressed in left-overs from the costume pod on "Space 1999", melting on stage in Moonbase Alpha BacoFoil. Shy Tots sound like a working men's club version of The Rezillos, bereft of the zip and zing that made Fay Fife's combo a chart threatening proposition. This is new wave bubble-gum with all the flavour chewed out.
Headline band Artery come with a reputation as one of Sheffield's bands-most-likely-to-succeed. They've built up a solid local following since emerging a year ago from the ashes of Hobbinfoot and The (just 'The'). They have just released a debut single called 'Mother Moon', and this is my first time seeing them live.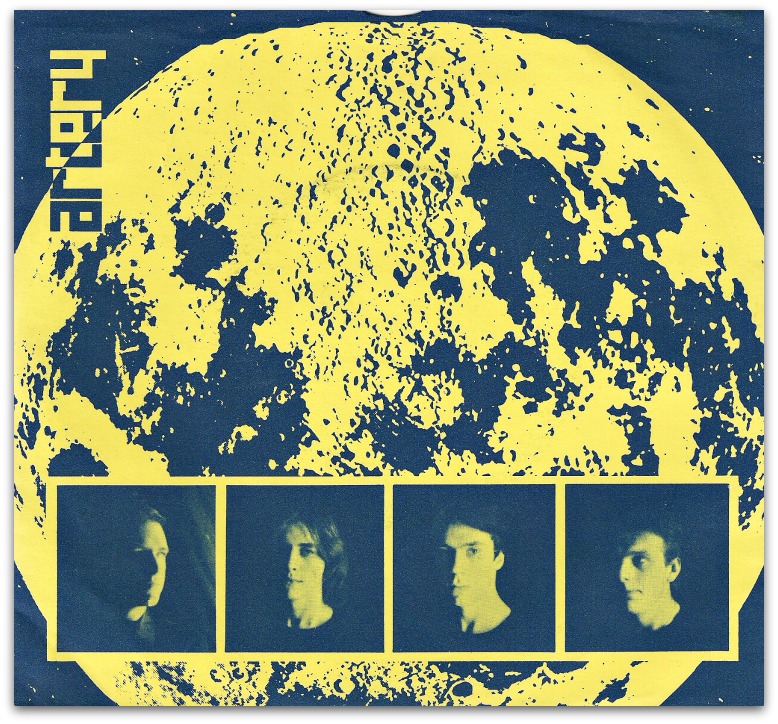 'Mother Moon' single. (L-R: Neil McKenzie, Mick Fiddler, Mark Gouldthorpe, Garry Wilson).
Like Graph, I'm So Hollow and Disease, Artery are yet another Sheffield band influenced by punk-pioneers Wire. There must be copies of "Chairs Missing" in rehearsal rooms and sparsely furnished bed-sits all over South Yorkshire. Artery share Wire's studied, minimalist approach to song-writing: one-chord work-outs for degraded, fuzz-tone guitars and bulbous bass lines; with deadpan vocals – Pete Shelley sings Eno - wreathed on top.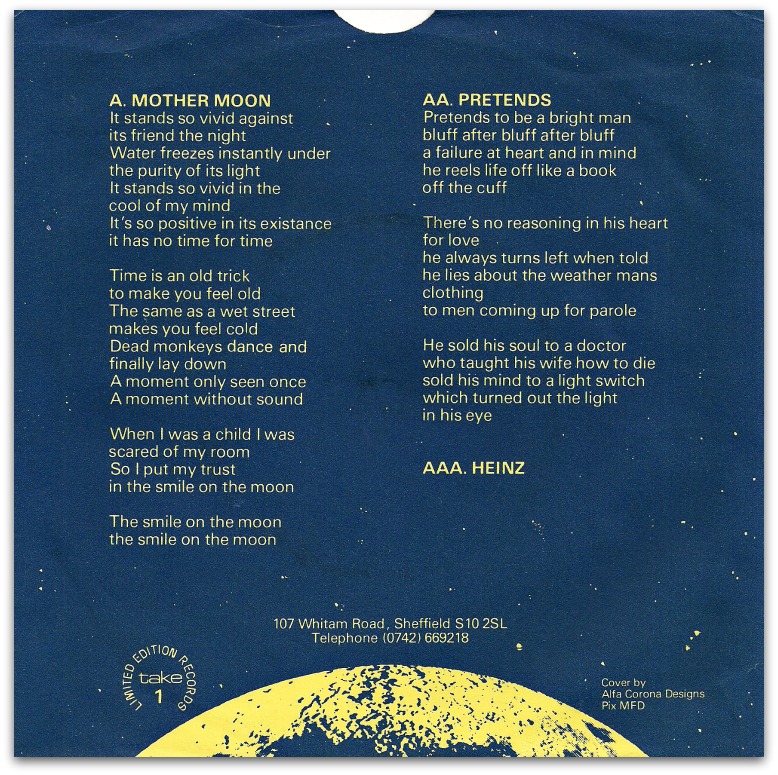 Out front, Mick Fiddler and Mark Gouldthorpe trade vocals and riffs, each attempting to usurp the other in a Marty Feldman-esque stare-off of creepy, manic intensity. Behind them bassist Neil McKenzie and drummer Garry Wilson maintain a reliable, undeniable back-beat. Wilson's head is twitching left and right to the rhythm, like Captain Caveman engrossed in a particularly frantic ping-pong rally.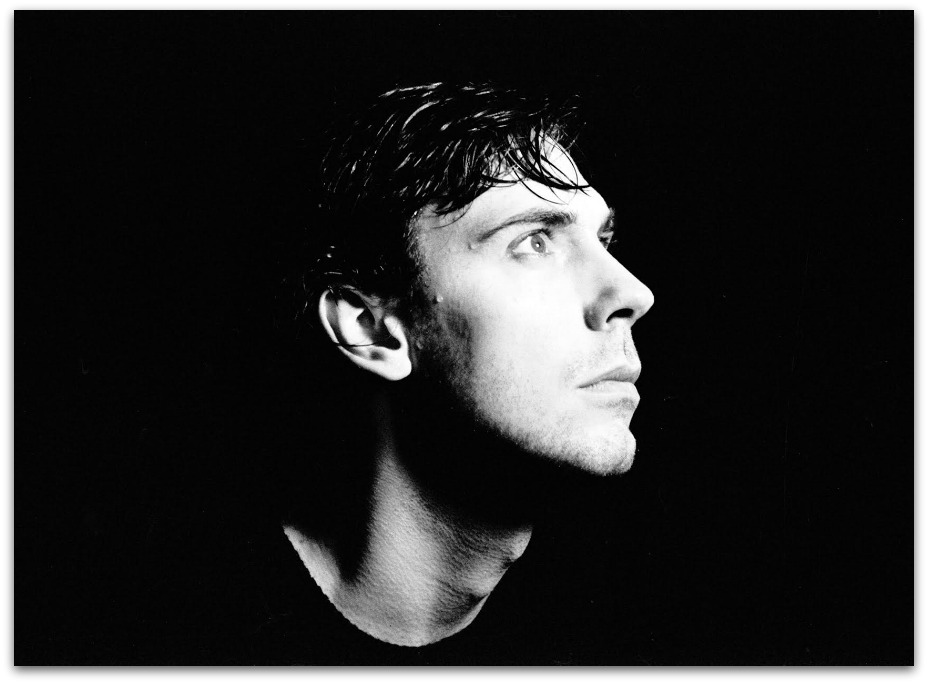 Mark Gouldthorpe. Photo by Pete Hill.
There's an uncalled for bit of art-rock japery at end of 'Pretends' – four false endings where one would suffice - and the novelty of Mick Fiddler's relentless thwacking of a wooden temple block quickly wears thin. The percussion is better deployed on the Mo Tucker-joins-The Glitter Band Burundi thump of 'The Slide', all the band striking objects as the fuzz and rumble is rested for a few minutes.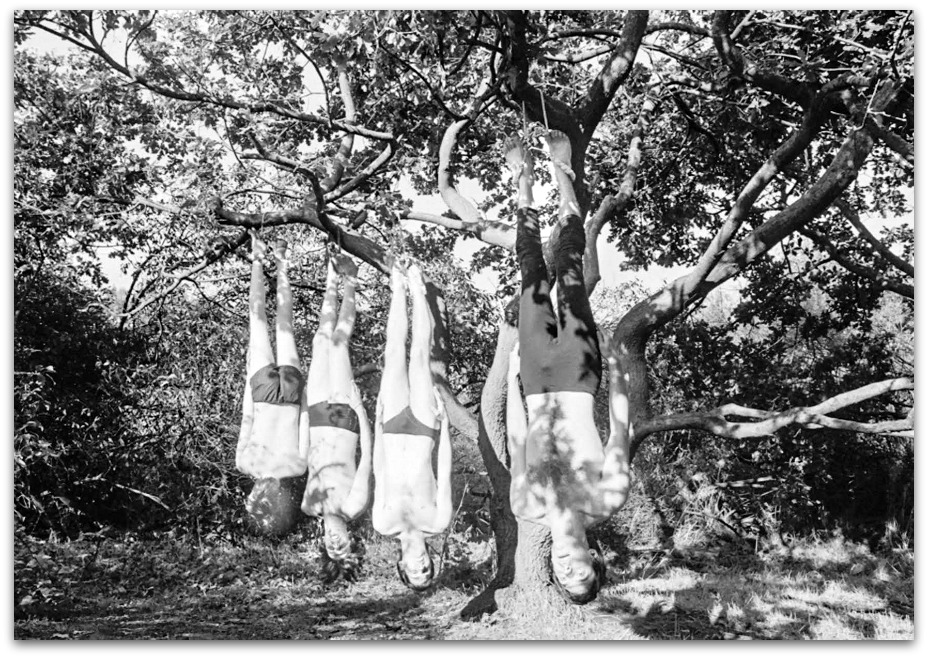 Photo by Pete Hill.
(Pete adds: As a bit of background, it was taken on a Sunday morning, I can't remember exactly where, I think up the Porter valley from Endcliffe Park. Each member of the band had a friend with them, to support them until we were ready to shoot, when I said the word, they would lower them down, and dash out of shot, until a member of the band started screaming with pain, when they rush back in to take the weight off their ankles. All the time, young parents were walking past, telling their kids not to look at the strange men in their underpants. Happy days!)
There's some high-minded proselytising in 'Unbalanced', which over-reaches to affect a deranged persona, when there's already enough crazed energy onstage to hold the audience's attention. Artery's deconstructed style reaches an apotheosis with the lusty, spirited thrash of 'Heinz' - all thunderous drums and churning guitars; its lyrics hinging on the single, repeated aphorism "You always turn to the one you love."
Artery, I decide, are a one-trick pony. True, as singular equine magic goes, it's pretty special - Paul Daniels summoning Lord Lucan to ride Red Rum to a fourth Grand National triumph - but one senses a sleight of hoof nonetheless.
On New Year's Eve I'm reunited with old school band mates Vinner, Wilma, Lango and Timbo, plus Steve Chapman from the Stunt Kites. We're at Timbo's house, getting quietly drunk, listening to Kraftwerk's 'Trans-Europe Express' on the stereo. Flicking through the three TV stations on offer, we have Penelope Keith with Rod Hull and Emu presenting "The Seventies Stop Here!" on BBC1, on BBC2 Debbie Harry and Blondie are live in concert from Glasgow; and over on ITV there's "Will Kenny Everett Make It To 1980?"
On the latter, David Bowie radically reworks his 1969 hit 'Space Oddity' in a new, stark, haunting arrangement. Performing in a padded cell and a nurse-attended kitchen full of exploding appliances, Bowie's familiar lyrics connect afresh with us, children of the Gemini and Apollo space programmes. Ten years on and the space race has been run; the US Treasury won. Moonbase Alpha will only ever exist on a sci-fi TV show.
I'm unemployed, uncertain about the future and romantically unattached. "Can you hear me Major Tom?"
Can you hear me, anyone?
---
Early Artery extended plays on Spotify here.
NMX fanzine readers chart from December 1979 on Spotify here.
More pics etc at http://mylifeinthemoshofghosts.tumblr.com/