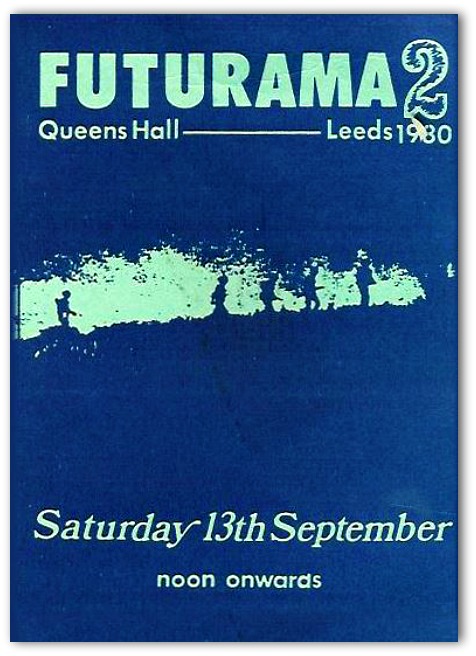 My first festival, and I'm a little nervous. Not about playing, Clock DVA have been rehearsing hard all week, and even with the bass player tripping on mushrooms, we're sounding good. I'm more worried about the event itself. All my information on festivals has been gathered from lurid reports in the music press. These range from the bizarre, onstage masturbation at the Rolling Stones at Knebworth (or should that be Knob-worth?) in 1976, to the terrifying - Sham 69's skinhead army clashing with the rockers at Reading in 1978. Having grown up as a cosseted child, the nearest I've ever come to roughing it is three nights in an army surplus bunk bed in a freezing cottage on the Yorkshire Moors, part of a school trip to Grassington. The thought of spending a night under canvas actually horrifies me.
At least Futurama 2 is indoors, I reassure myself. Named after an old Be-Bop Deluxe album, I'm disappointed to learn that my teen-idol Bill Nelson has pulled out of the line-up, thus denying me the opportunity for some up-close, possibly invasive, back-stage stalking. Now in its second year, the first Futurama was billed as "The World's First Science Fiction Music Festival", and was headlined by Joy Division and P.I.L. It's an important gig.
We're heading up the M1 to Leeds in a hired Ford Transit from A.V.R - "Ailing Van Rentals" as bass man Judd calls them - sharing transport with friends and musical allies I'm So Hollow. The venue is the Queens Hall, a former tram shed, then bus depot, now an occasional staging post for passing Prog-rock pantechnicons: both Rush and Blue Oyster Cult played here recently. More genteelly, when not playing host to rock dinosaurs, it is home to the cosy chit-chat and bric-a-brac of the local flea market. Also resident between these pillars and walls is the largest reverb in Yorkshire, a normally docile beast that only comes booming into being at the first tentative "one-two, one-two…" from a visiting roadie.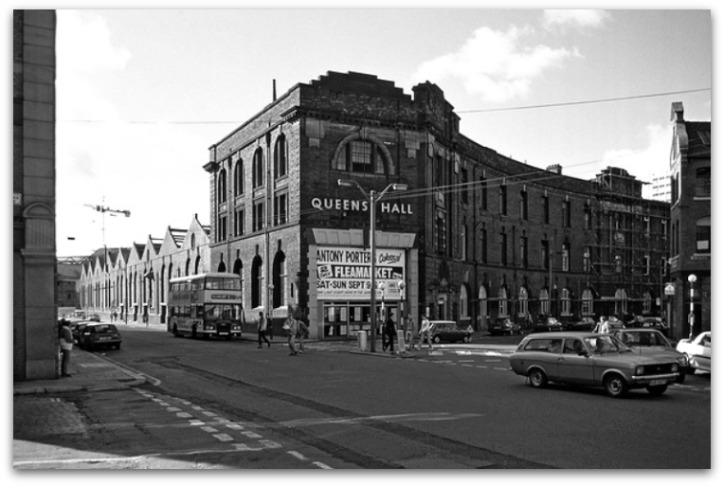 We arrive early in the afternoon. There are two large stages set up side-by-side, so while one band is playing, the next one is setting up in semi-darkness next door. Backstage is a corral of scaffolding, ramps, equipment, bands and crew. Out front, in the gloom, are the audience. I can't see how many are out there, but from the noise it sounds like there are plenty in already, keen to get the most out their £10 for two full days of new music.
Up next are Barnsley comedy-goths Y?, who have just clambered up onto the New Romantic Cinderella coach by rebranding themselves as Danse Society. We watch as the singer, cloaked like a Black Heron, slinks stealthily to the edge of the stage, as his pit-town cohorts grind away, before theatrically revealing his full Dracula-in-Boots-No. 7 make-up-persona to the expectant multitude.
"Fuck me, it's Ray Reardon!"
Cue five-thousand souls bursting into uncontrollable laughter. Poor lad, he thinks he is channelling Klaus Kinski in 'Nosferatu', but really, I've seen scarier vampires on 'Scooby-Doo', or 'Pot Black' for that matter. At best, he's a miniature Dave Vanian from The Damned - Dave Minivan, if you like. Didn't he get the note that said wearing capes onstage was banned in 1977, along with Rick Wakeman and Moog solos? Danse Society plod tunelessly on for another twenty minutes, before the little Prince of Darkness flounces off into the arms of his Mum, waiting sympathetically at the foot of the ramp, possibly wondering how her best linen bed sheet has ended up as the band's hand-painted on-stage back-drop.
Much better are Scotland's Altered Images, who we find ourselves billeted with in the Portakabin compound backstage. Singer Clare Grogan and her Glaswegian cohorts play sturdy, pounding pop. In her harlequin-in-rags frock, and coy, peek-a-boo cooing, she's the Bird's Dream Topping with arsenic sprinkles on a bed of Banshee-esque wail and wallop. Sporting a smile with enough wattage to power the floodlights at nearby Elland Road, Claire Grogan invents the whole Manic Pixie Dream Girl thing, then skips off, leaving a trail of broken heart strings behind her, including mine.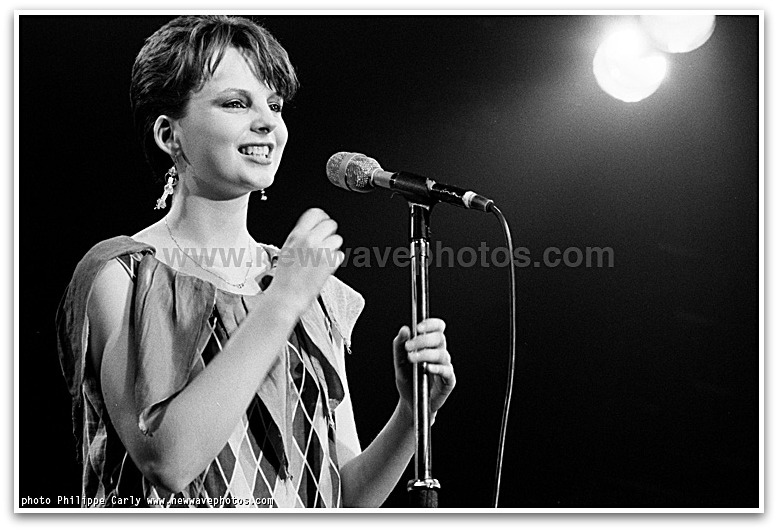 Clare Grogan, Altered Images, Futurama 2. Photo by Philippe Carly.
Feeling brave, I venture out into the arena. It's curiously subdued, lads and lasses from mill-towns just milling about. Every punk rocker from Derby to Darlington must be here. Shuffling Doc Martens plough a clattering path through shifting ice packs of crushed beer cans. A muted procession from the stages, around the mixing desk, to the already besieged bogs, on to the burger stand, past the T-shirt stalls, and repeat. These are the tribes from the Northern towns and this is their Tawaf, Bowie's Ever Circling Skeletal Family made flesh.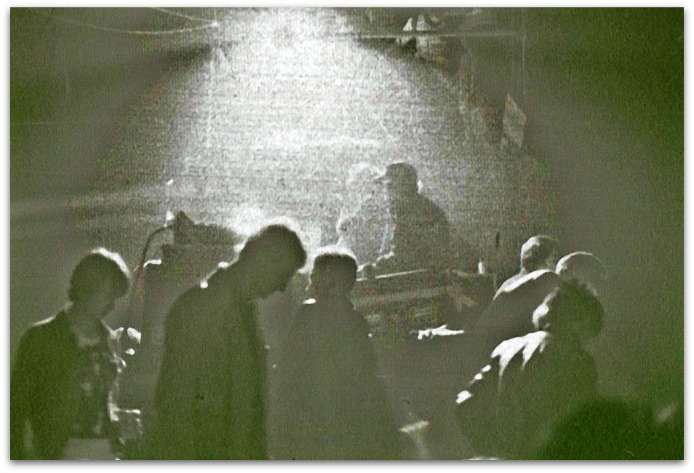 Photo by Nick Pearson.
We cheer on our pals I'm So Hollow, who I think they are one of the best bands in Sheffield, and they put in a superb shift this afternoon. Jane Wilson, the Ice Queen from Shiregreen, is as captivating as ever, doing her willowy, invisible-skipping-rope dance while she squishes sounds out of her Wasp synth.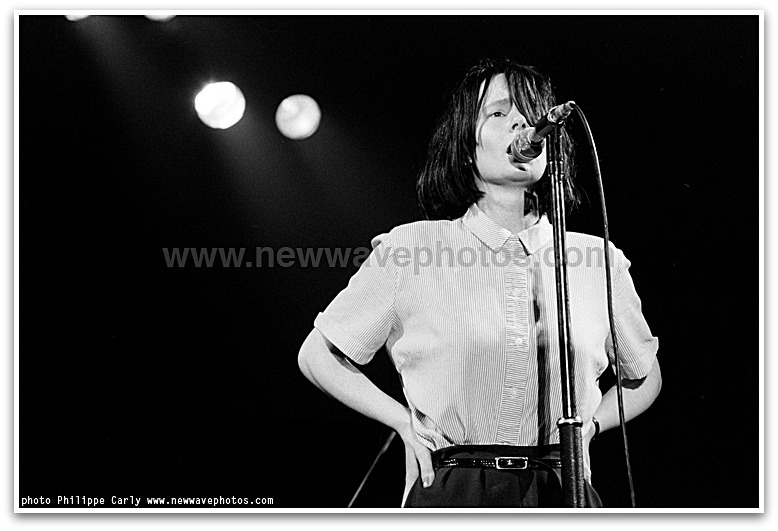 Jane Wilson, I'm So Hollow, Futurama 2. Photo by Philippe Carly.
On the stage next to us, as we are getting ready to go on, hapless solo artist Guy Jackson is having a torrid time from the increasingly restless, drunken gathering. Double Diamond doodlebugs rain down around him. Our sax player Charlie, the only man here today with a beard, shows startling bravura and hand/eye co-ordination by catching a couple of these wayward missiles at deep fine leg. Free beer – Howzat!
Apart from Danse Society's home-made Brentford Nylons effort, the only other combo playing in front of a logo back-drop is new Irish band U2. Theirs is a bright yellow, gargantuan construction that appears to have been assembled from plumbers piping. It takes a team of roadies - U2 appear to have more staff than 'Upstairs, Downstairs' - to hoist it above their drummers raised platform (another first for the day). U2 are well-drilled to the point of being slick: they run around a lot, shapes are thrown, and the audience are addressed as "Leeds". We are bemused.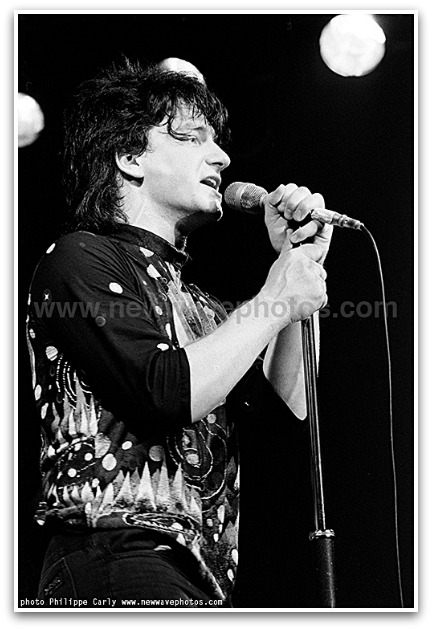 Bono, U2, Futurama 2. Photo by Philippe Carly.
Echo and The Bunnymen follow U2 - something they will find themselves reluctantly doing for the next seven years or so. While the Irishmen burn with an almost evangelical fervour, the Liverpudlians charm with their spindly, chiming Scousedelic sangfroid; the quality of their Merseybeat is not strained. Frontman Ian McCulloch, with his tabs and his tins and his towering hair, is a pouting portrait of skinny insouciance: Ciggy Stardust on the rise.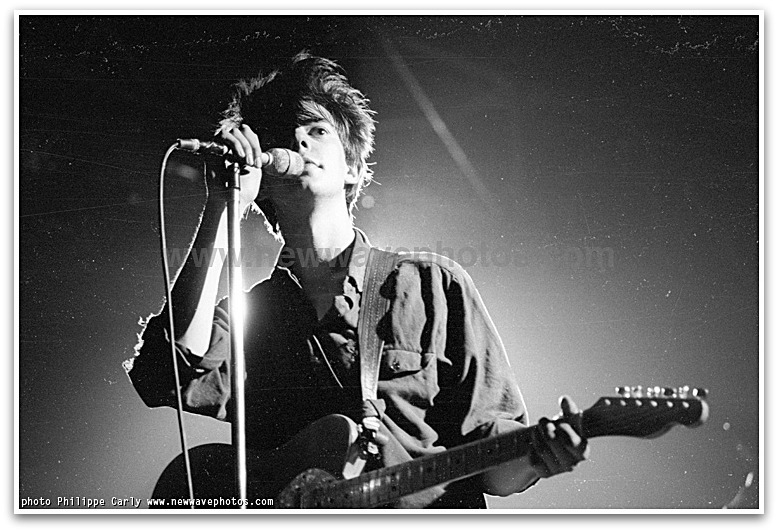 Ian McCulloch, Echo and The Bunnymen, Futurama 2. Photo by Philippe Carly.
I go back out front to try and get a good spot to watch the headliners, Siouxsie and The Banshees. The rising waters in the men's bogs have burst out into the hall, transforming it into a Euphrates of effluence; pyramids of empty cans lurk in the murk, teetering in deference to the great gods Whitbread and Tetley. To my horror, sleeping bags are starting to appear, as fans start to search for dry, quiet corners to bed down for the night. Apparently, John Peel is here; I wonder what he's making of this. A veteran of so many festivals, he probably thinks this giant shed is fairly salubrious, given that he's possibly seen more mud and carnage than Field Marshall Haig witnessed at Passchendaele.
We endure Robert Fripp and his League Of Gentlemen, with their arid, precise music: rock as technical drawing class. Looking immaculate in a suit and tie, Fripp is perched on a stool, inscrutably picking away at a big Gibson 335, and looking more like Barney Kessel sitting in on a jazz session at the Village Vanguard, than a former Prog-God baffling a hangar full of drunken punks in West Yorkshire.
Thankfully, Siouxsie and The Banshees arrive just in time to steam-roller the Queens Hall out of its alcoholic torpor. They are simply unstoppable. Siouxsie is all cowgirl chic in a white leather fringed jacket. Somewhere, hidden under a blonde mop, John McGeogh is being endlessly inventive on electric guitar, a hirsute foil to the stoic Severin on bass. And then there is Budgie. Put simply, I have never seen anyone hit the drums as hard as Budgie does tonight. His snare is as loud and steady as an Enfield rifle in competition at Bisley. His bass drum is a seismic event; you can almost see the sound waves travelling through the crowd before thumping home into the chest. Such energy! If Budgie was a lumberjack, he'd level Sherwood Forest in a morning, and still have the strength to flatten Clumber Park after lunch. I make a mental note: join a gym, muscle up, be more Budgie.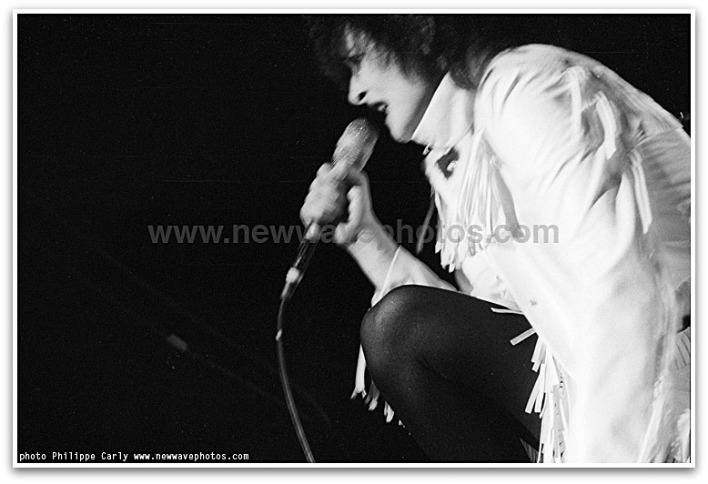 Siouxsie, Futurama 2. Photo by Philippe Carly.
Deafened and deadened, to the point of antipathy, by a long day of unfamiliar music, the five thousand, hungry for a band they've actually seen on Top Of The Tops or spotted on the cover of Smash Hits, are finally fed by Siouxsie their saviour. Later, as we are loading the gear back into the van, which by this late stage has started to transform itself - in my weary, fevered imagination - into the last chopper out of Saigon, when who should appear but Sheffield's singing sweetheart Pam Young. I haven't seen her around since she left Salon Graph at the end of 1979, but here she is, talking to me. Turns out Pam moved to Liverpool to work for Zoo Records and she is here babysitting The Bunnymen.
"It's been great hasn't it Roger, way too many bands though."
"Yes, Pam, a lot of rubbish."
"I mean, if it had just been I'm So Hollow, Clock DVA, Echo and The Bunnymen and Siouxsie, I don't think anyone would be complaining."
"No, I think you are right there Pam."
"And I'll tell you what, Rog: I think that Maggie Thatcher is doing a great job for the country."
"Dead right there Pa… WHAT???"
Okay, in fairness and respect to her, Pam Young said no such thing, ever. Just a short time in her company summons my subterranean Tokyo subway rush hour crush on her to come bursting up and out into the Leeds' night air, in a cobbled car park at the back of the Queens Hall. Pam could say anything, and I'd just agree with her, if I thought it might keep the conversation going a little longer.
Later still, at Wooley Edge services on the M1 (Southbound).
"Y' see, you could never have a video game based on test cricket."
"Yeah, you put in 10p and it rains for three days solid."
I'm in the games arcade with Charlie and guitarist Paul, watching them rack up impressive scores on the Space Invaders and Galaxian machines. This is our little gang within the band, where we prefer to rave about Viv Richards rather than deconstruct Hans Richter. We played really well, and nobody chucked beer (or worse) at us; possibly because our little lighting rig, composed of four small tungsten strips and a couple of strobes, rendered us almost invisible to any would-be assailants. We all bathed in the heat from the massive house rig, as it suddenly came up to illuminate us, for the one track that was being filmed for the telly.
I've survived my first festival; but, had I not had an access all areas pass, I think I might have lasted a couple of hours max. Poor me. I'm a bit little troubled by some of what I've seen. Why have drum kits suddenly started getting bigger again? Extra floor toms popping up like gasometers; an invading fleet of unnecessary, flying saucer sized cymbals; Rototoms like wheel rims on souped up Cortinas. I swear we are one gong away from a full-blown Carl Palmer revival. Also, feet are back up on monitors, mic stands are being twirled, and so many bands – U2, Wasted Youth, Mirror Boys, Modern English – just seem to want to be the Rolling Stones. Being the arty, pretentious Northerners we are, we're more interested in being Gilbert and George rather than Mick 'n' Keef. Our singer wears a cassock.
I get home to my own bed at 4.30am, still thinking about the folks trying to sleep in the Queens Hall, amid the stench of puke, piss, farts and stale beer. Their reward? Hazel O'Connor and Gary Glitter on Sunday night. I don't wanna be in their gang.
Many thanks to Philippe Carly for granting permission to use his photographs (and his gig pass). Please check out his superb photo archive at http://www.newwavephotos.com/index.php
Nick Pearson - if you read this please get in touch.
Futurama 1980 playlist on Spotify.
More pics, set lists etc over at https://mylifeinthemoshofghosts.tumblr.com/