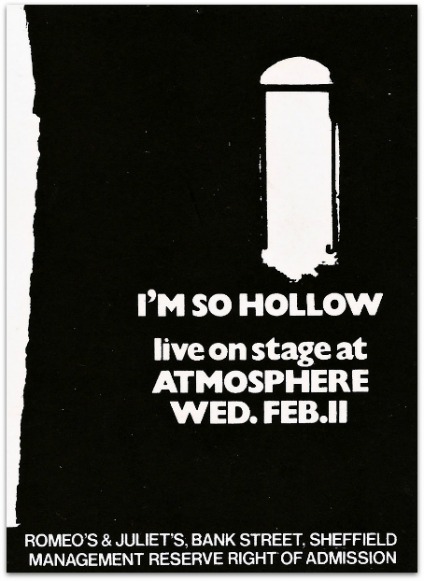 Pity poor Tracey Evans, the object of my affection, as she arrives to work to find another token of my ardour on her desk. Here's my debut album. "You don't have a record player? OK, here's the album on cassette." (TDK SA C-60, no expense spared for Tracey.) Here's this week's Sounds with an interview and pictures of me in it; here's a clipping from the NME that says "They are going to be the greatest band in the world."
Like a cat bringing slaughtered sparrows and mauled mice to their owner's back door, these inanimate objects from my nascent recording career are my attempt to woo her. There hasn't been this level of wooing since the Stones recorded 'Sympathy For The Devil'.
Tracey Evans works in the office around the corner. She has sleek brown hair scraped back in a taut pony-tail, wears mandarin collar blouses, and speaks like Jane Seymour in 'Live And Let Die'. She likes skiing, amateur dramatics and Toyah. I can't abide the lispy gonk Boudicca. Nonetheless, Tracey is the blank screen onto which I have decided to project my yearning. A nice, well-grounded young woman that my Mum and Dad would like. Tracey may not be the most luminous star in my constellation, but I have decided that she's the one I won't have to travel light-years to reach.
I don't know if she is flattered, bothered or bemused by my intentions. She's a little older than me, has a driving license and a passport, speaks French and probably buys her own underwear. I walk her to the bus stop and the sandwich shop. If we go out; we go out with her well-to-do friends from sylvan Dore and Totley. So it's no great surprise when she declines my invitation to come out and see Sheffield band I'm So Hollow at Romeo's & Juliet's.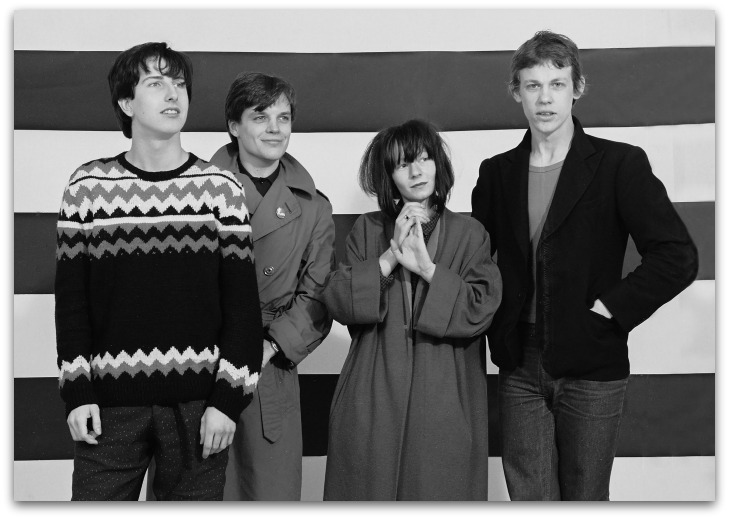 I'm So Hollow. Photo by Pete Hill.
Atmosphere, named after the Joy Division song, is Blitz promoter Disco John's new club night. His vision is a place where cool, like-minded folk can enjoy each other's company and non-chart music well away from the meat-heads and meat markets. Relocating from the drab suburban prairie of Infirmary Road to the newly opened Romeo's & Juliet's in the city centre. To paraphrase Augustus Pablo – Disco John Meets Hipsters Uptown.
Until recently, Romeo's & Juliet's was known as Baileys. Many a Saturday night was spent in Baileys in the summer of 1978, boogieing on down to the Bee-Gees and trying to pick up tips from the turns, as my school band pals and I dreamed of cracking the club-land world of The Grumbleweeds and Johnny Kalender. The fading natural shades of Baileys - moulting labrador and tired orangutan - have been banished. As have the chicken-in-a-basket dining and the New Faces fodder entertainment. Romeo's & Juliet's whispers sophistication, with plush seated booths in brushed midnight blues and soft feline greys. Plus, a sure sign of the newly aspirational 80's, a cocktail bar.
The new club retains the dance floor and stage from Baileys, and Disco John has spotted the opportunity to hire it on a quiet midweek night, well away from weekend wannabe Bobby Ewings and their Pamelas. His big idea for Atmosphere is to make it a videotheque, so he's raided Rediffusion for a dozen boxy, old Bush tellys, which are now stacked up on the stage.
At the first Atmosphere night, on January 12th, the TVs burst into life with Public Image Ltd.'s performance of 'Careering', taped off the Old Grey Whistle Test. With the sound pumped through the venue's P.A. system. We immediately stopped talking, drinking and dancing and gawped at the screens, as if John Lydon himself had deigned to walk among us on a cold winter's night.
Despite Tracey's knock back, I'm happy to go out on my own. There will be people there I know. Also, given that DVA has just released its debut album to generous critical acclaim, and played to 3,000 people in London just last Sunday night, I can drag along with me an inflated sense of self-worth as my + 1.
One Cab, two Leaguers, an Artery, one letter of ABC, and a dacha of Russians. We boys keep ligging, in our Oxford bags and Oxfam glad rags. Word is out that Disco John has a new video club night, playing new records by Was (Not Was) and ESG, who tonight are warming up the room for I'm So Hollow.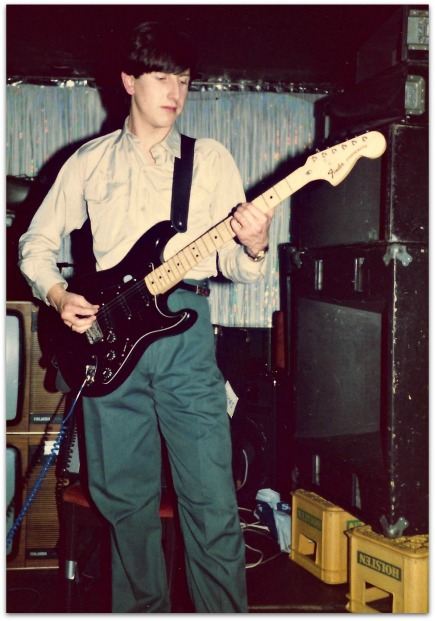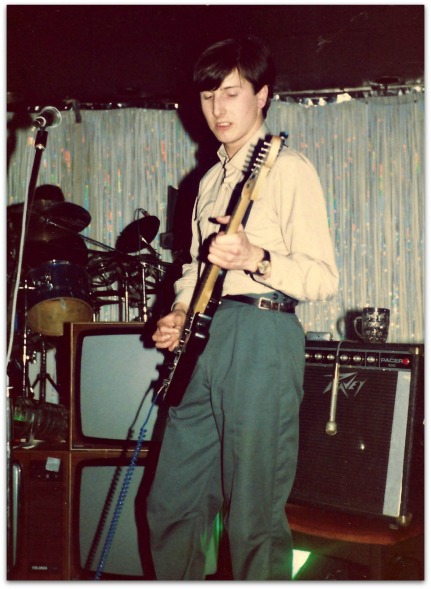 Rod Leigh, I'm So Hollow. 11th February 1981.
Photos (and gig ticket) courtesy of Jon Downing.
The band members take their places between the tellies and launch, appropriately, into 'Entrance'. Joe on drums and Gary on bass guitar are the best rhythm section in Sheffield, their dense mesh of clattering Rototoms and bubbling, four-string nimbleness giving the band its distinctive foundation. 'Which Way' follows, Rod's Eeyore-meets-Eno Don Valley whine criss-crossing with Jane's tinny WASP synthesizer, whooshing and wittering away like a hyper-ventilating Hoover. Jane's solo spotlight – 'The Unbroken Line' – is next. Its haunting refrain "I guess you'll see me when you can" encapsulating what I fear Tracey Evans is telling me.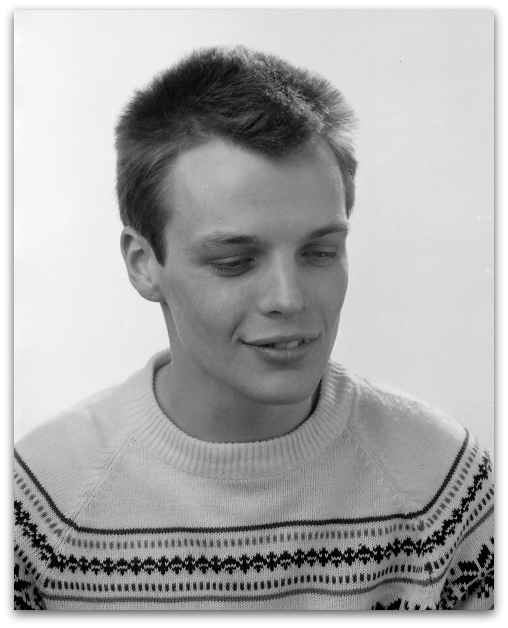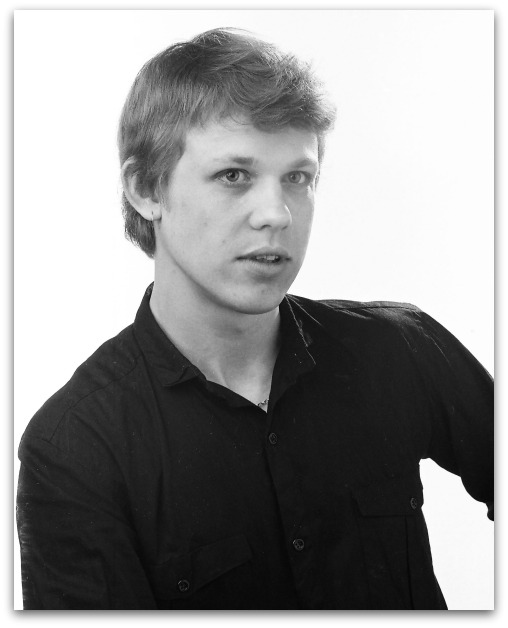 Gary Marsden (top) and Joe Sawicki. Portraits by Pete Hill.
I've not seen them since they charmed the unwashed mosh at the Leeds Futurama festival last September. Since then, they've released a debut single, 'Dreams To Fill The Vacuum', on their own label, and have recovered from more splits than Nadia Comaneci. With Singer Rod away at college in Coventry, and the rest of the band having office jobs, I'm So Hollow march to the beat of a diffident drum. Having no interest in fame for fame's sake, they admire Cabaret Voltaire for both their uncompromising approach to music making, and the way they manage their affairs. This has brought them success on their own terms.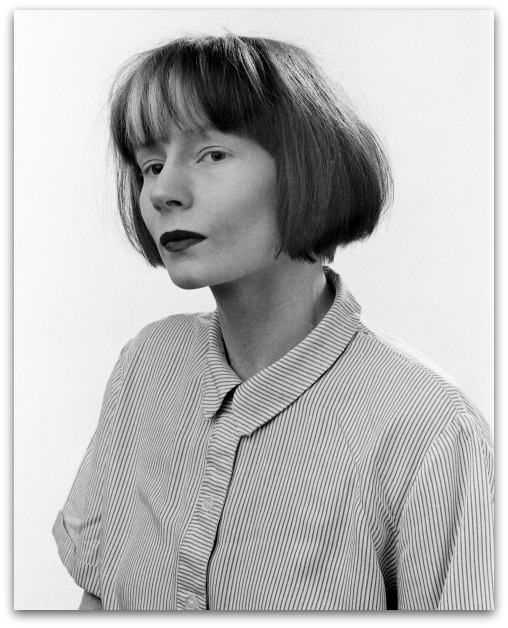 Jane Wilson. Portrait by Pete Hill.
Worth her waif in gold, Jane Wilson looks out on us with impish indifference - Tuesday Weld on a Sheffield Wednesday. She's previously been dragged along to Romeo's & Juliet's by the girls from her work, swatting away the sloshed, groping bar flies as they swayed around the handbag cairns piled up here and there on the dance floor. Jane's been dreading this gig. I'm So Hollow finish with 'Distraction', which doesn't so much borrow from Roxy Music's 'Ladytron' as kidnap the Lady, hide her in a Brocco Bank basement, and wait for a letter from Bryan Ferry's publishers.
It's the fifth time I've seen I'm So Hollow, and I've never seen them play a bad gig. Looking at the crap in the charts – The Look, The Photos, The Motels, new wave carpetbaggers one and all - it seems absurd that I'm So Hollow are still unsigned. A thrilling band, friendly faces, swanky surroundings, cool tunes, potent liquor and lots of tellies; Atmosphere is a success, a proper cathode rave.
Next day, hungover, I'm in a greeting cards shop on Chapel Walk, picking out a valentine card for Tracey Evans. I'm not going to sign it, 'cos I know that she'll know it's from me. Part of me - the shy, inexperienced part - rather likes this state of affairs. Building the pedestal, sculpting an ideal. Someone perfect, someone better than me. Tracey isn't the first, and she won't be the last. I'm Roger Edwin Quail; you can't spell unrequited without REQ.
---
Soon after this gig. I'm So Hollow signed to UK independent label Illuminated Records, home to B-Troop and The Modernaires. Their debut album 'Emotion / Sound / Motion' was released in October 1981. I'm So Hollow split up shortly after.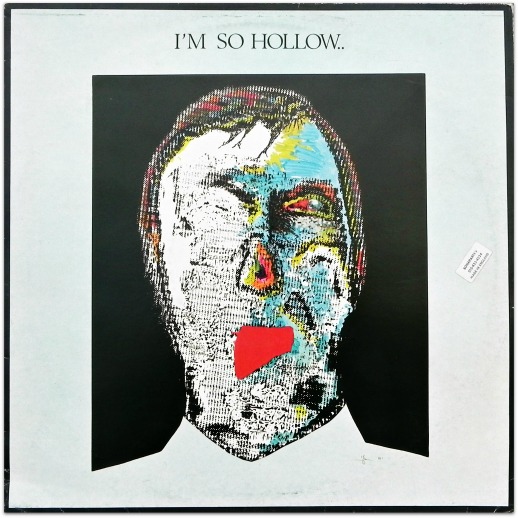 Thank you to Jon Downing, Jane Antcliff and Pete Hill.
Check out https://mylifeinthemoshofghosts.tumblr.com/ for more pictures, clippings etc.