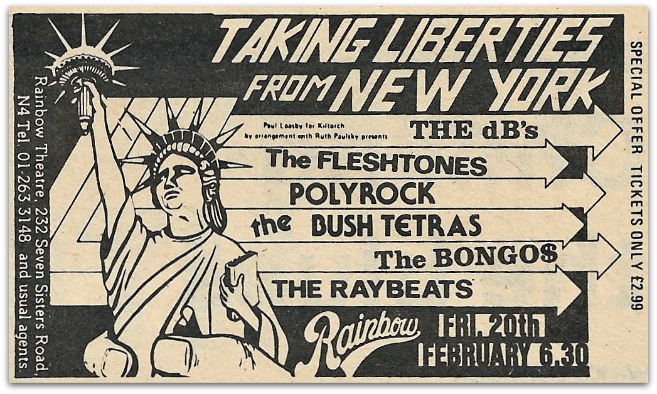 Sunday afternoon, a car crash, at the junction of Belgrave Road and Warwick Gardens. There are shouts, a crumpled thud as traffic island halts Ford, and a loud smack as I head-butt the windscreen. Hard enough to spider-web the glass. Any greater impact and I'd be dining on tarmac and hospital food, or worse. Riding shotgun, no seat belt. Stupid lad. Thank God you've got a big soft head.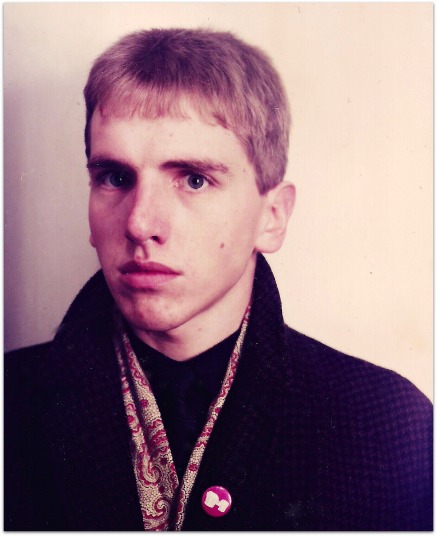 Flick the pages back to Friday and the weekend is full of promise. DVA are back down in London to remix our songs '4 Hours' and 'Sensorium' for single release on Fetish Records. Friday afternoon and Rod Pearce's tiny flat on Denbigh Street, which doubles up as Fetish HQ, is abuzz with American accents. His US signing, The Bongos are over from New York for their first UK show - part of a five US-band showcase titled Taking Liberties - at the Rainbow Theatre in Finsbury Park. Also hanging out are a couple of members of the soon-to-be-signed Bush Tetras, playing on the same bill. The Bongos – Richard, Rob and Frank - are excited to be in the land of The Beatles and the Stones; their buzz is slightly tempered by the jet-lagged fuzziness of the Bush Tetras.
Apart from Zen bin-man Z'EV, these are my first Americans; better still, my first New Yorkers. Everyone is cool, De Niro cool, Pacino cool. Easy-going, self-assured, they've seen Television, one of my favourite bands, like, twenty times? No big deal. Leather jackets, Converse sneakers, Cuban heels; even their shoes are cool.
I share a mini-cab up to Finsbury Park with Richard from The Bongos. "Message Of Love" by The Pretenders plays on the radio. He's a lovely guy, more Richie Cunningham cool I decide, originally from Florida. He's thrilled to be in London, playing at the famous Rainbow, treading the same boards as Bowie, The Who, T-Rex and The Clash.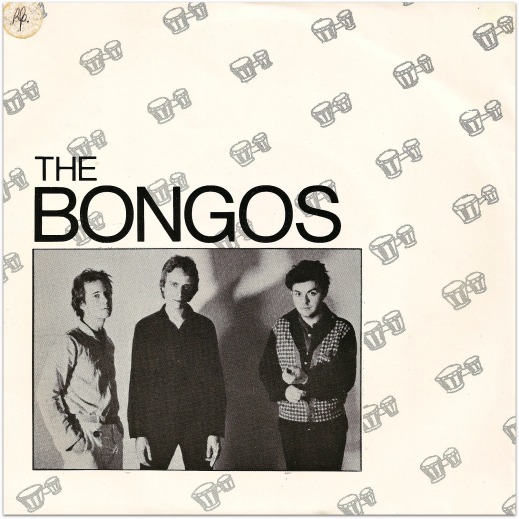 The Bongos - 'Telephoto Lens' Fetish Records 7" single.
(L-R: Frank, Rob, Richard)
The Rainbow, formerly The Astoria Cinema, is huge. Football terrace barriers have replaced the seats downstairs, and it's a long hike up to the vertiginous circle, where you'd need a telescope rather than opera glasses to see the action on the distant stage, which is framed by a ply-wood and plaster reproduction of a Moorish palace, complete with castellated columns and fake palm trees. Exploring further, Richard and I find our way out on to the roof. It's a cold, blue sky day, and I'm on top of the world with my new American friend. This feels good. Perhaps some of his innate coolness will rub off on me?
Richard goes off to get ready. Back downstairs in the sloping auditorium, I find Genesis P-Orridge from Throbbing Gristle. We lean on a barrier and take in this peculiar clash of football and theatre, like waiting to take a look at Real Betis' new striker, Othello. Gen charms me with tales about the Hells Angels back up in Hull, and the origins of Throbbing Gristle. I decide he's the nicest wrecker of civilisation I've ever met.
News of this US New Wave invasion hasn't travelled far; There are maybe three hundred of us in this three thousand capacity room, they'd have been better off in The Clarendon, though I can see why the legendary Rainbow plays better with the promoters. It's bloody freezing when The Bongos go on, and as Richard sings, his breath condenses - his own personal dry-ice machine. I like them, a lean, power-pop trio, combining the breezy optimism of The Lovin' Spoonful with the neurotic tics of Talking Heads. Richard is the cheery front man; a cherub cheeked McCartney on a borrowed guitar, relishing the moment. They are joined onstage by Genesis, Cosey and Chris from Throbbing Gristle, plus Dee Pop from the Bush Tetras; 'In The Congo' is a warped, tribal collision of joyful pop and atonal racket, which actually gets us moving. Anything to keep the creeping frostbite at bay.
Of the other bands, the sleazy surf 'n' sax of the Raybeats, the Byrds-like jangle of The dB's and the retro frat-rock of The Fleshtones, it's the Bush Tetras who stand out for me. Their somnambulant, ghostly presence at Fetish earlier in the day suddenly makes sense; these people are allergic to day light. Come sundown, put them onstage, plug them in and they come to life. Three girls who dress like tom-boys, plus a drummer boy on tom-toms, this epicene combo thrive on a paranoid, de-tuned funk-throb. A bit like the Slits, if the Slits came from the Lower East Side rather than Ladbroke Grove. Not easy to fathom, not here to put on a show, they nonetheless effortlessly convey a kind of skulking NYC scuzziness I've only seen in the movies. In case we didn't get the message, they carve up John Lennon's 'Cold Turkey' with a sallow dread that confirms they didn't come to London to be snapped on the zebra crossing at Abbey Road.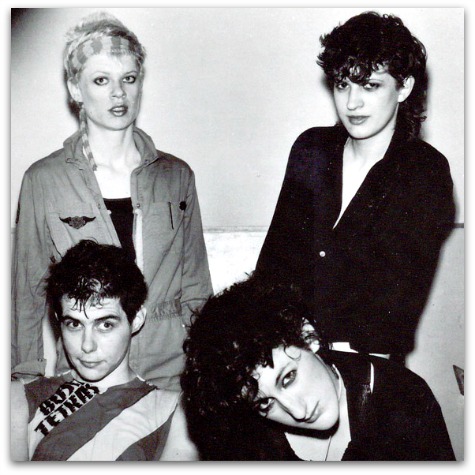 Bush Tetras: standing - Pat Place, Laura Kennedy. Seated - Dee Pop, Cynthia Sley.
I wake up, nylon sheets crackling, in my £8-a-night hotel room in Pimlico, around the corner from Fetish. Single servings of marmalade scraped onto cold toast is the only sound in a morgue-like breakfast room. This is London, no-one talks to each other, especially not in the morning.
Charlie Collins arrives down from Sheffield, and we go record shopping. First the Virgin Megastore on Oxford Street, and then Charlie takes me to the jazz palaces at Dobell's on Charing Cross Road and Collet's on Shaftesbury Avenue. Buying records in London can be a bit of a hit-and-miss affair. The imperious staff behind the counter aren't inclined to let you listen to anything before you decide to buy it, so you end up taking a chance on new things, sometimes informed by nothing more than a few words in the NME, or something you heard on John Peel, or maybe just a good-looking sleeve. Sometimes, it feels like the record doesn't actually exist, like James Chance's soundtrack to 'Grutzi Elvis', which is so scarce it might as well be pressed on unicorn poo. It's rewarding when you get it right – 'Queen Of Siam' by Lydia Lunch, or the eardrum-threatening 'Holland Tunnel Dive' by impLOG - and disappointing when you get it wrong, like the first Defunkt album (great sleeve, forgettable jams). Another of these bands we've read a bit about in the NME and Time Out, but haven't actually heard, is Love Of Life Orchestra. A bit like Material apparently, also out of New York; and playing at Dingwalls in Camden tonight.
Look at me, out ligging in London, two nights in a row. I'm still bathing in the afterglow of DVA's triumphant gig at The Lyceum a couple of weeks ago; strutting around Dingwalls, wearing my DVA button badge, desperate for someone to recognize me. Eventually I bump into Peter Holsapple from The dB's, who I had met twenty-four hours earlier at their Rainbow gig.
Me: "Hey Peter!"
PH: "Uh, hello, have we met?"
Me: "Yeah, last night at the gig, great show!" (Please ask me about my band.)
PH: "Thanks. Er, where's the rest room?"
Me: "The restaurant? Sure! Down at the end of the bar, it's waitress service."
Alarmed by the thought of a waitress-assisted toilet, Peter Holsapple flees into the night, as Love Of Life Orchestra kick off and save me from any further embarrassment.
The Rainbow gig mostly felt like an exercise in flicking through rock's well-thumbed pages while wearing New Wave shades. I don't blame the bands, in a modern US musical landscape dominated by Billy Joel and REO Speedwagon, looking back to the counter-culture cool of sixties for inspiration appears to be a neat way to side-step the mainstream. However, here, tonight, is some new American music which is forward looking, and funky to boot.
"That's a small orchestra." notes Charlie, drily. He's got a point; they're a four-piece: drums, bass, guitar and a multi-tasking synth and sax. In fairness, while Love Of Life Quartet might be more pedantic, it wouldn't do justice to the bold ambition and scale of this music. Free-flowing but disciplined, flashing vibrantly but never flashy for flashiness' sake, tight like the snare drum which is cracking at cochlea-crushing volume a few feet away from me.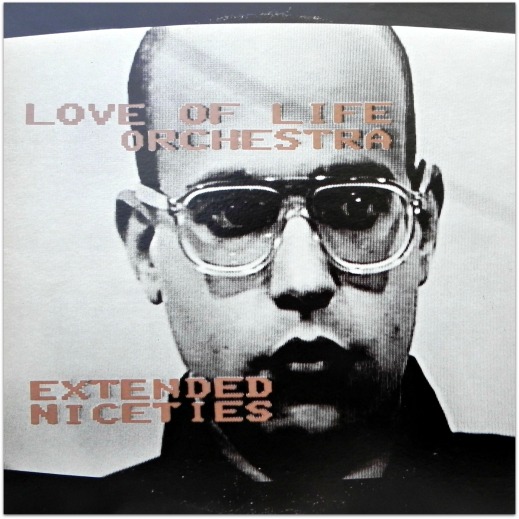 Peter Gordon, Love Of Life Orchestra - 'Extended Niceties' Lust/Unlust 12" single.
I'm stood front and centre, marvelling at the interplay between the band. It's all instrumental, galloping drums and walking bass lines that seem to stretch the length of Broadway. The guitarist seems to be at ease in any style, from Funkadelic to Fred Frith, and the balding, bespectacled guy on synth and sax appears to be the polymath calling the shots, which ricochet around Dingwalls at acute, appealing angles. Musicianship of this calibre is still somewhat frowned upon in the UK, punk having put the mockers on anything that resembles virtuosity, but this band are the missing link between Chic and Chick Corea, a cerebral disco feeding the head and feet.
In love with life, in love with music. Love Of Life Orchestra's jagged, jazz-dance innovations are still ringing in my head when it hits the pillow back in Pimlico. Twenty-four hours later and my head is still ringing, with concussion. After the car crash, an ambulance took me to St. Thomas' hospital, where I was examined, diagnosed, and told not to travel until Monday. I check back into the same hotel and watch 'Hart To Hart'. The mixing of our new single happens without me.
I think about the Americans, now heading off on a European adventure. Their can-do attitude, their effortless sang-froid, their stunning musicianship, they make it all look so easy.
The following day, England is covered by a blanket of snow. I go home to Mum and Dad, my safe Sheffield home, crisp cotton sheets and hot meals. I'm the youngest of three, still getting spoiled rotten.
"Hi Mum."
"Hello love, did you have a nice time?"
"Yes thanks, I was in a car crash, but I met some lovely Americans. What's for tea?"
---
The Bongos signed to RCA Records, and released 'Beat Hotel' in 1985. Richard Barone is a successful solo artist, writer and producer. He lives in Manhattan. More about Richard here: http://richardbarone.com
The Bush Tetras released two singles for Fetish before splitting in 1983. The original line-up reformed in 1995, bass player Laura Kennedy passed away in 2011. The Bush Tetras continue to gig to this day.
Link - https://www.facebook.com/bushtetras/
Peter Gordon is a respected composer, saxophonist and producer. James Murphy's DFA Records released a career overview compilation of his work in 2010.
Link to his Soundcloud here: https://soundcloud.com/pglolo
Link to my Sounds Of New York 1980-81 playlist on Spotify here.
Thanks to Richard Barone and Peter Gordon for their help.
More pictures etc over at https://mylifeinthemoshofghosts.tumblr.com/