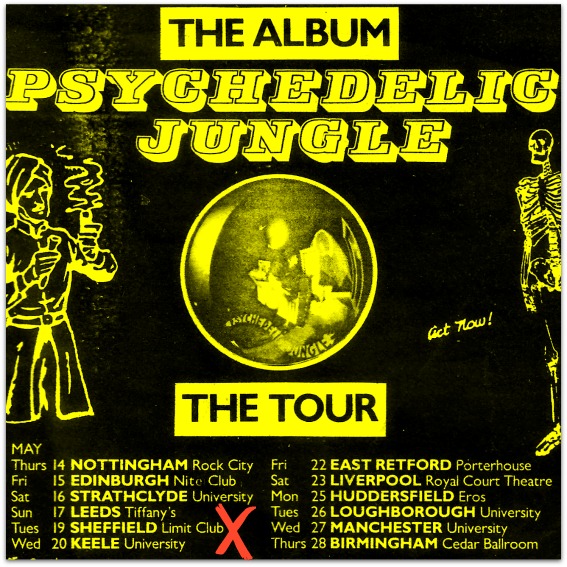 I hop off the London train at Midland station, say farewell to Charlie, and head home to Mum and Dad's house at Sheffield Lane Top. I give them a brief summary of the weekend: yes, the concert was great; no, no-one tried to blow me up; and no, no-one mugged me. I have my tea, change my pants, and catch the bus back into town to meet the beloved Ava.
Tonight's gig, American group The Cramps at The Limit, is her idea. While I've heard them on John Peel, and read bits in the NME and Sounds, I wouldn't call myself a fan. The Cramps' reputation in Sheffield is based on their behaviour during two previous visits. At the Top Rank in the summer of 1979, where The Police's audience, eagerly waiting for 'Roxanne', were terrified by The Cramps' mad axe man Bryan Gregory. And the following year; at their Limit Club debut in March.
The latter night, Tuesday 11th March, has already entered Sheffield gig folklore. While I was doing the boho dance to I'm So Hollow down at The Blitz Club, up on West Street, the Cramps frontman - Lux Interior – had discovered that the low, suspended ceiling above the stage was composed of loose polystyrene tiles, and proceeded to literally bring the house down, dared on by a boozed-up crowd. Both band and fans then danced in a snow globe of polystyrene flakes, before the bouncers broke up the festivities and threw Lux off the stage. Out of such infamy, legends are born, and Ava, who practically lives here, tells me that the dance floor goes mental whenever the DJ plays anything by The Cramps.
Some things are sent to try us, like tonight's support act The Meteors. Like buses, you wait three years to see a band with a double bass, and then two come along in four days. However, while Fred Hopkins from AIR led his instrument through a series of sensuous dances, the wiry lad in The Meteors grapples with it like its Goliath's cricket bat, dry humping the wood like a randy Jack Russell. Across from him, the singer seems to have spent hours at the mirror perfecting a crazed bug-eyed stare, which he throws in our direction at every opportunity, as if to say "I'm mad, me. No really! Bloody bonkers I am." The music is punky rock 'n' roll, amped and amphetamined-up for the 80's. My investment in the rock 'n' roll revival just about stretches to spending 10p on The Three Tuns jukebox for a lunchtime spin of 'Runaway Boys' by The Stray Cats. For me, Rock 'n' Roll means Teds, and Teds mean trouble. Walk away, go to the bar, leave the gurning boys to it.
The Cramps start at, and maintain, a volcanic level of energy. The only question being, how long dare we dip our toes in the lava flow pouring from the Limit stage, with Lux Interior (Erick Lee Purkhiser at the DMV line) as the fissure king. At 34, Lux is a year older than Fred Hopkins, and I'm struck by a hirsute irony: jazzers grow beards to look older and wiser than their years, while rockers will cling to the last vestiges of their youth like a lifebuoy after a shipwreck. Lux is older than Iggy Pop, and Iggy is "The Godfather of Punk", so does that make Lux the Great-Godfather?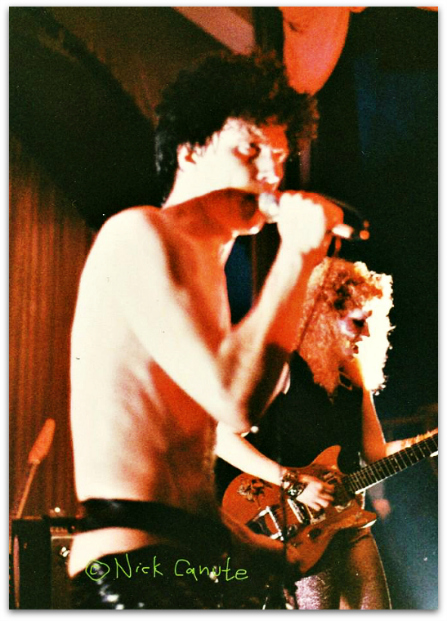 Lux and Ivy, May 1981. Photo by Nick Canute.
Slippery and glistening, Lux, like Iggy, favours the semi-naked approach to wardrobe, being blessed with a similarly flab-free, brawny torso. I briefly ponder if one of the road crew bastes Lux with a bucket of sweat before he makes his entrance every night. From the waist down Lux is decanted into a pair of shiny black PVC trousers, which make his thighs look like two freakish aubergines. This second skin appears to hold firm thanks to a rare epoxy blend of elbow grease and willpower.
Four feet to his left stands Ivy Rorschach aka Poison Ivy, his life-partner since 1972, and co-creator of their Gothic world of schlock horror, voodoo charms, well-thumbed stroke mags, B movie science-fiction and primitive rock. Svelte and sexy in spangled pedal-pushers, she spins haunted, vibrating spider's web licks from her guitar, coolly playing Anne Nagel to Lux's Lon Chaney Jr. A flame-headed medusa, she looks like all the women my mother warned me about rolled into one.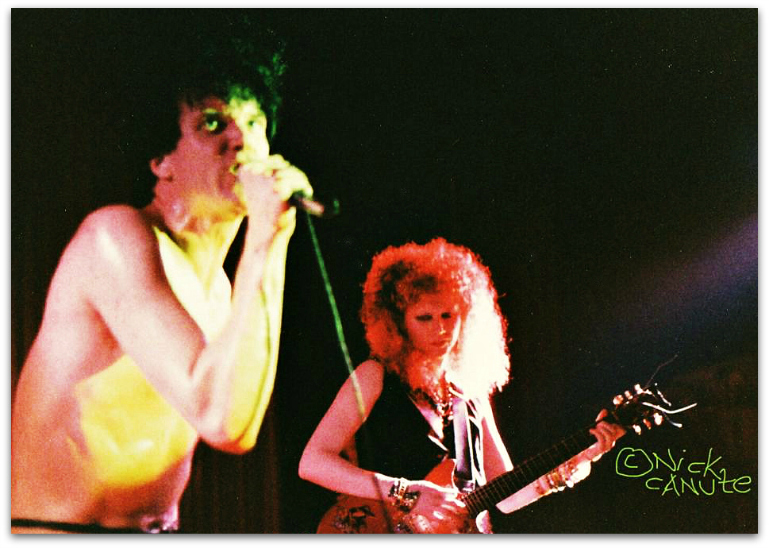 Lux and Ivy, May 1981. Photo by Nick Canute.
Completing the front three, just six-months into his first Crampionship season, is new boy Kid Congo Powers. Joining the band when Bryan Gregory left suddenly at the end of 1980, he made his recording debut on The Cramps new album, the just-released 'Psychedelic Jungle'. With an exploded beehive hairdo and a Jagger-esque pout, he drops hissing fuzz bombs on guitar, a dizzy counterpoint to Ivy's eldritch twang. At the back sits drummer Nick Knox, raven black pompadour and matching shades, a carpenter of the beat. Sawing out yard after yard of thick, rich THUNKA-THUNKA-THUNKA, he brings the boom and thud to a band with no bass guitarist.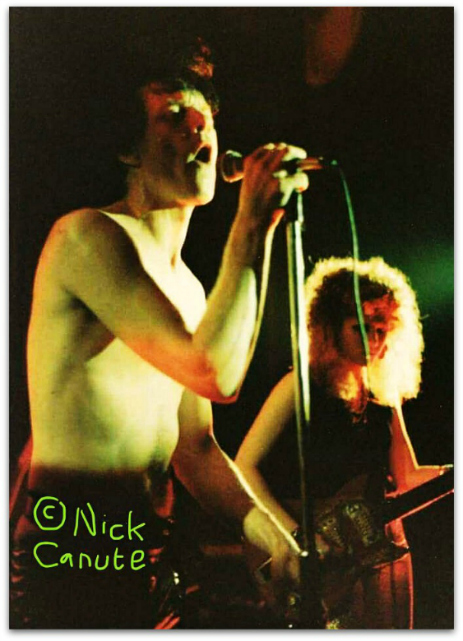 Lux and Ivy, May 1981. Photo by Nick Canute.
Apparently, a lot of these songs are covers of obscure psychedelic and rockabilly songs from the 50s and 60s. What I know about rockabilly can be written on the point of Ivy's kitten heel, but there is no denying the primal potency of these sleazy songs – 'Goo Goo Muck', 'Green Fuz', 'Sunglasses After Dark' – hammed up and crushed out in this sweating, heaving, subterranean shoe box. With names like super-heroes, The Cramps sound subversive and look fantastical: four real-life action figures waiting to be immortalized by Mattel.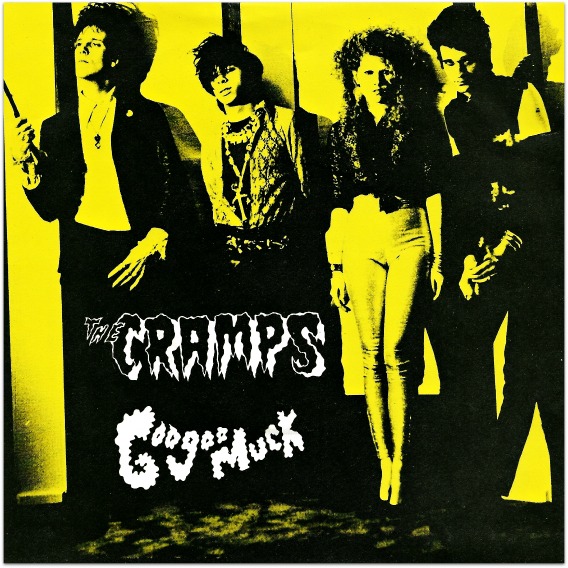 The Cramps (L-R) Lux, Kid Congo Powers, Ivy, Nick Knox.
During the last song, Lux stares up at the new ceiling, stretches out his hand, and slowly, gently pushes a corner tile free of its supporting metal frame. He looks at us, then back up at the finger-tilted tile.
"I've been told to watch the ceiling."
Should he or shouldn't he? The sozzled, swaying mob scream for destruction, but Lux demurs. Someone has had a word, and he doesn't feel like being roughed up by The Limit's bouncers again.
I've learnt that an evening with The Cramps isn't so much a walk on the wide side, but more of a waist-deep wade through narcotic, ghoulish swamplands. The next day - quicker than you can say Faster Pussycat! Kill! Kill! - I pop down to Bradley's on Chapel Walk and buy 'Psychedelic Jungle'. My style has been Cramped, and I couldn't be happier.
---
Lux and Ivy kept The Cramps alive until his death in 2009, at the age of 62.
Nick Knox left the band in 1991. He passed away earlier this year.
Kid Congo Powers left the band in 1983. He continues to tour and record with his band The Pink Monkey Birds.
---
Special thanks to Nick Taylor aka Nick Canute, who took the pictures of Lux and Ivy at their gig in Leeds, two days before the Sheffield show.
More pictures and stuff over at https://mylifeinthemoshofghosts.tumblr.com/