"Well, it's taken them a powerful long time to get onto record, but they've done it at last. ClockDVA, one of those names you've seen, I bet you've seen around for years, but there they are now on an E.P. called "1980 – The First Fifteen Minutes", that's called 'Brigade'. Here's Tom Petty and The Heartbreakers…" John Peel, BBC Radio 1, 12th February 1980.
John Peel played our record. One of my key musical educators, from Ivor Cutler to Culture, Wishbone Ash to Wire. My night-time companion from the mid-seventies onwards just played 'Brigade' – all biscuit tin drums and bin lid cymbals, produced by Cabaret Voltaire at Western Works on my nineteenth birthday - on BBC Radio 1. "275 to 285, wonderful Radio 1". Heard the length and breadth of the nation by everyone, from students in Strathclyde to old lags in Parkhurst. Radio waves travelling at the speed of light, leaving planet Earth, ready to rock the aliens out on Aldebaran in the next century.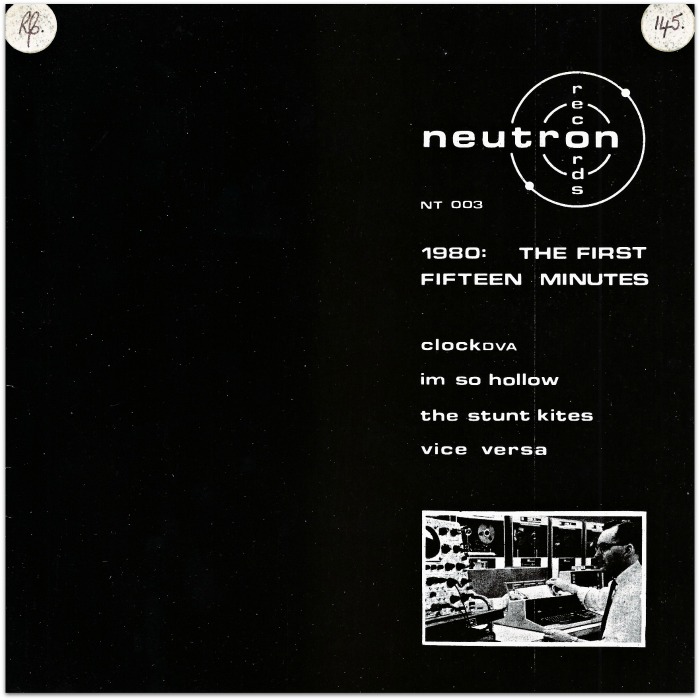 A year ago I was playing Be Bop Deluxe covers in a Pitsmoor bedroom; now I am a recording artiste. And while I'm sufficiently grounded to know I haven't made it, I do at least I feel that I've got a glimpse of the instructional manual on how to construct it. This feeling is reinforced by the inclusion of another ClockDVA song, 'You're Without Sound', on 'Hicks From The Sticks'; a Pennine-straddling, album-sized compendium of haircuts, synths and haberdashery compiled by Sounds writer Des Moines.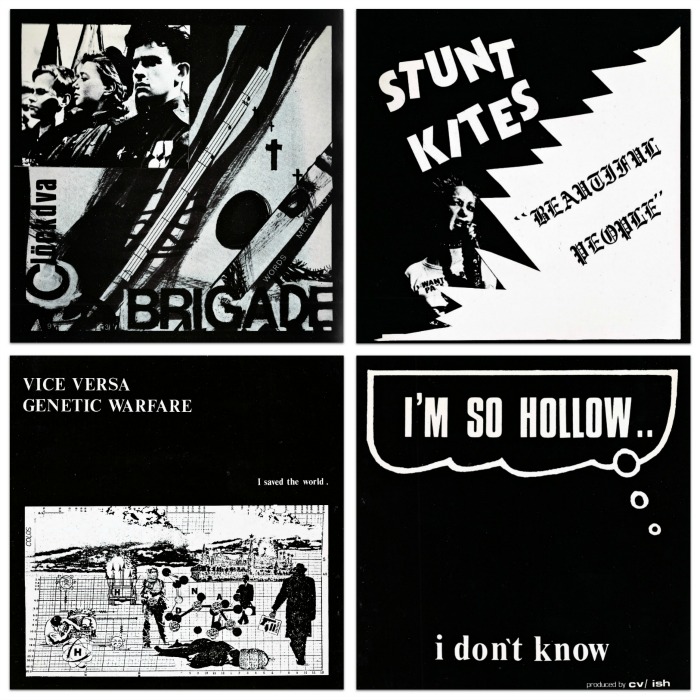 The "1980" E.P. is the brainchild of Mark White and Stephen Singleton from local band Vice Versa*. These electro-pop entrepreneurs have started their own label, Neutron Records, and have invited other Sheffield bands they admire to join them on a 7" vinyl release, in an attempt to capture the essence rare of South Yorkshire at the turn of the new decade.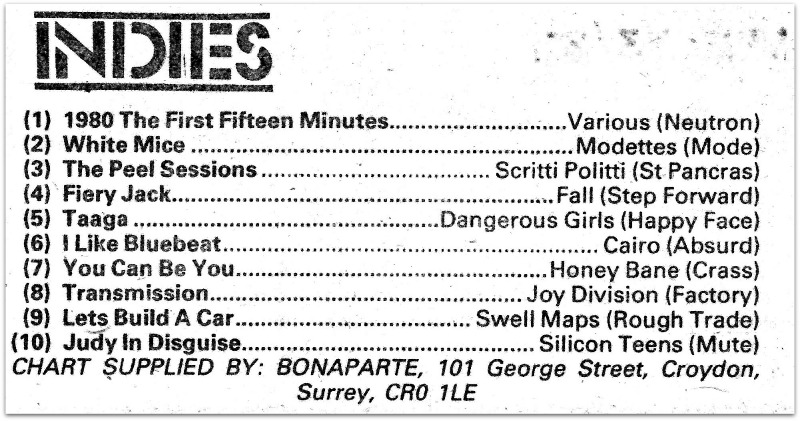 NME Chart, March 1980.
"Very impressive, makes Joy Division sound frivolous." – John Peel on 'I Don't Know' by I'm So Hollow.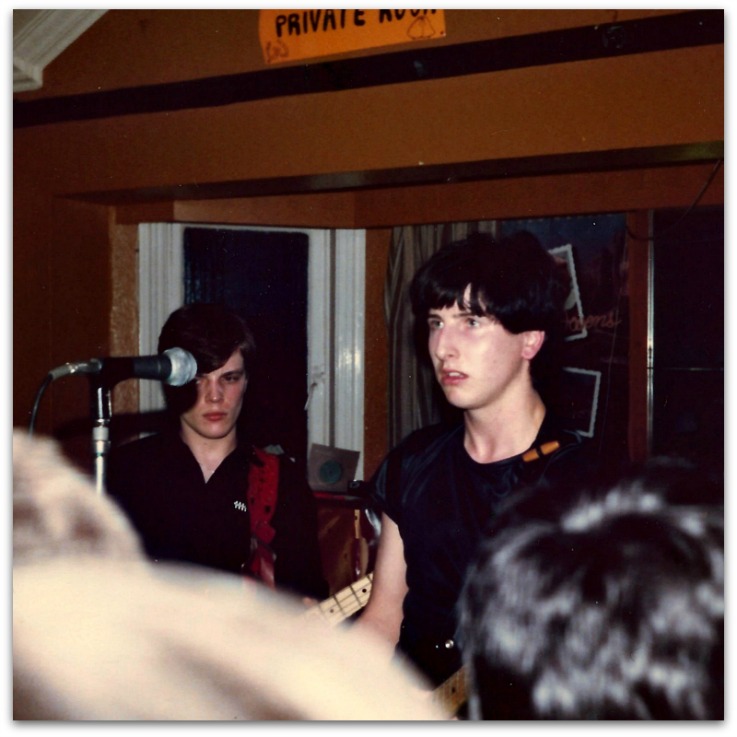 Gary & Rod - photo by Jon Downing.
While I might be fantasising about our music heading for the outer limits, I'm So Hollow are on a journey to inner space. Since I last saw them in November at the same venue, their physical, quizzical music has grown even more intense - scorching the topsoil, turning the crust to husk, burrowing through the mantle to get to the core. I'm somewhat jealous of drummer Joe Sawicki, who's set up has more skins than a packet of Rizla's. He's just a gong away from the perfect Keith Moon memorial kit, and his rhythmic real estate occupies most of the available acreage on the compact stage. Tucked in next to Joe is the Kinski-like bass sentinel Gary Marsden. Up front, co-vocalists Rod Leigh and Jane Wilson trade neuroses, panning for nuggets (deadpanning in Rod's case) of truth amid the churned up chaos and heat, the process finding it's acme in Jane's haunting "I'm sure you'll see me when you can" refrain on a new song called 'Unbroken Line'.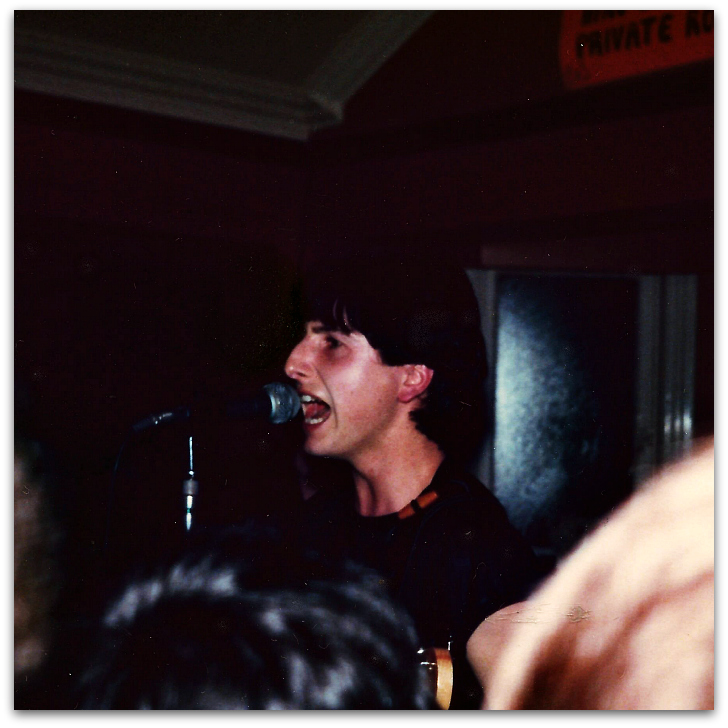 Rod - photo by Jon Downing
Jane does her bunny-hop-cum-rain-dance shimmy, a little Pocahontas pogo, from behind her keyboard stand; the room swoons. I sort of know her; she lives a couple of streets away from me on Dial Way at Shiregreen. This wonted, local girl transformed by the power of music, her perfect embouchure a clarion call for a thousand brass bands. Louise Brooks found in the Brightside & Carbrook Co-op, a hometown queen in her kingdom of sound.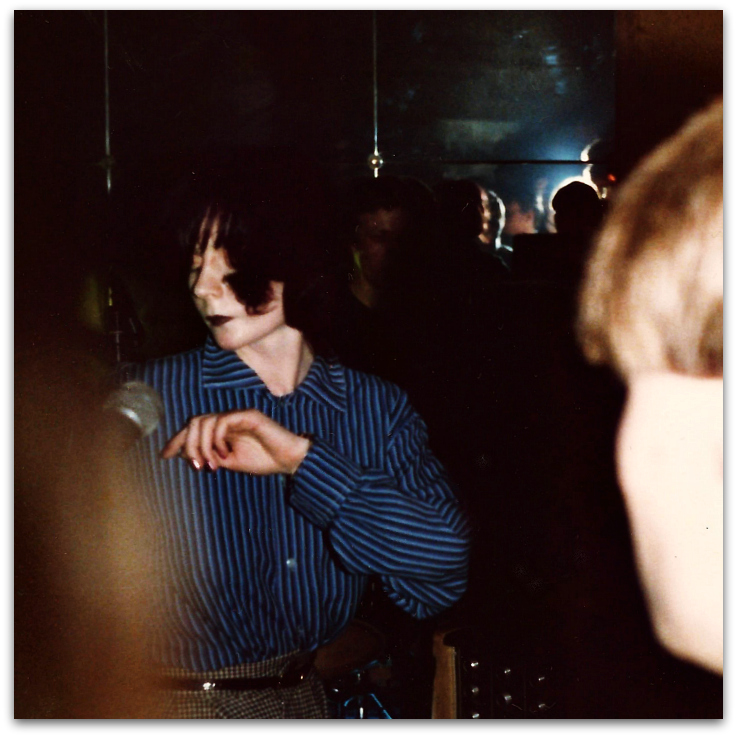 Jane - photo by Jon Downing
Later that night, with no little immodesty, I write in my diary "I'm So Hollow, the only other Sheffield band that really matters."
Soon after, John Peel himself calls Jane at home on Dial Way to book the band in for a session.
"I bet you wish you'd called your band the Stunt Kites!" – John Peel
It might be the first fifteen minutes of the Eighties, but the clock is ticking for the Stunt Kites. "Beautiful People", their track on the E.P., is to be their final vinyl flight. Their January gig at the George IV saw the band in freefall, dragged down to earth by drugs, liquor and bickering. Their return to the same venue in early March is to be the farewell performance.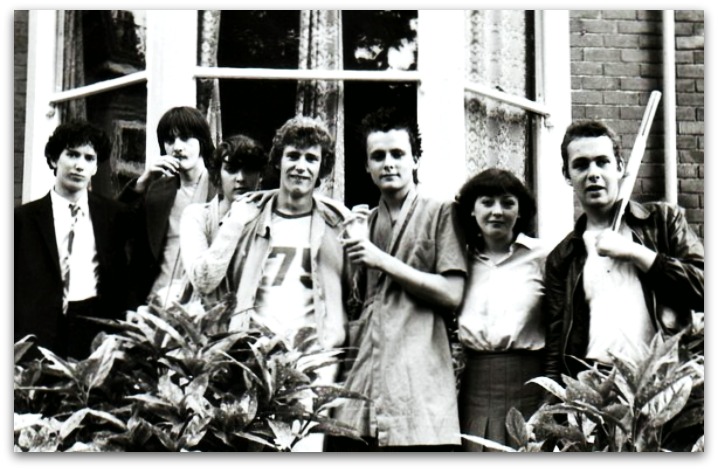 The last gang in town. Stunt Kites and friends, Abbeyfield Road, 1980. (L-R) - John Allen, Chris Vincent, Julie Gould, Ashley Eckhardt, Steve Chapman, Donna Howells, Martin Lacey. Photo by Karl Lang.
With no little irony, the gig is a sell-out. The cantankerous rancour that has dogged the band is set aside for the night, a minor triumph at the end of a tragic trajectory. Hepatitis-ridden front-man John Allen, unable to stand, spends much of the show singing from a chair. He rocks back and forth, concertinaed at the waist, an apoplectic Norma Bates from 'Psycho', raging against the lying and the shite.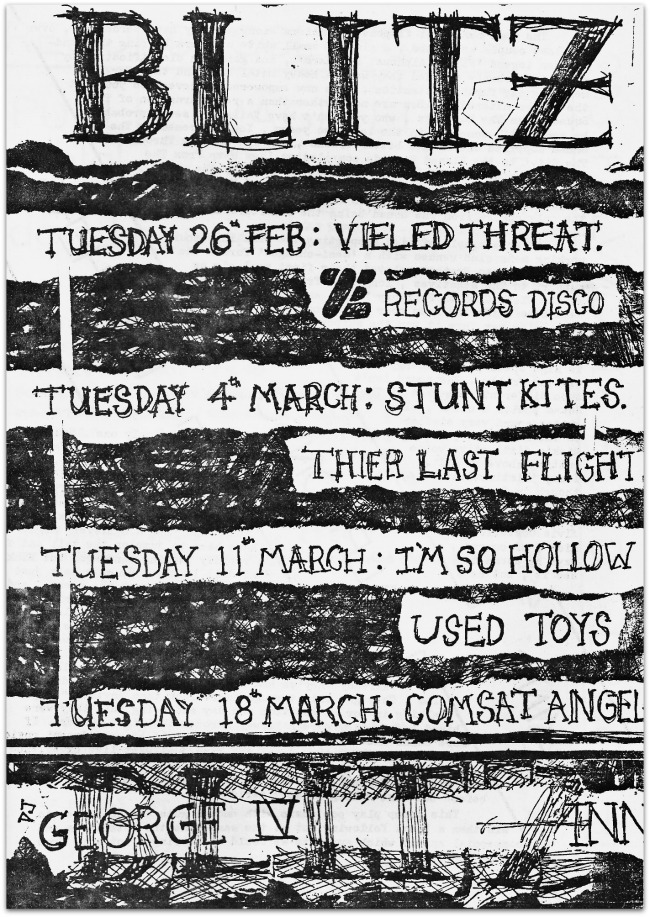 I've witnessed the birth of many of their songs in bedrooms, school corridors and church halls all over Burngreave – 'Suburbia', 'Made In Hong Kong', 'Europe' - and watched them become believable transports of bile and fury. Nimble and elfin, Steve Chapman's Banshees-like, chop-chop rhythm guitar jousts valiantly with Nigel Renshaw's Pistols-fuelled, lumbering cannonade. In the woodshed, rhythm section Brent and Ashley are a whirring, blurry mesh, pulping each song into submission.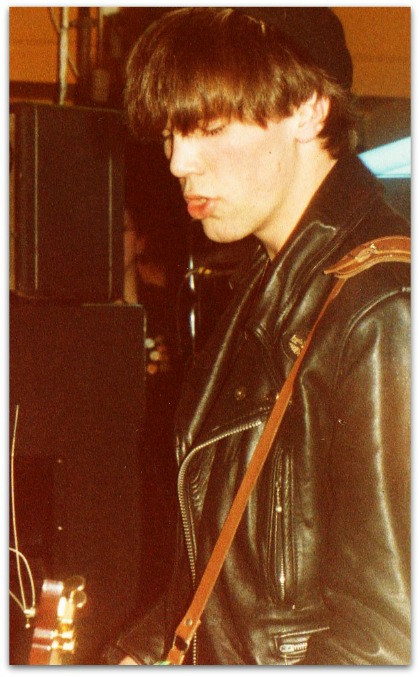 Nigel Renshaw - pic by Ian Leaver.
The room is moving, literally. I can feel the floor boards undulating beneath my feet, as the band's young fans throw themselves around with untrammelled abandon, flailing their limbs and bellowing punk-rock hymns. For these kids, the Sex Pistols and The Clash at The Black Swan in 1976 might as well be as real as Star Wars - another galaxy, another time. This is their band, this is now. In the snug below, the locals having a quiet Tuesday night drink, suddenly have fresh dandruff on their shoulders, and notice a new dust settling on the heads of their foamy pints of bitter, as tiny flecks of paint and plaster become dislodged by the messianic mosh above them.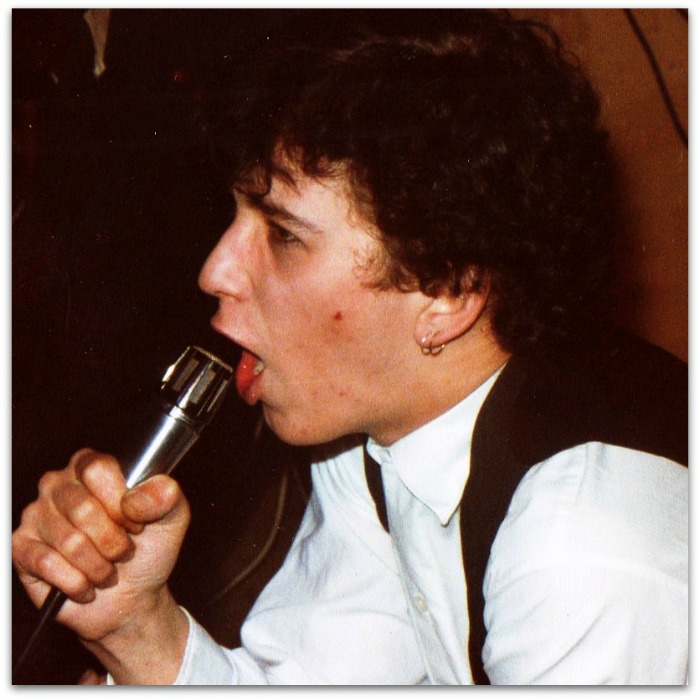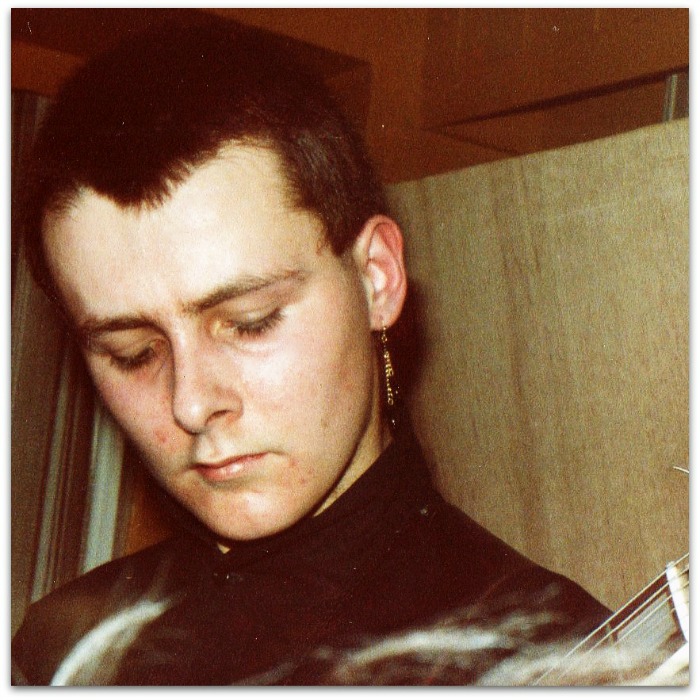 John & Steve - pics by Ian Leaver
The Stunt Kites finish with a cover of the Velvet's "White Heat, White Light". I'm thinking about the summer of 1978, when we used to thrash out Sex Pistols' songs in Chris Vincent's house: me, John Allen, Steve Chapman, and Vinner on bass. Just school friends having a laugh, while discovering the joy of music making. Innocent times, gone for good.
---
John Allen and Nigel Renshaw reformed the band with a new rhythm section in 1981, and played around Sheffield until 2007. In 2003 the Stunt Kites played a memorable 25th anniversary show at the Sheffield City Hall ballroom, which included guest appearances from Jarvis Cocker and Richard Hawley
Steve Chapman and Brent Sharp joined my old school mate Timbo in an ambitious punk-prog power trio called Freefall, who played one gig at Greenacres, Dronfield in December 1980.
Steve died in Helsinki in 2006. I only found out this sad fact when I started research for this blog a couple of years ago. When I called my blog 'My Life In The Mosh Of Ghosts', I had no idea how much grief and loss I would uncover. Steve will always be nineteen to me, the only guy in winklepickers and a chef's jacket at an Eric Clapton gig, unafraid to stand out from the crowd. Rest in peace old friend.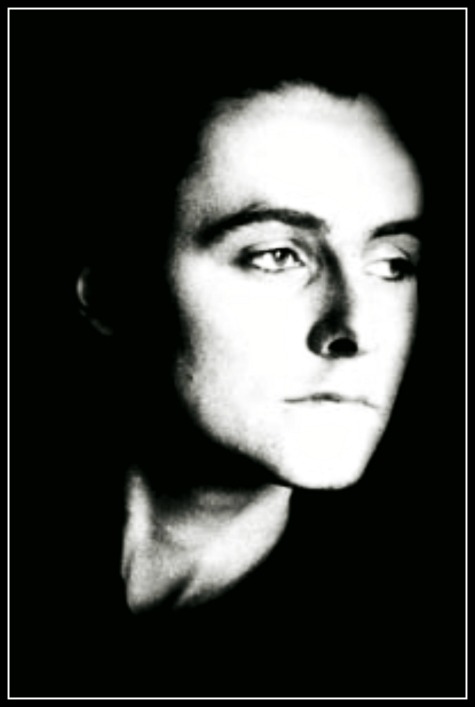 Spotify playlist from March 1980 here.
More pics etc at http://mylifeinthemoshofghosts.tumblr.com/
*(Vice Versa will be getting their own entry soon).