"Lowton?"
"Luton?"
"Where on earth is bloody Lowton?"
"Are you sure she didn't say Luton?"
Monday lunchtime in the canteen at the National Coal Board offices on Queen Street, Sheffield. Co-worker Mark T and I are discussing - over tea and Quavers - our imminent secondment to lands unknown. I like Mark. A Rotherham lad, the same age as me, he likes David Bowie and Roxy Music, sports a Tom Selleck 'tache and wears sharp-creased Oxford bags and oil-black brogues. Tomorrow we are to be dispatched to the offices of Compower, a computer subsidiary of the NCB.
Two train journeys later, Lowton turns out to be in Lancashire, surrounded by a scrum of rugby league towns: Wigan, Warrington, St. Helens and Swinton. The land of Up and Under and Eddie Waring. Our base for the next two weeks, the Bull's Head in nearby Newton-le-Willows, is less than knock-out.
Any optimistic sense that Mark and I had been expressly summoned - like Hawkeye and Trapper John, the "Pros from Dover" in 'M*A*S*H' - to troubleshoot and shut down some administrative wildfire raging out of control, are quickly snuffed out as we are shown to our office in Compower, a windowless den which feels like a cross between George Orwell's Ministry Of Truth and the Beijing postal department's dead letter office. Like the work, it's dull and stultifying. We're seeking out pension overpayments, deceased cases, payrolls and payslips amidst thousands of identical manilla envelopes.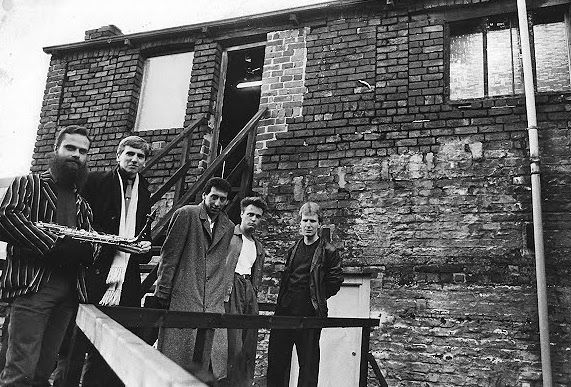 Plenty of time, then, to reflect on what is happening with my music career. Our new band - The Box - Charlie, Paul and me from the 'DVA split, plus Charlie's gardening mate Terry, have recruited a singer, a good-looking lad called Ken. The Box cut a demo, produced by Cabaret Voltaire at their Western Works studio, on July 4th. However, Rod Pearce, major-domo at Fetish Records, who released 'DVA, doesn't like it. "It's too busy guys." he tells us. "Too much going on. I'm looking for something with more space." Uh-oh.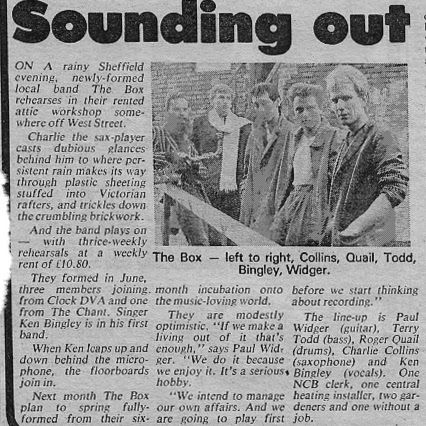 So, it's been a summer of jamming in the studio, soaking up the excitement of a thrilling test match series between England and Australia and trying to avoid the big weddings: Prince Charles and Lady Diana, Mike and Deirdre on 'Coronation Street'. Aside from a trip down London Road to see a dismal band called The Doormen at the Royal pub, I haven't seen any live music since Kraftwerk.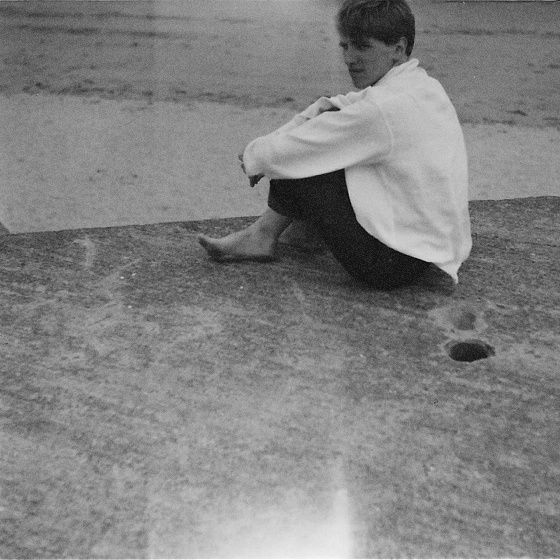 Back at our base on the East Lancs Road, Mark and I have pretty much exhausted the local hospitality within a couple of days. There's The Pied Bull, and the self-styled "ultra-disco" at the Red Lion, which is home to a shoal of young lasses in fish-nets, who have already clocked, copied and mastered the self-conscious, giddy shimmy essayed by the Human League girls on Top of the Pops. Otherwise, it's hotel room telly: Blankety Blank, Day of the Triffids, Not the Nine O'Clock News, Top of The Pops with Heaven 17. Sheffield friends going places. Places a long way from room 5 at the Bull's Head in Newton-le-Willows.
Solipsism be gone. Let's get out of this place and go to Liverpool to see Simple Minds. It's Mark's idea. To be honest, if he'd suggested a trip to Skelmersdale to see Tygers Of Pan Tang I'd have gone along, such are the levels of boredom here. But Simple Minds it is. I know a few of their songs, and have bought the 7" of 'Changeling'. The Baedeker disco of 'I Travel', meanwhile, always sparks a rush for the dancefloor, whenever the DJ plays it at The Limit club.
Liverpool is just twenty miles away by train, and it's a short walk on a warm Tuesday evening from the station to tonight's venue, the Royal Court Theatre. Opened in 1938, the building emerged from the war years unscathed. It flourished in the fifties and sixties, before changing ownership and falling from favour in the strike-hit seventies. In 1980, two enterprising local taxi drivers took a chance on reviving the space as a rock venue, and it is thriving as a big-room destination for bands still hovering between night-clubs and arenas.
This is my second time in Beatleland. 'DVA played their penultimate gig here back in May, at Plato's, and I like the city. Some stunning architecture: the Liver Building, both cathedrals, St. George's Hall. The ferry across the River Mersey - just like the song - and of course the bands. I like the people too. Liverpool is poor but sexy, long before Berlin coined the phrase. A few weeks ago, Toxteth, just three miles south of here, was ablaze. Like many other English cities, Liverpool had exploded in a summer of riots. Sheffield, on the other hand, was the exception. I recall a quote from O-Level history, by 19th-century radical politician William Cobbett: "I defy you to agitate any fellow with a full stomach." That's Sheffield: content, for now, drowsy on a diet of chip butties, mushy peas and pints of Ward's best bitter.
Tonight's gig isn't a sell-out and we are able to buy tickets from the box-office. Once inside, there's the squashed rumble of a rock band going through their paces. We enter and I think to myself, "Great, we've timed this just right." Except we haven't. It's the support band, Icehouse. Now, it's not that Icehouse, a four-piece all the way from Australia, are bad musicians. They are simply stiff, dry and dull. A musical manifestation of the numbing weariness Mark and I are eager to escape from at work. Worse still, we are on the clock tonight, the last train back to Newton-le-Willows leaves at 10.30; so, Icehouse, will you kindly take your stodgy, pedestrian, Antipodean, new-wave synth-rock off-stage ASAP?
Thankfully, Icehouse melt away into a damp patch on the Royal Court stage. For a short-time, the Krautrock flair of NEU! entertains us over the PA. Then, suddenly, Simple Minds are up-and-running - on a very impressive, multi-level platform set-up. A couple of years ago, any new band who dared to suggest using risers and podiums would have been laughed at. That kind of stage architecture was for the likes of pompous Prog Rockers such as Yes and Genesis. Yet here we are. The singer, Jim Kerr, is at stage level. Behind him are two daises, accommodating the bass player and guitarist. Higher still, there are podiums for the drummer and keyboardist. Behind them, hanging in front of the rear wall of the stage, are a series of long, rectangular strips of varying length. These act as projection surfaces for impressive cityscapes or, when not in use, hang as Rothko-like slabs of blackness. While not quite having the jaw-dropping, wow-factor of Kraftwerk's futuristic vision of the stage-as-spaceship, the stage set nonetheless looks stunning. The sign of an ambitious band literally ready to take it to the next level.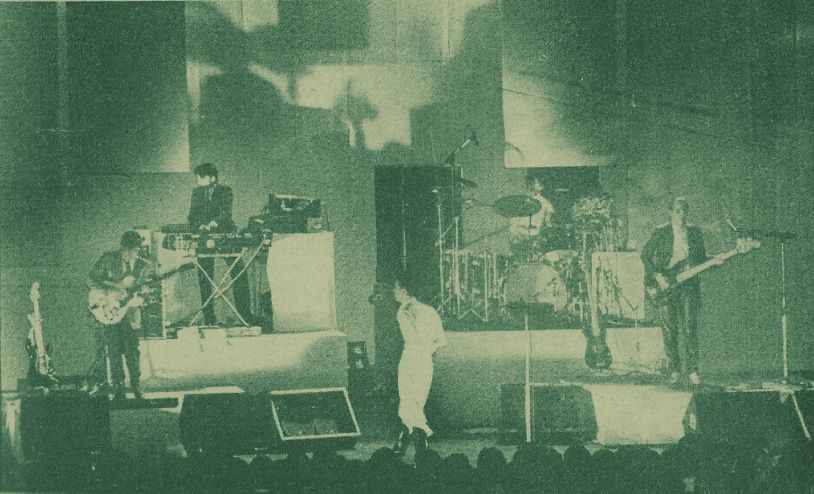 Given that the other four band members are confined to their elevated islands, it's up to Jim Kerr to work the crowd out front. Fortunately for Simple Minds, Jim is well up to the task. His default move is a kind of slinky panther stalk, creating the illusion that the earth that he walks upon has 1/16th gravity and the surface consistency of grilled Halloumi. Jim is one of rock's great crouchers. So good in fact that you want to stick a football between his haunches and quickly assemble another ten wee Glaswegian lads for a team photograph. Sometimes, mid-crouch, Jim will extend a leg, like he is about to launch himself into a Cossack Hopak dance; before thinking better of it and resuming his relentless prowling.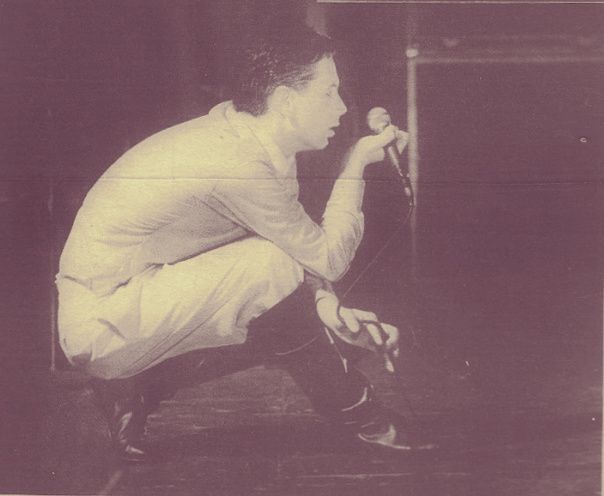 Simple Minds are touring the UK to promote their just-released new album, a double package of 'Sons and Fascination' and 'Sister Feelings Call' produced by former Gong guitar pixie Steve Hillage. The release comes one year to the day since the release of their previous album, 'Empires and Dance' and will prefigure the release of their next long player - 'New Gold Dream (81-82-83-84)' - 364 days hence. Simple Minds are nothing if not punctual. Five albums so far in three years, they are organized and committed to the album / tour cycle that will eventually break them to a global audience. The music shares this strident, business-like, almost martial quality. 'I Travel' is Donna Summer's 'I Feel Love' after a Saturday night speed-trip down Sauchiehall Street. Its pulsating synths and drums threatening to Panzer-punch anyone or anything that stands in its path.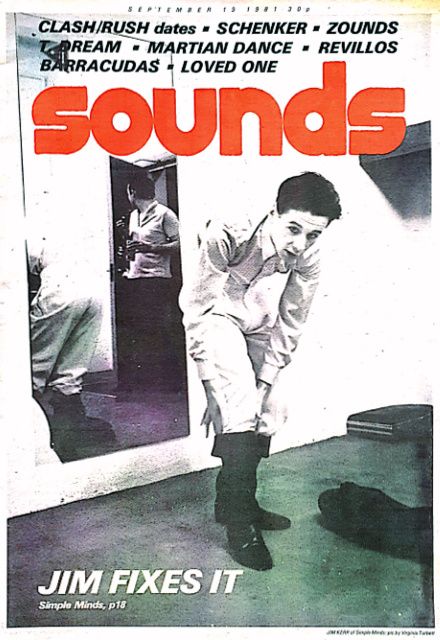 They play 'Premonition' and 'Changeling', both sides of the 7" I own. "Overground, underground" sings Jim in 'Changeling', like some kohl-eyed U-Bahn womble. Biggles' trousers are tucked into a spectacular pair of knee-length mukluks that would be the envy of any pantomime Puss In Boots. He has a declamatory singing-style, which imbues such baffling couplets as "Ma son, warm land, semi-monde." or "America's a boyfriend, untouched by flesh of hand." with a daft but believable resonance. Especially when they are hypnotically repeated over the band's machine-like, trance-tight rhythmic cycles, as solid as the foundations of the venerable old Royal Court itself.
About halfway through the set, I spot a familiar face five yards to my right. It's NME journalist Paul Morley. I know him, he interviewed 'DVA last year, and wrote nice things about the band's posthumous single, '4 Hours' in the paper a few weeks ago. I bound over and shout in his ear.
"Hi Paul, how are you?"
"Er, hullo, alright. Who are you?"
"Roger, Roger Quail, Clock DVA. Well, ex-Clock DVA. The drummer. You interviewed us, remember?"
"Oh, yeah, right. What are you doing here?"
"Working at Compower in Lowton…"
Big mistake Rog. You had a chance to tell one of the UK's top music journalists about your brilliant new band and you blew it. Paul Morley is not interested in your work as a pensions and insurance clerk. He nods blankly and wanders off. We must leave soon, to catch the last train back to Newton-le-Willows. As we roll out of Liverpool station, I picture Paul Morley backstage with Simple Minds, drinking their free beer and talking about David Bowie and Roxy Music.

The podcast version of this post, and all the other entries, live over at: