A new year and a gig at The Institute of Contemporary Arts in London. The ICA is tucked away on the broad, tree-lined thoroughfare between Admiralty Arch at one end and Buckingham Palace at the other.  I like the ICA. As someone who spent a year of unemployment mooching around the Graves Art Gallery on Surrey Street in Sheffield, Andre Gide paperback stuffed in pocket, existentially gazing at works by Cezanne and Bridget Riley before playing with my coffee for an hour in the cafe, the ICA is an arty home-from-home, with the added bonus of more gratuitous nudity and a better gift shop.
It's a return visit for Charlie, Paul and myself. The three of us played here with DVA in June 1980, a gig memorable for Paul playing his farewell show with his old band, They Must Be Russians, before having a severe haircut and a change of shirt for his DVA debut thirty minutes later. Given the proximity of Buck House, it felt appropriate to end that special evening with a royal visit backstage from Genesis P. Orridge and Cosey Fanni Tutti, the undisputed king and queen of industrial music.
We are here to play with our new band, The Box - new singer Pete plus Terry on bass - as part of the venue's bi-annual Rock Week festival. This fresh seven-night stand is themed 'Press Gang', with each evening being curated by a different music magazine. The publications represented include Time Out, The Face, City Limits and, on our night, Thursday, the NME. The timing, the night before The Box's debut EP hits the shops, could not be better. That we've got this prestigious gig at all is a testament to the tenacious promotional game being played by our one-man record company Andy MacDonald at Go! Discs.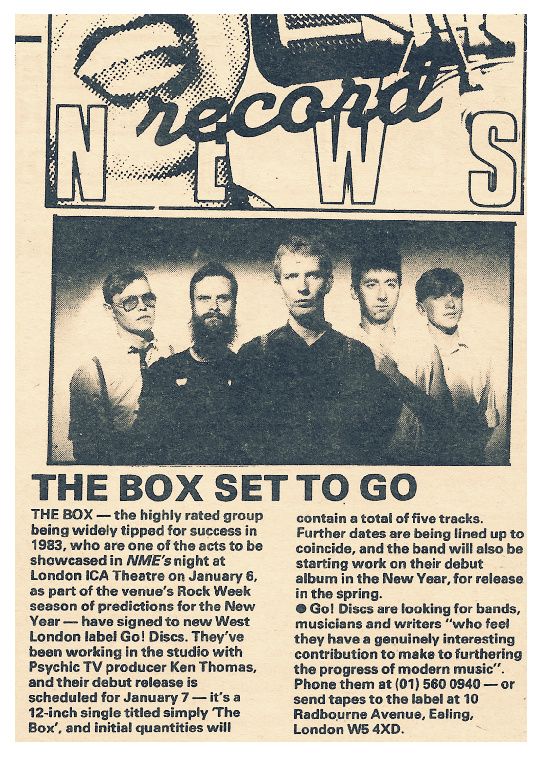 On arriving, we learn that newcomers JoBoxers are the nominal headliners on the night, having been added to the bill just before Christmas. We discover that these affable lads, mostly from the West Country, are being guided by Bernard Rhodes, manager of The Clash and a man of some influence in these quarters. Newly signed to RCA Records, Bernard is not going to let JoBoxers appear on the under-card for a prize fight with their near namesakes. Still manager-less, and with no second in our corner, we acquiesce.

The only JoBoxer not from the Avon area is their singer, a good-looking, black American who styles himself Dig. He has brought his own microphone with him, a vintage-looking, fifties "ribbon mic". Its chrome-coated, chunky shape is familiar to anyone who has seen a picture of jazz singers like Billie Holiday or Frank Sinatra. The engineer setting up for sound check looks puzzled.
"What's that mate?"
Dig: "It's my microphone, I bring it everywhere."
"Here, use this instead, it's the Shure SM58, best live vocal mic in the world, Bowie swears by it. McCartney too."
Dig: "I wanna use mine. It looks cooler."
"It's up to you mate, if you want to sound like shit, carry on using that antique."

With this, we learn that, in the JoBoxers' world, how something looks takes precedence over how it sounds. This will become more apparent as the evening progresses.
Our set-up complete, we're visited onstage by Neil Spencer, editor of the NME. Like Mr. Rhodes, he's got a lot of logs in this stretch of the river. He greets us with a double-edged compliment: "You all play your instruments at the same time, which is rare these days." His visit is to cadge a loan of Paul's guitar amp and speaker combo. Another band on the bill, Rhythm 'n' Blues combo The Chevalier Brothers, are playing out in the bar tonight and lack amplification. A lend is agreed, Mr. Spencer is happy - he loves The Chevalier Brothers - and apparently this means that the NME will say nice things about The Box in the coming months.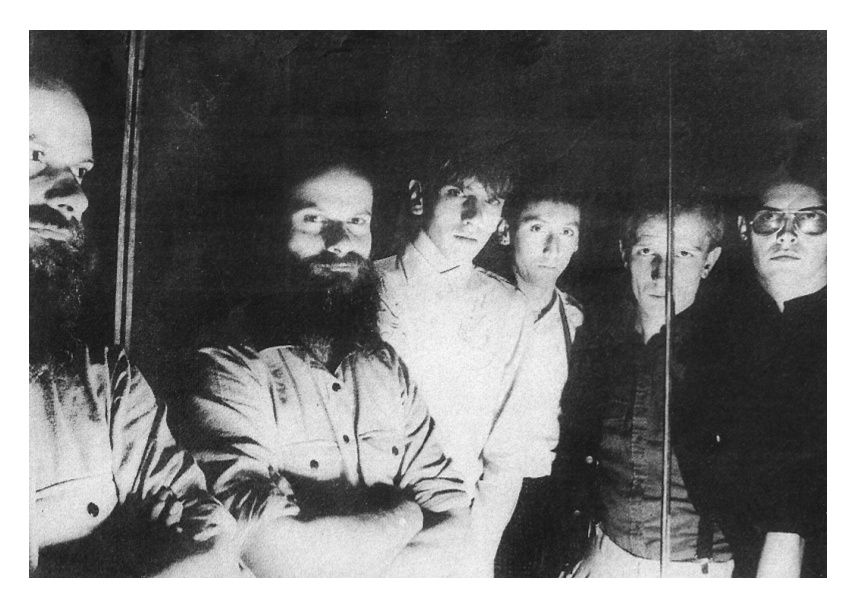 We go on early and broadside the still gathering audience with our panoply of furious sound, aiming to blast away any London-centric blasé attitudes. Think Evan Parker meets Dead Kennedys. We do alright, a couple of people even start dancing. Gear shifted away, I head out into the audience to grab a beer and take a peep at The Chevalier Brothers doing their Louis Jordan jumping-jive in the bar. True, there are gratis beers backstage, but I have an almost pathological desire to be spotted as "the drummer with The Box". One that can only be satisfied by swanning about amidst the capital-city crowd in the faint hope that someone says, "Hey man, that was great!" This never happens, which is probably for the best. Indeed, it says much about my lack of self-awareness that if some aggrieved punter actually recognized me and said: "That was utter crap.", I wouldn't have a clue how to respond, Other than to probably run away to the safety and sanctity of the backstage area.
Thank goodness then for Rastaman poet Benjamin Zephaniah, who comes on stage alone and takes the evening by the scruff of the neck with his lilting rhymes and pin-sharp insights into his life as a young, black Briton. I've never heard of him, but as a big fan of John Cooper-Clarke and Linton Kwesi Johnson, his poems of politics and social injustice immediately resonate with me. Not just me either, the whole room is now hanging on his every word. Unlike John Cooper-Clarke, with his plastic bag of notebooks that he reads from, Zephaniah has memorised all his words, allowing him to move freely around the stage, dreadlocks flying, channeling Bob Marley fronting an invisible, inaudible Wailers. One thing he does share with the Bard of Salford is the understanding that humour is a great way to make a serious point. Most notably on the hilarious, gallows wit of "This Policeman Is Kicking Me To Death". Benjamin Zephaniah feels the music in his head, and rides this unheard, defiant rhythm to deliver an unforgettable performance.
On then to JoBoxers. The band are all togged out in big flat caps, tee-shirts, waistcoats and Doc Martens. Their half-mast baggy trousers are held up by braces. They have coordinated stage moves. The penny drops. They're a boy band. The Bristol contingent were all in Subway Sect. Not the Subway Sect who created 'Ambition' and 'Nobody's Scared', two of the greatest singles of the punk-era. Rather, they're the turn-of-the-decade, retro-jazz flavoured incarnation of the band through which original frontman Vic Godard channelled his Johnnie Ray fantasies.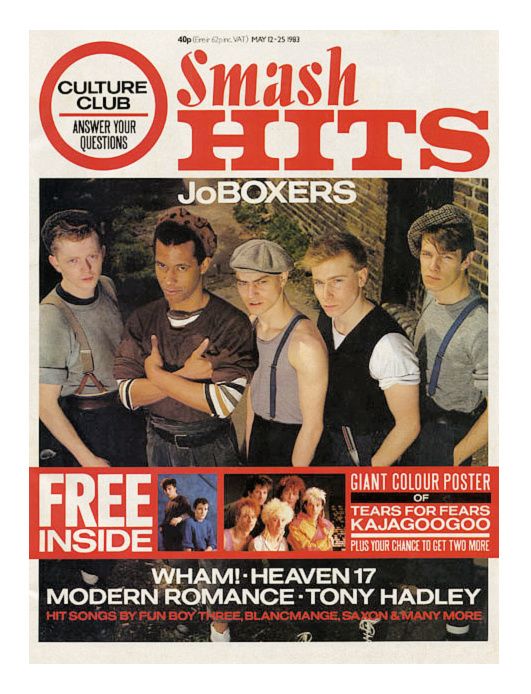 This line-up's spiritual home is Club Left, an evening of "cool bop and swing" that runs at the Whisky-a-Go-Go in London's Soho. I've read about Club Left in the NME. It appears to revolve around wearing dickie bows and listening to old Bobby Darin records. The JoBoxers' vocalist Dig Wayne (Timothy Ball at passport control), sometime frontman of NYC rockabilly combo Buzz & The Flyers, had migrated to London and now moved in the same fifties-fixated circles.
Brought together by Bernard Rhodes, JoBoxers were born last year. At around the same time The Face magazine ran an issue called "Hard Times", which suggested a reaction to the flounce and posturing of the New Romantic era. This latest gritty age, apparently to be soundtracked by Curtis Mayfield and Gil Scott-Heron, will reflect the post-Falklands War, high-unemployment, hard-boiled Thatcherite Britain. JoBoxers certainly look the part, destined to play a role in this period, "Brother, Can You Spare a Dime" meets "On The Waterfront". However, it all feels very calculated to me. The street urchin threads make them look like a cross between Hal Roach's 'Little Rascals' and The Bisto Kids, and the music is polished pop, not unlike Haircut 100, with a pointed nod to Sixties' Northern Soul to give it some kind of gutsy authenticity. Indeed, the whole package aspires to be a rough 'n' ready, Dead End Kids gangster drama with a Motown soundtrack. JoBoxers want to pack the punch of Dexy's Midnight Runners, but they come across as potent as Junior Disprin.
We're packing up the van to head back home to Sheffield. Paul pops back into the dressing room to see if we've forgotten anything. Bernard Rhodes is bollocking his young charges, presumably for not being The Clash.
It's been useful to see how the other half gigs. Half-a-dozen shows with Pete now under our belts, and the EP out tomorrow, we're starting to shape our own identity. Taking a peep over the pop parapet and seeing JoBoxers throw their flat caps in the ring for the Top 40 makes us appreciate what we don't want to be. They're on their path and good luck to them; we're on ours. It's not so much a line in the sand that divides us, it's more like the fault line under the Mojave Desert. And while tonight probably didn't do us any harm, we need to be a little more circumspect about who we end up sharing a stage with this year.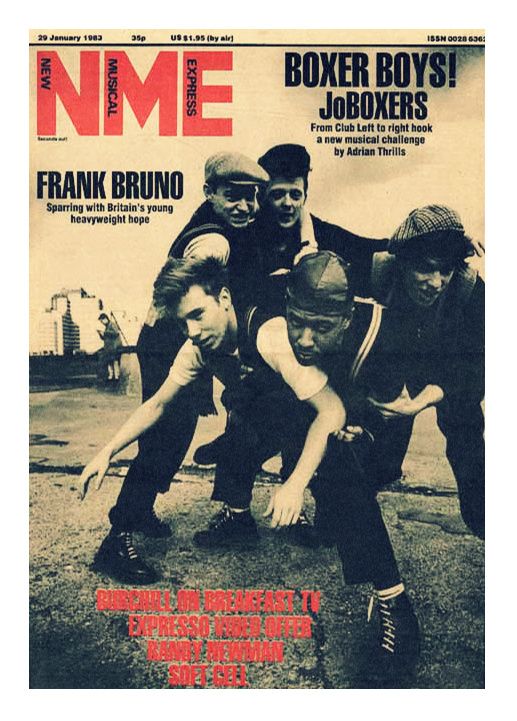 ---
Bernard Rhodes' post-match rollocking must have paid off. JoBoxers burned briefly but brightly in 1983, enjoying two Top 10 hits: their theme song 'Boxerbeat' and 'Just Got Lucky'. The latter was also a Top 40 hit in the USA, but the band split in 1985.
Drummer Sean McLusky has enjoyed a long and successful career as a UK club promoter. Following the JoBoxers' break-up, McLusky and guitarist Rob Marche formed the baggy-scene band If? They were responsible for the early Balearic dance gem 'Saturday's Angels'. Rob Marche went on to co-found nineties' Indie disruptors Earl Brutus along with Jamie Fry and Nick Sanderson from World Of Twist. Like me, Nick Sanderson came from Sheffield and once played drums in Clock DVA.  
JoBoxers reformed for gigs in 2020.
---
With thanks to Paul Widger, Charlie Collins and Pete Hope.
Special thanks to my editor Nigel Floyd.
January 1983 playlist here: