The Hallcar Tavern, Pitsmoor. It's a Sunday evening in the middle of October, and I'm savouring a legal pint of best bitter; having reached my 18th birthday just a couple of weeks earlier. On the jukebox, Siouxsie Sioux wails away on the dreadnought dirge "Voices", which we've discovered on the B-side of "Hong Kong Garden". It's worth 10p a go just to see the looks on the faces of the regulars as they wonder what happened to "Moody Blue" by Elvis, while this atonal horror show creeps around the lounge on the cloud of Nina Ricci and Players No. 6.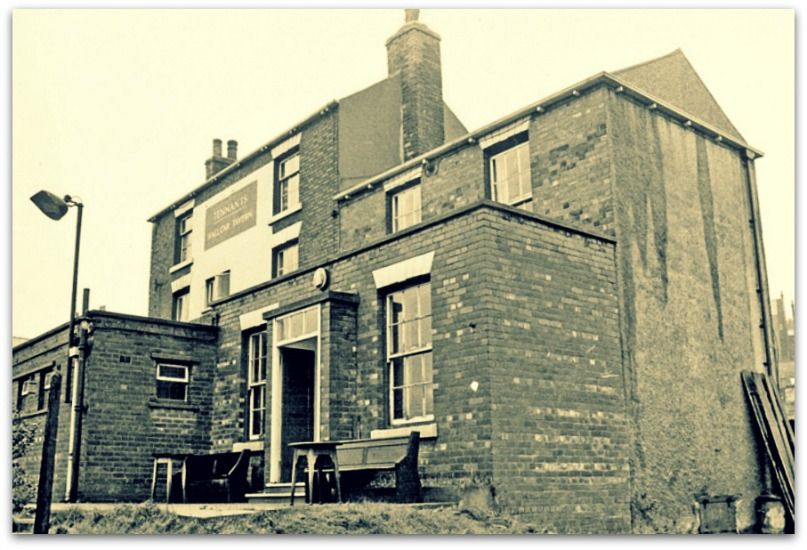 As usual, I'm out with my band mates: Vinner, Lango and Wilma. With us tonight is Wilma's bird Cookie. Huddled in the snug, we are agog (and not a little aroused) as Lango describes his matinee visit to the Cineplex earlier to see "Last Tango In Paris".
"It's pretty boring to be honest, until they get the butter out…"
"What?! Go on…"
Erotic practices incorporating dairy produce is way beyond my somewhat limited sexual experience. I've been trying to butter up the barmaid here for the last six months; I'm clearly going wrong somewhere. Meanwhile, next to me; Wilma is staring at the door; or rather he's focused on the illuminated green sign above it, with the white capital letters and the chap leaving in a hurry.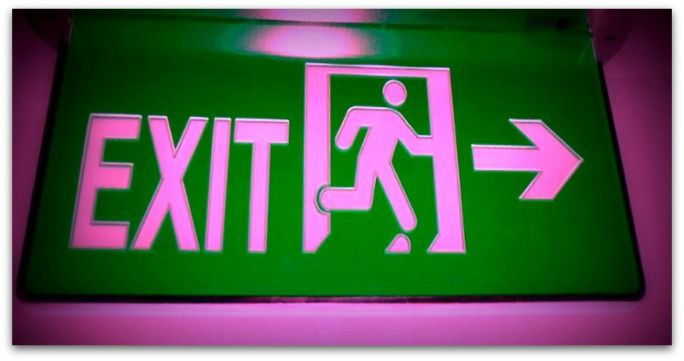 He speaks: "That's what we should call the band."
"What? Get The Butter Out?"
"No! EXIT. Think about it, those emergency signs are everywhere – pubs, clubs, cinemas, offices. It's amazing free publicity, for nowt!" He continues, "It worked for PUSH didn't it?" Push are our current local pub rock heroes, who are apparently subconsciously prompting fans to open doors the world over.
So far this year we have been – The Sounds, The Answers, Aftermath, and briefly, for one psychedelic summer weekend only – OM.
"I like it."
"It's better than Aftermath."
"Yeah, it sounds more New Wavey."
"Okay, EXIT we are then. Let's have a drink."
Just before we leave, crazy rock 'n' roll pranksters to a man, we blow 50p on the jukebox, putting "Voices" on repeat. It's with silly gestures like this, almost a full year since the release of "Never Mind The Bollocks" by the Sex Pistols, we are (in our own little way) surrendering to the Jupiter-like gravitational pull of punk rock.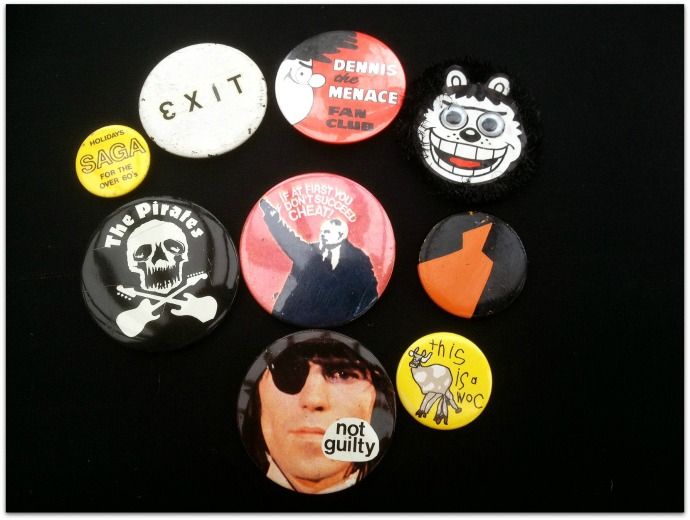 For starters, we've started writing our own songs. Earlier efforts have been cheaply dismissed by the NME (see below), but we are finding our feet. Not particularly punky, but compact, fizzy power-pop efforts with titles such as "Love Tactics", "Cheat" and "Clubland", the latter being a first-hand tale of woe about the Babycham and bingo circuit on which we were so recently trying to become a fixture. We have a white-boy reggae song called "Boost Me Skywards"; it's about taking drugs, which none of us have. The "riddim" is anaemic enough to make "Dreadlock Holiday" look like the work of Lee 'Scratch' Perry. Another song, the Tom Robinson-esque "Swinton Street", is about being pulled over by the cops, another realm of illegality about which we are innocently clueless. The closest anyone of us has ever got to a run-in with the law is watching 'The Sweeney' on a Monday night.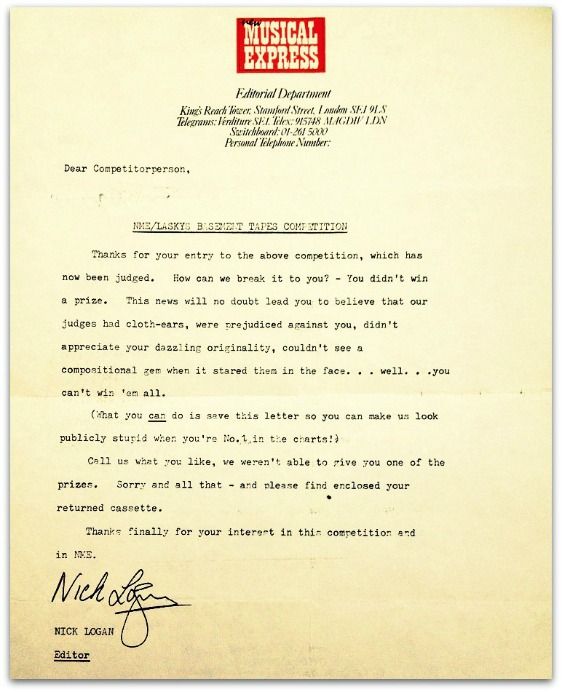 Our cover versions are getting cooler too. Bowie's "Rebel Rebel", "You Really Got Me" by The Kinks, songs by Eddie & The Hot Rods, Mink De Ville and The Boomtown Rats are all added to our set. Okay, so there's no room yet for "White Man In Hammersmith Palais" (we can't work out the words), but after a couple of years playing "Red Sails In The Sunset" and "Crocodile Rock", these contemporary kicks feel positively revolutionary. The seismic shiver of 1977 has also impacted on others at our school. A couple of lads in our year have started the brilliantly named Stunt Kites, and my Be-Bop Deluxe buddy Brent is drummer in a punk band called The Surgeons with two other kids from the year below us. We've been hanging around with both bands, lending them gear, sitting in on sessions; and it's rubbing off on us like Swarfega.
One of our favourite bands is Mancunian punk-poppers The Smirks. Vinner and I saw them at The Limit back in July, so when we see in the local paper they are returning to the same venue; we vow to see them again. Such is our ardour that we manage to drag along with sizeable contingent from school. There's Vinner and myself, Lango, Wilma and Cookie, plus Timbo (ex-band mate, unavoidable in lessons, and thus still on good terms) and two girls from 6th form – Wadey and Bendy.
We're in good spirits, as the serve and return of Friday night rejoinders struggle to be heard above the good natured hubbub in The Limit.
"It's like Bowie isn't? This ain't rock 'n' roll, this is Grenoside!"
"So he said John O'Groats? I thought he was the bass player in the Average White Band…"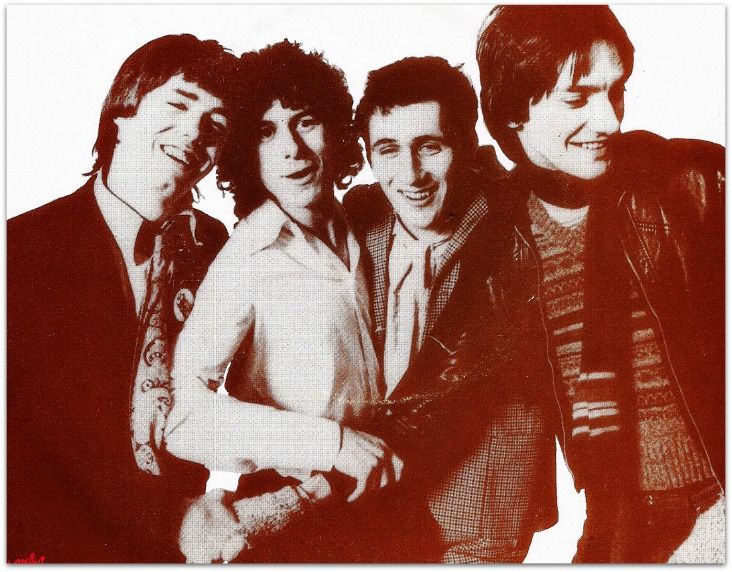 The Smirks (L to R): Ian Morris, Neil Fitzpatrick, Simon Milner, Mike Doherty.
The Smirks are working hard at building a following. Tonight will be their 81st gig of the year, a show every four days on average, and their fifth visit to Sheffield, including support slots with Alberto Y Los Trios Paranoias, John Otway and Wild Willy Barrett. They are also the first band I have paid to see twice. Their hard work is paying off. The Limit is busy tonight, more so than when fifty early adopters saw them here back during the summer. Three of the band, Simon Milner, Neil Fitzpatrick and Ian Morris, have been playing together since 1975, when they spent a year busking for baguettes and Bordeaux in Paris, playing as The Crabs, a smut smudged name if there ever was one. Adding Mike Doherty on drums, The Smirks played at a Stiff Records Talent Night in Liverpool back in January, and were spotted and signed by Beserkley Records (home of Jonathan Richman and The Rubinoos) in March.
Its November now, Bonfire Night is on Sunday; but The Smirks bring the fireworks early, snapping like Jumping Jacks around the Limit stage. Watching them, with their record deal, endless touring, roadies and Peel Session, we are envious. Exit's diary has just two bookings between now and Christmas. They play with the intuition that comes with performing night after night, a sense heightened by being close personally as well as professionally. There are singalongs, calls and responses and choreography. Their songs unite the classic English pop tropes of the sixties with the piss and vinegar of punk, where the imaginary writer credit on the record label reads Lydon / McCartney.
Unknown to us, as we gleefully bounce along, there are rumblings of discontent at Smirks HQ. The band's debut single "OK:UK" was hard to find in the shops, a local store that ordered fifty copies received two boxes of Smurfs singles instead. Their record label Beserkley wants them to be more whacky, zany and quirky. A Mancunian Monkees with four Davy Jones clones. The band sees themselves more like The Clash, albeit a homely "Good Companions" version illustrated by L.S. Lowry rather than Ray Lowry's quiffs 'n' leathers bad boys.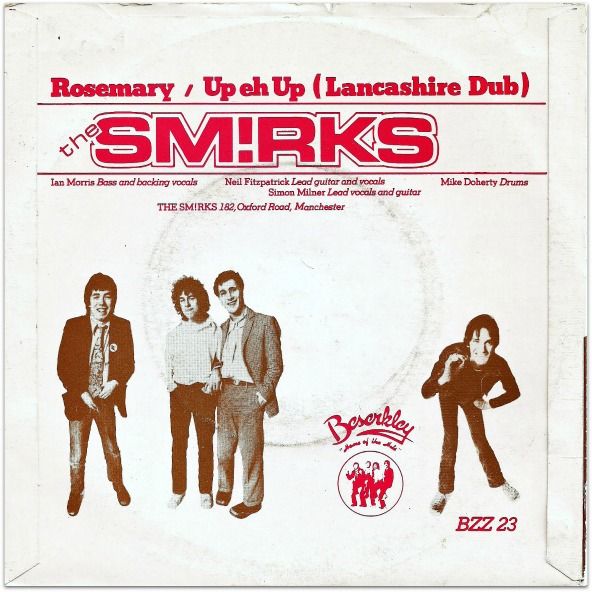 The Smirks play both sides of their new single, the rambunctious "Rosemary" and the daft, Lancastrian skank "Up Eh Up". The boards which have relentlessly punished for the past hour succumb and a corner of the stage collapses, prompting raucous cheers from the well-oiled, giddy Friday night crowd. Unfazed, the band regroups on what remains of the platform and finishes their set to unanimous approbation.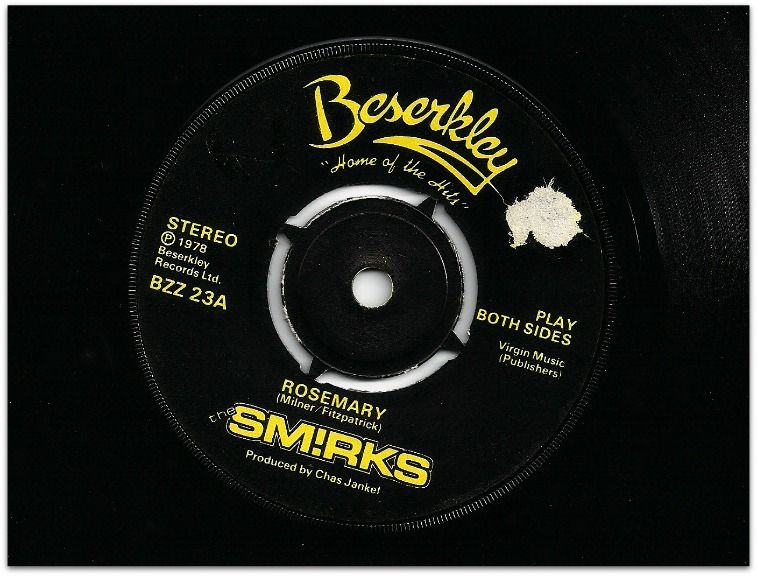 Elated and exhausted, The Smirks leave us. They start recording their debut album next week. Glowing, grinning and a little bit drunk, we shuffle towards the door, and the inevitable illuminated green and white sign. "Look!" says Wilma to no-one in particular, "There it is again!"
---
The Smirks fall out with Beserkley Records in 1979, and their debut album remains unreleased to this day.
The band released two more singles on their own label before splitting up at the end of 1980.
More about The Smirks here.
Spotify playlist here.