Vinner throws the best parties. Like a junior Jay Gatsby, he holds court at his parents' lofty Victorian house in Burngreave. We're a largely well brought up, well behaved bunch. No-one takes drugs, but there's a daft, Rutles inspired joke which involves acting "high" while smoking tea through a pipe. Mostly we like drinking, dancing and snogging.
The library-cum-study is the place to be if you are hoping for some groping. It's an adolescent update of the "Operation" game, as fervent teens try to perform tonsillectomies on each other in the hushed fug, lust among the fusty stacks.
The living room next door is designated for dancing, furniture pushed back, ornaments hidden for safe keeping. Our band's PA system is set up here, and the amp cables, gaffa taped to the carpet, snake back into the hall, where two turntables and a mixer balance on a coffee table by the front door. This is where you will find me, bottle of vermouth nearby, sleeping bag tucked away, playing records.
At 17, I'm already something of a music snob, and I've decided that I'd rather spend the evening imposing my already immaculate taste on others. Spinning 45's for people in another room, rather than drilling for female fillings with a curious tongue, seems a noble sacrifice. Guests bring records, the labels and sleeves marked "DONNA", "MURPH" or "IAN Q" for ease of identification later in the evening. There's pleasure to be had in lightly fingering vinyl which is only temporarily in your charge, while asking, "what's on the B-side of this?"
Here's what I play at Vinner's parties in 1978:
Mick Ronson – "Billy Porter"
Dr. Feelgood – "Roxette"
Devo – "I Can't Get No Satisfaction"
Ian Dury & The Blockheads – "Sex And Drugs And Rock 'N' Roll"
The Stranglers – "(Get A) Grip (On Yourself)"
Blondie – "Rip Her To Shreds"
Thin Lizzy – "Rosalie"
Buzzcocks – "Another Music In A Different Kitchen"
Sex Pistols – "Never Mind The Bollocks"
The Rolling Stones – "Rolled Gold"
Manfred Mann's Earthband – "Davy's On The Road Again"
Big Youth – "Touch Me In The Morning"
Fleetwood Mac – "Rumours"
But what's the biggest record of summer 1978? The one that starts a charge for the dancefloor, leaving young bosoms unmolested and boxes of wine undrained? That would be "The Cambridge Stomp" by local band The Push.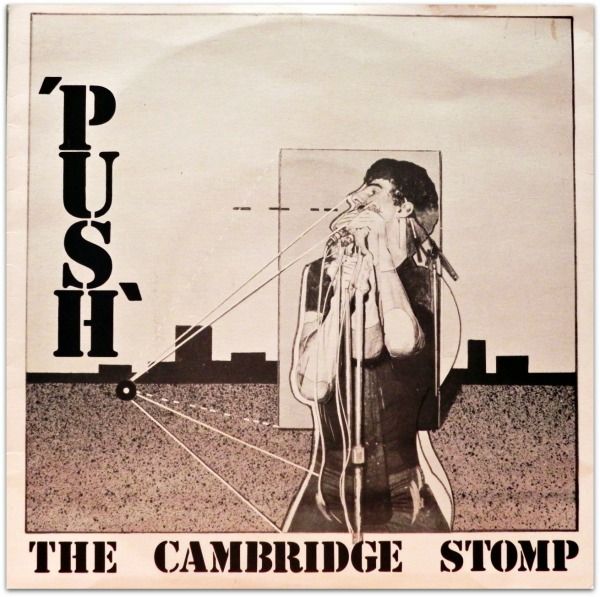 In the race to be the first local band to release a single, The Push have just been pipped at the post by The Human League's "Being Boiled". And while there is admiration in our gang for their alien, juddering synth-funk, we're all in the thrall to three chord, hand-me-down rock 'n' roll of "The Cambridge Stomp", which is simply a joy to jump up and down to.
There's also provincial pride at work. These local heroes bravely leaving base camp, heading for the rarefied atmosphere at the top of Mount Stardom. All the better, then, to bathe in their reflective glory, when they unfurl the white rose of Yorkshire at the peak.
"I saw them first at The Broadfield".
"I told you they were gonna be big".
Our emotional investment goes beyond buying a record or a concert ticket. It's a down payment, as if you can will a band to the dizzy heights simply by believing they have what it takes to get there.
It's this fervour that inspires band mates Wilma and Lango, plus me and two urchins from nascent school punk band The Surgeons, with such missionary zeal. We're headed for the lower refectory at Sheffield University, to see The Push on Saturday night.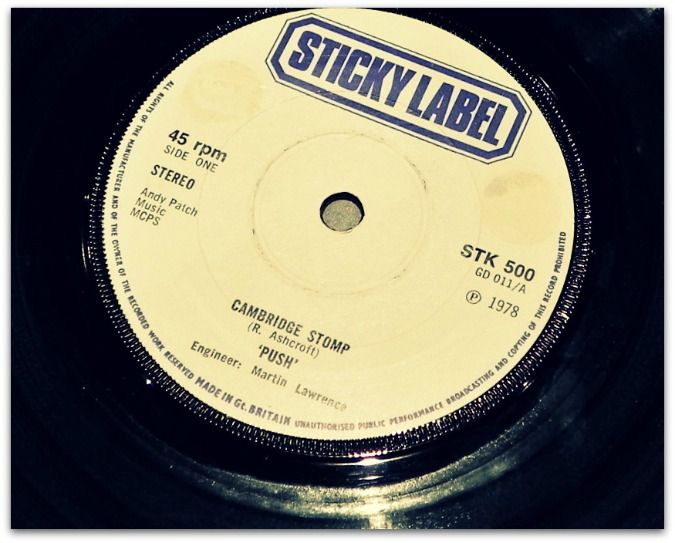 Returning to the scene of my gig initiation - at The Runaways last November - tonight will be my tenth concert. Also, The Push will become the first band I've seen twice, my having seen them just four days ago at The Limit. Wilma and Lango are seeing them for the third time in as many weeks. Those Bank Of Willpower notes are piling up.
This is The Push's biggest gig to date, and it is being broadcast live on local station Radio Hallam. Our emcee for the evening is Monday Night Rock Show host Colin Slade. I like him; he's introduced me to Patti Smith and "Horses". Nevertheless, there's an odd disconnect between the voice I'm used to on the radio – young, cool, assured – and the chap onstage: bearded, portly, the last Bachman Turner Overdrive Toby Jug on the merchandise stand.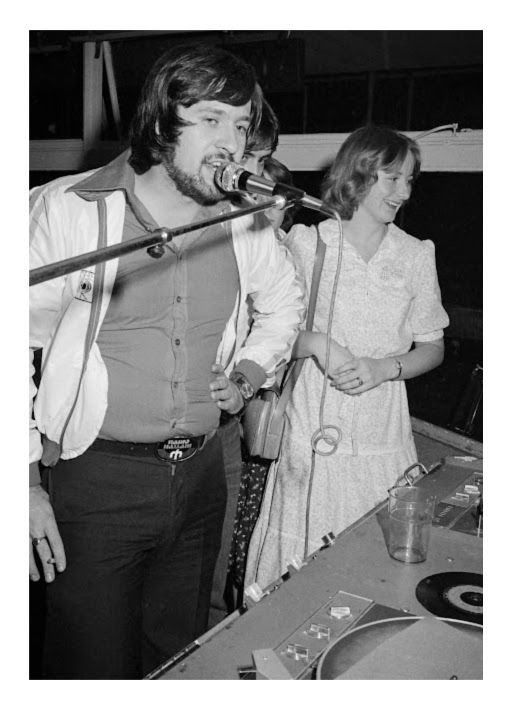 Colin Slade, look at that belt buckle.
Colin Slade introduces the support band Double Life. I like to think that I'm pretty open minded when it comes to opening acts, from John Cooper Clarke's machine-gun punk poetry, to Cabaret Voltaire's Dada experiments in Musique concrete. With the gang's excitement levels for The Push nudging Mach One, Double Life's Brand X style jazz-funk frolicking strikes a proggy E flat diminished seventh chord with us. There's no doubt that these musos have more chops than a Bruce Lee film, but their chosen medium is pure tedium. The two punks from The Surgeons eye us suspiciously: "we're missing 'Starsky & Hutch' for this?"
Colin Slade is back onstage: "Sheffield! Are you ready? Tonight we're gonna give you – The Push!"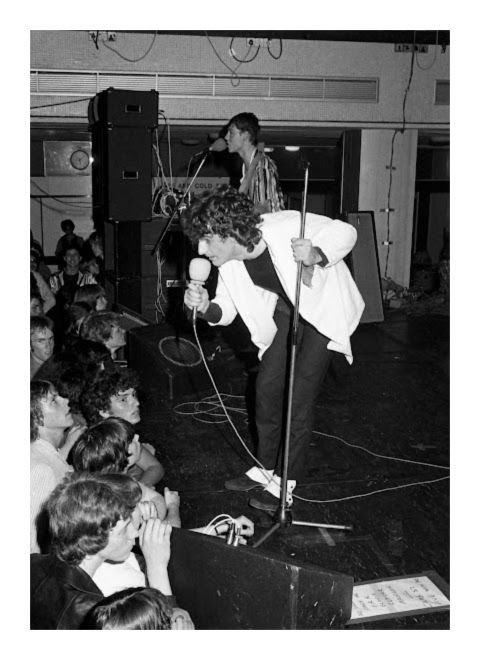 Photo by Pete Hill.
Founder member Ray Ashcroft is an actor, working at The Crucible. Together with manager Ted Gush, proprietor of Mr. Kites Wine Bar, they auditioned for musicians last summer. Ray has adopted the stage name Charles Paris (possibly inspired by Simon Brett's fictional, crime solving, dipso-thesp of the same name) and has assembled an eclectic ensemble to pursue his rock 'n' roll dreams. At 24, guitarist Dave Carr looks like a refugee from Tom Petty & The Heartbreakers, all aviator shades and golden tresses. California cool parachuted into a South Yorkshire summer Saturday night, casually chiming licks from a covetable Les Paul Gibson Gold Top. Baby faced bass-player Jeremy Meek, who doesn't look much older than us, wears his Fender up at chest height, and has clearly has spent most of his teenage years hammering the crap out of four strings in his bedroom. At the back is the drummer, simply known as Tag. Porn star moustache and shaggy hair, he is a little older than the rest of the band. Not old like Jet Black of the Stranglers, but mature enough to resemble the rogue male on a Club 18-30 Costa Brava trip.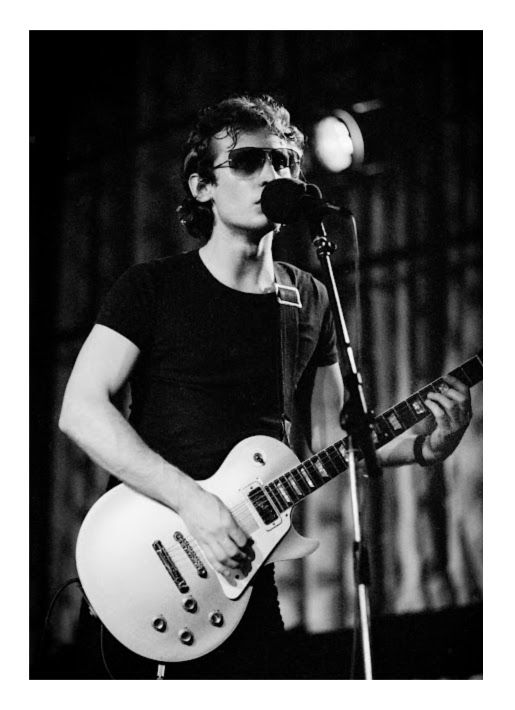 Dave Carr, cool as fuck. Photo by Pete Hill.
Ray (or Charles, or Charlie) is out front. His rock 'n' roll astrology suggests he was born under the sign of The Glimmer Twins, with Freddie Mercury Rising. His theatrical training is immediately apparent, and if he's simply playing a rock star, he's extremely convincing as a frontman. He has a gift for gesture, movement and expression; not unlike Sheffield's other Great Hyped Hope of the time, John Lake of The Extras. While Lake's mirror reflects Bryan Ferry as the fairest of them all, Ashcroft's looking glass lies shattered, with jagged fragments of Jagger, Johnny Rotten and even Robert Plant scattered about.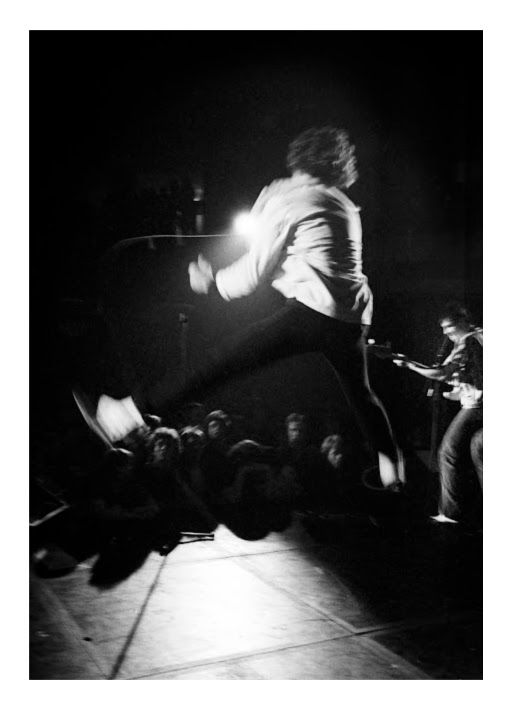 Ray takes off. Photo by Pete Hill.
Down the front, we're loving it. In honour of our latest Stones-inspired band incarnation, we've tossed a home-made Letraset 'Aftermath' badge up on stage. Charlie picks it up. Charlie puts it on. Result! The Push tear through 'Can't Stop Maureen', which is more fun than a plague of Boomtown Rats, then take it down a gear for the white boy reggae of 'Front-Room Revolution', before embarking on an epic call and response rendition of Van Morrison's speak and spell classic 'Gloria'.
Three feet from the thundering bass bins, the young punks cheer up: "Is this a Patti Smith cover?"
"No, it's by Them".
"I can see it's by them, but Patti Smith wrote it right?"
"Not them up there! Them, the 60's band!"
"I've heard there's a Hendrix bootleg where he spells it wrong".
"What, T-H-E-M?"
"Nooo – Gloria!"
There's a suspicion that The Push are merely a pub rock vehicle (a 72' Vauxhall Viva?) souped up with a new wave respray - all amphetamine alloys and po-go-faster stripes. Musically, it's true, they're closer to Graham Parker & The Rumour than they are to The Clash. After 1977; the world is full of old red roosters in spring chicken feathers, freshly seasoned for the post-punk gravy train. But, like the Sex Pistols, we don't care.
The Push finish, inevitably, with 'The Cambridge Stomp'. A thousand voices roar along. We're gonna be heard on the radio! This is our band, these are our people, everything is gonna be great.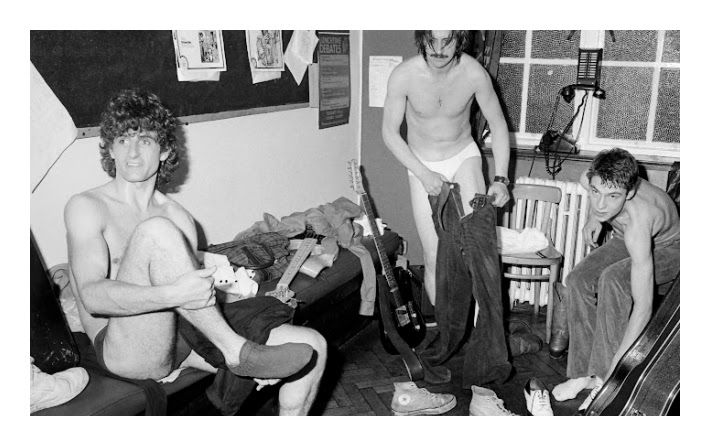 Ah, the glamour. Photo by Pete Hill.
---
Disillusioned with life on the dole in a rock 'n' roll band, Dave Carr and Jeremy Meek left The Push shortly after this gig in search of better things.
The Push replaced them with three new members and went on a UK tour supporting XTC.
Dave Carr continues to play guitar in various bands in the Yorkshire region, and can currently be seen and heard with long-serving classic rock covers band Rodger.
Jeremy Meek is a much sought after session player, who has played with Joan Armatrading, Leo Sayer and Paul Carrack.
After the XTC tour The Push folded after Ray Ashcroft got his acting break, playing Ringo Starr in the TV movie 'The Birth Of The Beatles'.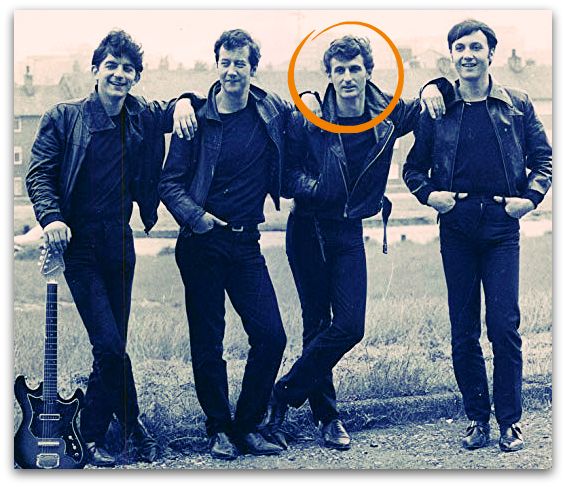 Parts in Coronation Street, Emmerdale and The Bill established him as a UK soap stalwart.
The drummer Tag's whereabouts are unknown.
Spotify playlist here.
'The Cambridge Stomp' on YouTube - https://www.youtube.com/watch?v=9gkV1r-mQYA