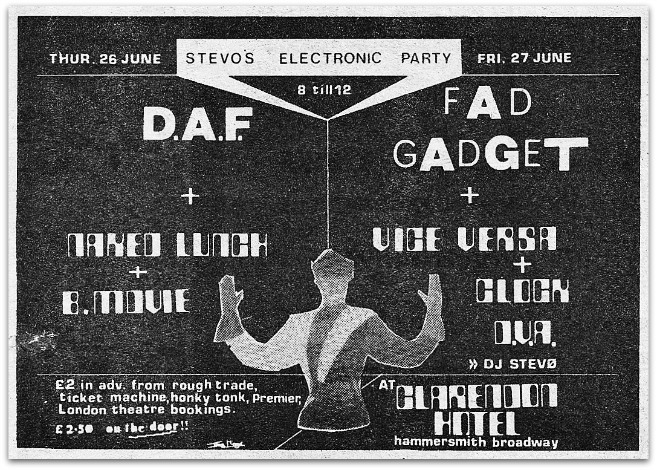 Pimple-peppered forehead pressed against the coach window, I gawp at Yvonne and Alice, naked and entwined, eighteen-feet high at the side of the road. Yvonne, inscrutable, gently rests her head on Alice's hand. Alice gazes back at me, in all his fleshy insouciance, as if to say:
"Hey boy, have you never seen a naked man and his snake before?"
29th June 1972, and it's the school trip to London. Up bright and bubbly to Sheffield Victoria railway station to catch the Master Cutler to St. Pancras. A carriage of giddy eleven-year-olds practically leaking with excitement. We saw all the sights that day – Big Ben, Buckingham Palace, even Oxford Street ("with its one-hundred shoe shops – imagine that!"). But what stays with me is that image of Alice Cooper, with his twelve-foot boa constrictor called Yvonne; reprobate and reptile blown up to the size of a bungalow on the back of a flat-bed lorry, a publicity stunt for his gig at Wembley Empire Pool.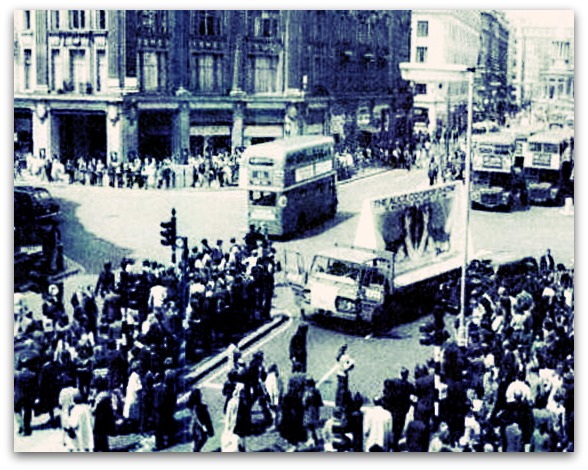 Alice Cooper stops Oxford Circus: 29/6/1972.
London. We Sheffield folk are suspicious of the home of government and royalty. Opinions largely informed by 'Special Branch' and 'Til Death Do Us Part', the capital is full of Krays, cockneys, ne'er-do-wells and Tories. "Down South" starts at Nottingham and is best avoided if possible. Which is what I do for the next six years, apart from a trip to see Prime Minister James Callaghan in action in the House Of Commons in 1978. On this second school trip, for British Constitution A-level, we meet our local Labour MP for Brightside, Joan "Stalin's Granny" Maynard.
It's only after I join the band, and start to visit the metropolis on a regular basis, that my opinion starts to change. "ALLOFLONDONLIVESLIKETHIS!" – I breathlessly note in my diary after an early gig in 1979 – "a giant romper room, great to play in but I'd hate to get locked in." Gig-by-gig, trip-by-trip, the 5am mist-kissed North-loop, I start to form my own picture of the Big Smoke. The Virgin Megastore, where they allegedly stock every record ever made, sleeping on floors in St. John's Wood, 'Zig Zag'. According to listings bible 'Time Out', every film you ever wanted to see is on somewhere in London. Looking for, but never finding, a party in Cheyne Row, tart cards in telephone boxes (Hot Swedish Massage?), Rough Trade, Flip Clothing. Scrounging for diesel in Kings Cross in the middle of the night, then Scratchwood services and the journey home.
Guitarist Dave has left the band, gone home to Nottingham, stepped off the spinning, pharmaceutical merry-go-round of Park Hill squats and Hunters Bar all-nighters. He knows that the dance with his demons is best expressed pas seul. His replacement is a Londoner, Paul - a genetics student at Sheffield Uni who Charlie has poached from They Must Be Russians. Paul is blonde, handsome and a good laugh, with a Gibson SG and a girlfriend with a driving licence. His only addictions appear to be Space Invaders, pints and Captain Beefheart.
In late June, Suitably recalibrated, DVA embarks on an unprecented three gigs in six days. A headline gig at the ICA on The Mall, where Paul first plays his farewell gig with They Must Be Russians and then makes his DVA debut, with only a haircut and a change of shirt between sets. Then back up to Sheffield for an historic gig in the City Hall Ballroom, with support from Vice Versa, a musical evening promoted by Disco John as a modern jazz concert, in order to circumvent the venue's strict rules against staging rock concerts. Finally it's back down to London to support Fad Gadget.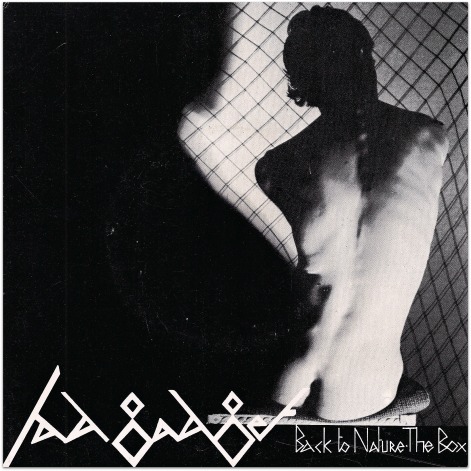 Fad Gadget - 'Back To Nature' 7" single. Mute Records 1979.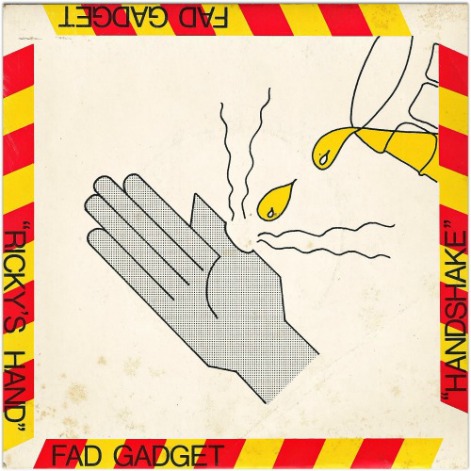 Fad Gadget - 'Ricky's Hand' 7" single. Mute Records 1980.
We've played with Fad Gadget before, on the under-card for a Cabaret Voltaire gig at ULU on Malet Street back in May. I'm a fan, having bought his Tubeway Army-does-'Nuts In May' debut single 'Back To Nature' last year. Fad, or Frank Tovey to the DHSS, is the first signing to Daniel Miller's Mute label. As The Normal, Miller's innovative TEAC and biscuits, bedroom-beat 45 – 'TVOD' / 'Warm Leatherette' is the single that launched a thousand synths. Fad / Frank's follow up, a jittery electro wriggler called 'Ricky's Hand', has been well received by the music press, and he finds himself headlining the second night of Stevo's Electronic Party at the crumbling Clarendon Hotel, marooned on Hammersmith Broadway by the ever-circling carbon-coughing thrum of the A219.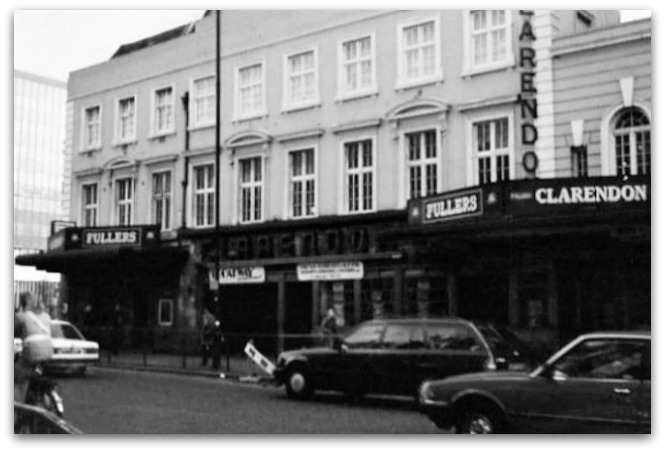 The Clarendon, Hammersmith Broadway. Circa 1980.
I've met Stevo before, when he promoted what he proudly described as "the first Futurist Fun Night" at Retford Porterhouse with Cabaret Voltaire, Naked Lunch and The The. Stevo has more front than the nearby Hammersmith Odeon, and is precisely the type of gobby, all mouth and no Sta-Prest Southerner us Northern folk are innately suspicious of. We're down in West London with fellow Sheffield electronauts Vice Versa, and opening band The The.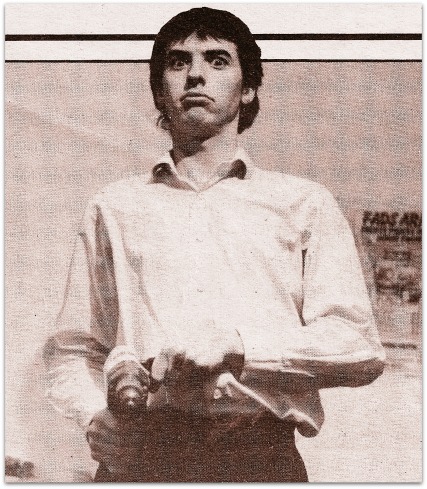 Fad Gadget, Sounds magazine, May 1980.
The room is full of asymmetrical haircuts wearing Kensington Market clobber as Fad and his band take to the stage, their forceful, brittle bang and crash pounding out of the P.A. Fad is dressed all in white, and sings in the now familiar post-punk, cyborg warble favoured by many frontmen of his generation. Moving quickly, Fad grabs an electronic drum, a D.I.Y. construction of steel, wood and wire. This he tosses high into the Hammersmith night, rising like the moon. Gravity inevitably prevails, however, and as the drum falls, Fad leaps, like Joe Jordan climbing for a header in front of the Stretford End, and meets the falling instrument smack between forehead and pudding-bowl fringe. In the crowd, there is an intake of breath so sharp that it is felt as turbulence by jets overhead, as they make their final approach to nearby Heathrow. Apparently unfazed, Fad continues to sing, unaware for a moment that the collision of metal and flesh will have inevitable Ballardian consequences. Sure enough, a red trickle emerges from under his hairline, and then turns into a crimson tide, blood running down his face onto his pristine white shirt. The song comes to an abrupt halt. Dazed, Fad wipes his blood from his face and smears it absent mindedly on his shirt. Looking like the Beatles' 'butcher sleeve' made flesh, he leaves the stage.
In the audience, there is both confusion and bemusement. As opening numbers go, this was quite literally a show stopper. Down the front, young girls are sobbing:
"FAD, FAD! HE IS GOING TO BE ALRIGHT?"
Their mascara melts and runs down their cheeks, as if in tribute to their fallen, bloodied idol. Around them, the hubbub of clink and chatter continues; but the band has been off stage for a while now. We're wondering about getting paid. Will Stevo have to offer refunds?
Suddenly, Lazarus-like, Fad clambers back on to the stage. Bandages piled atop of his head like a tourniquet turban. He looks like a cross between The Mummy and The Sheik Of Araby. The venue erupts, the girls squeal in horror and delight, the photographers snap away like crazy. Fad's back! What a trouper.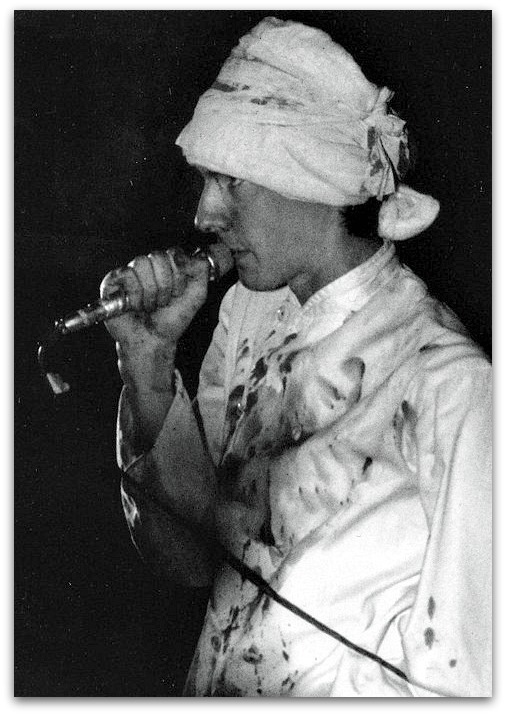 Fad Gadget, the Clarendon. 27/6/1980.
We'd played well tonight, blasting the gathered multitude with our Northern Industrial Blues and the strobe light that Stevo had procured "from the nut house" especially for the evening. Yet, for all our labours, Fad Gadget owned the night with an act of reckless rock theatre that Alice Cooper himself would be proud of.
Later, with Fad on his way to Westminster Hospital for stitches, we're packing up when Stevo comes backstage with two members from German band D.A.F., who headlined his gig the previous night. He hands over our £35 fee with the disdain of a man scraping dog shit from his Doc Martens. We got £100 at the ICA six days ago. What a rip off.
Paul's girlfriend points the Transit towards Hatfield and The North.
---
A never less than compelling frontman, Fad Gadget / Frank Tovey recorded ten albums in a twelve year period from 1980 to 1992. He died of a heart attack in 2002 aged 45.
Link to Fad Gadget on Spotify here.
Former ClockDVA guitarist David Hammond is alive and well in County Wicklow, Ireland.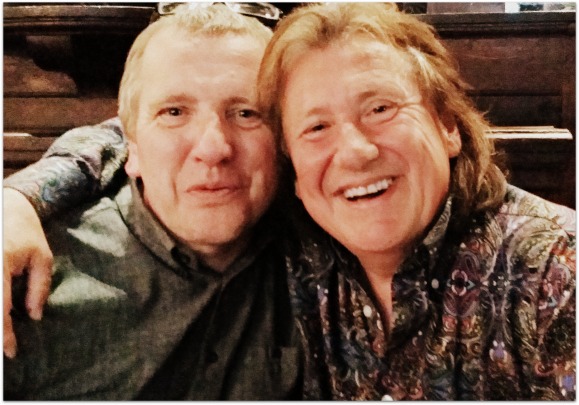 Your narrator (left) with David Hammond, Dublin, 2016.
With thanks to Bob and Stephen for additional memory jogging.
More pics, reviews, set lists etc over at - http://mylifeinthemoshofghosts.tumblr.com/