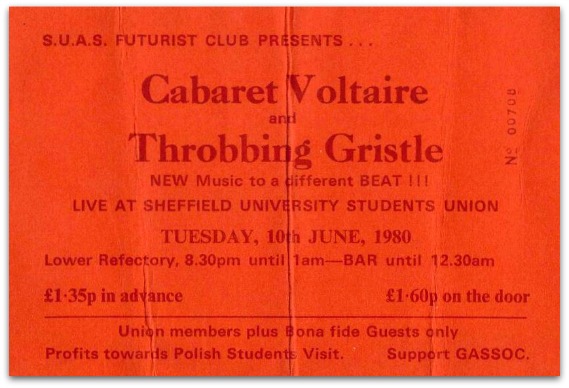 "I'm So Hollow?"
"Here".
"They Must Be Russians?"
"Present".
"Vendino Pact?"
"Yes, Miss".
A warm summer evening, and its registration time for Sheffield bands at the Lower Refectory on Western Bank.
Vice Versa, DVA, Prior To Intercourse, Sexual Lotion, In The Nursery, Station 4 and the Naked Pygmy Voles – all present and correct. Anyone who isn't here either has a gig of their own, or as sent a note from their Mum:
"Dear Cabaret Voltaire,
Young Tommy can't be with you tonight. He burnt his hand with a soldering iron while rewiring a circuit board".
Yours sincerely,
Mrs Crapper
Modestly billed as The Gig Of The Century, it's fair to say that there hasn't been a meeting of industrial giants in Sheffield on this scale since Thomas Firth joined forces with fellow steel-maker John Brown back in 1902.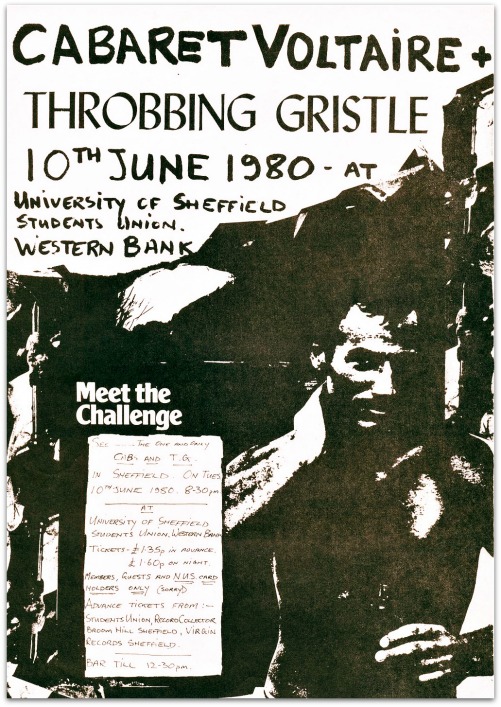 Flyer courtesy of Mick Fish.
I've seen Throbbing Gristle once before, when they shared with ClockDVA up the road in Leeds back in February. Back then I was floored by the paradox of such charming, affable people administering such unpleasant, painful aural medicine.
Since then, however, since then I've started to tackle my own atonal assault course. With vigorous schooling from band-mate and noise connoisseur Charlie Collins, I've been introduced – courtesy of the record library on Surrey Street - to the free jazz of Ornette Coleman, and the splintered ivories of Cecil Taylor. Inter alia, I've also discovered that Marian Zazella is not, in fact, a contagious tropical disease.
Throbbing Gristle take the stage. The last gig I saw here was almost two years ago, when local pub-meets-punk-rock heroes The Push played live for Radio Hallam. A lot has changed since then; I've left school with a rag-bag of qualifications, swapped toe-tapping Beatles' covers for portentous art-rock originals, and finally have a job.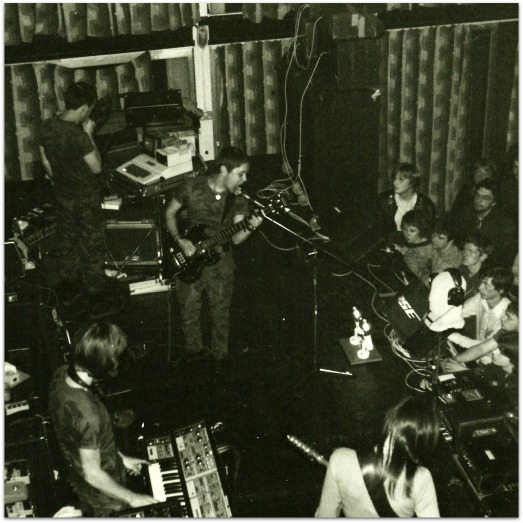 TG - Sheffield University 10/6/1980 - photo by Roger Quail
Throbbing Gristle have an extraordinary array of equipment for a drummerless quartet. The stage looks more like a NATO forward command-and-control post than a platform for rock music. An impression exacerbated by all personnel being dressed in camouflage and combat gear, including their personal videographer.
Lou Reed's tuneless, unrelenting "Metal Machine Music" is the only pin on my musical map that Throbbing Gristle are anywhere near to. An arrhythmic, glowering, malevolent sound envelops the hall. Centre-right stands Genesis P. Orridge, wielding a bass guitar like a cudgel. His voice, like a wounded hyena, is modulated and manipulated up and down the chromatic scale by Chris Carter and Peter Christopherson - Dante's infernal doormen, concentrating on their keyboards, oscillators, and glinting, glimmering racks of studio F/X gear. Front-left of the stage, Cosey Fanni Tutti hunches over her guitar, oblivious to the coterie of serious young men ardently gazing at her, bewitched by her saturnine beauty.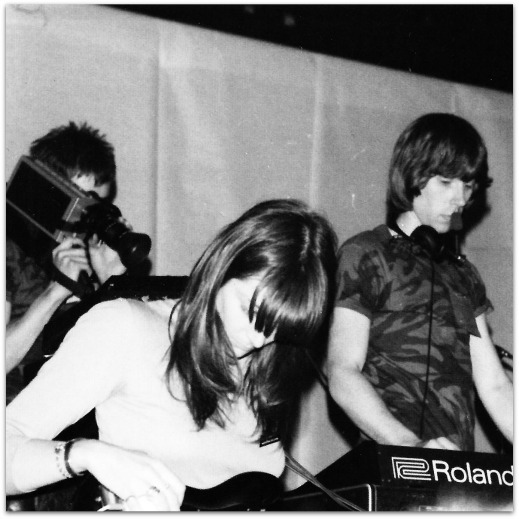 Cosey Fanni Tutti, Chris Carter. Sheffield University 10/6/1980. Photo by Roger Quail
Their largely improvised sound intimidates, as the usual points of musical reference – rhythm and melody – are largely AWOL. The sound and mood constantly shifts: now an oily murmation of slick, black starlings, next a swarm of bees harassing the eardrums. Towering cumulo-nimbus clouds threatening to topple over, but there are occasional flashes in this relentless thunderhead of energy and noise. Bert Kampfert's smoky "Strangers In The Night" is brutally flayed, its meaning taking on a darker, sinister hue in Yorkshire Ripper country.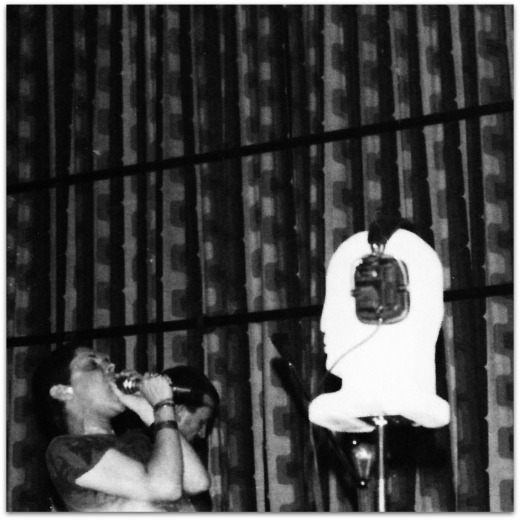 Genesis P. Orridge, Peter Christopherson. Sheffield University 10/6/1980. Photo by Roger Quail
A church bell chimes, and, as Genesis moves to violin, a stridulated pulse emerges from the wreckage. Battered brows start to nod, as the ambience drifts into Fripp and Eno territory. The toll of the death knell also signals the final assault on the beleaguered gathering, as Throbbing Gristle's untethered; drifting super-tanker of plutonium comes violently ashore at Sheffield University. They abandon the stage as a final, echoing "Thank you" pings around the hall.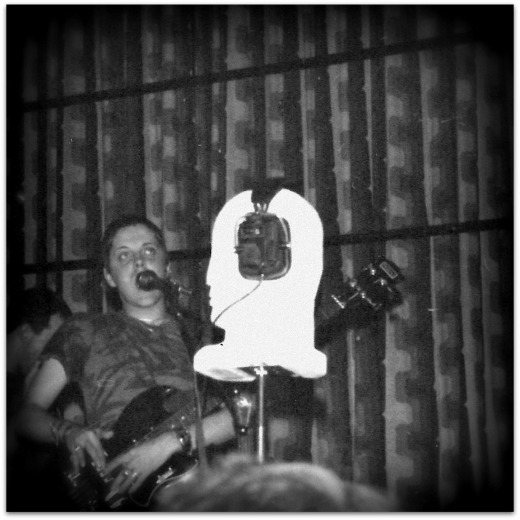 Genesis P. Orridge, Sheffield University 10/6/1980. Photo by Roger Quail
"The thing is" opines Charlie, a foamy high-tide of creamy stout on his moustache, "it's still basically based on Western musical notation. I mean, have you heard the Gyuto Monks of Tibet?" "It's not Musique concrete" I counter, trying to impress Charlie, "it's more like sonic quicksand" (keep bluffing Roger) "if you fight it, it will consume you, so you've got to just lay back and let it wash over you". Pleased with this critique, we finish our pints at the bar, amid the still shell-shocked, discombobulated or just plain chicken – then head back in for Cabaret Voltaire.
The trio haven't played Sheffield in over a year, and curiosity is running high. In that time, they have released two albums – 'Mix-Up' and 'Live At The Y.M.C.A.' - and the singles 'Silent Command' and 'Three Mantras'. I've been fortunate enough to see them a couple more times since my first strange and memorable encounter back in August 1978. A May trip to Retford Porterhouse with old school buddy Brent in his Tangerine Machine, an old Mk III Cortina; saw the Cabs battle valiantly with a timid PA and spartan light-show. The event is billed as the first ever "Futurist Fun Night", with support from the trite and abysmal Naked Lunch and a new-born The The. We met the motor-mouthed promoter, a chubby John Bull Jr. called Stevo, who was wearing a black Ben Sherman with a red TG lightning flash sewn on by his Mum.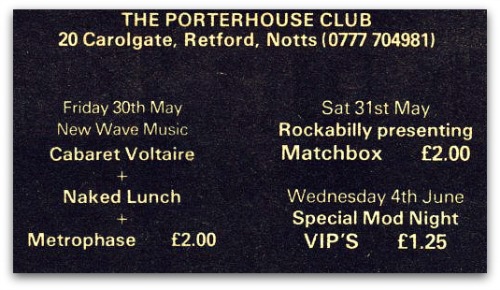 Print ad for Cabs Retford gig, courtesy of Simon Dell.
Earlier that month ClockDVA had supported Cabaret Voltaire at the University Of London Union on Malet Street, where CV impressed with an immersive but truncated set, which ended with a splenetic spoken-word tirade by the normally phlegmatic Chris Watson, raging atop a soupy dirge of distorted clarinet and bad-tempered electronics.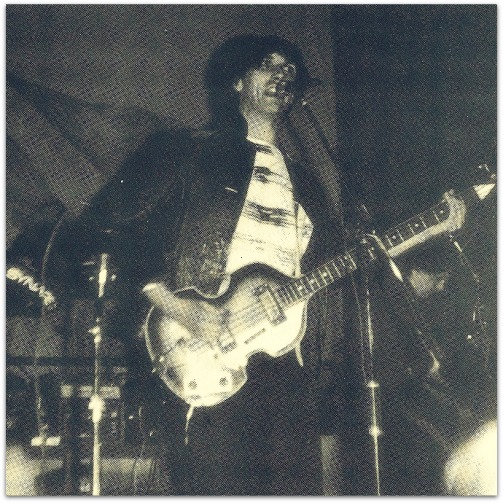 Mal and Richard. University Of London, 9th May 1980.
Photo scan from "It's Different For Grils" fanzine.
Throbbing Gristle's on-stage arsenal has been dismantled, and Cabaret Voltaire's comparatively stark set up stands in front of a backdrop of white sheets. Their scratchy 8mm home movies flicker into life, blurring in and out of focus as they start to play. I look on enviously as Mal smacks away at a pair of new, expensive looking drum synthesiser pads, picking out a primitive, tribal beat over a brooding, foreboding drone, it's a chip off the old John Carpenter's block.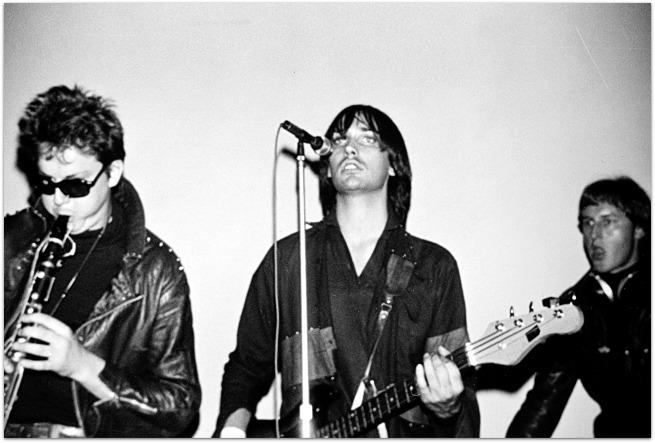 Cabaret Voltaire - (L-R) Richard H. Kirk, Stephen Mallender, Chris Watson.
Photo courtesy of Kitty Parker.
"This is entertainment, this is fun. FUN!" commands Mal, in his terse Dalek-bark. He combines the mysterious charm and chiselled good looks of an Easter Island statue. After the harpooned wail song of Throbbing Gristle, the audience are back on musical terra firma. These are tunes in the recognisable 3 minute pop format, albeit twisted and tangled by Cabaret Voltaire's unique subterranean touch. "This Is Entertainment" is followed by "On Every Other Street" from "Mix-Up", an unseen drum kit kicks off the lopsided funk, as Richard Kirk marshals angry squalls of fuzzy notes from his guitar.
Down in the audience, among the girls in foxy Oxfam frocks and the boys in baggy pleated trousers borrowed from Dad, the mood is distracted. The whole of The Blitz Club seems to have travelled up the hill from Infirmary Road to the University. The group unfurl a new one called "Kneel To The Boss", a stealthy, lizard-like cousin to Eno's "Sombre Reptiles"; only to find its dubby bomp-and-squish sound-tracking a steady sashay of liggers and swiggers going to-and-from the bar. The Cabs want the full Torquemada; the crowd just want to talk.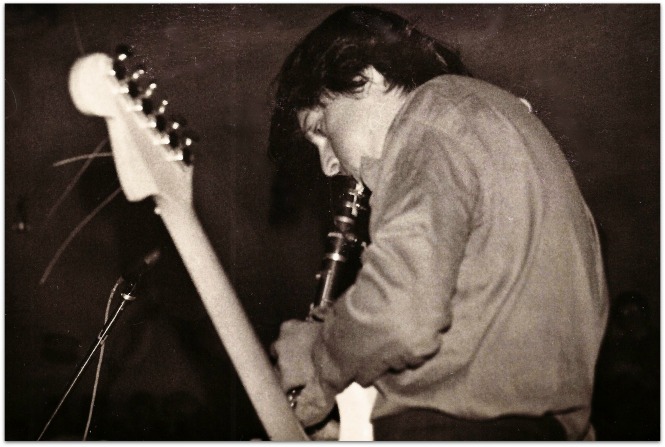 Richard H Kirk, Sheffield University 10/6/1980. Photo by Roger Quail.
Geoff Travis ("Geoff Travis is here! In Sheffield!") from Rough Trade has travelled up from London to mix the live sound, his presence spurs a flurry of demo tapes, which pile up on the sound desk. Richard Kirk stomps on his effects pedal marked "Plague Of Locusts", and, appropriately, their best known song – "Nag Nag Nag" – careens out of the speakers. It's the sound of the BBC Radiophonic Workshop covering the Hawaii Five-0 theme, delivered here as part of a one-two knock out combination punch with their Whorl Of Sound surge through The Seeds' garage-rock staple "No Escape". The audience finally shuts up and gets down.
As Martin X. Russian later points out in his NMX fanzine, "a lot of people at the gig seemed like they'd come along because they didn't want to miss it rather than because they actually wanted to see it".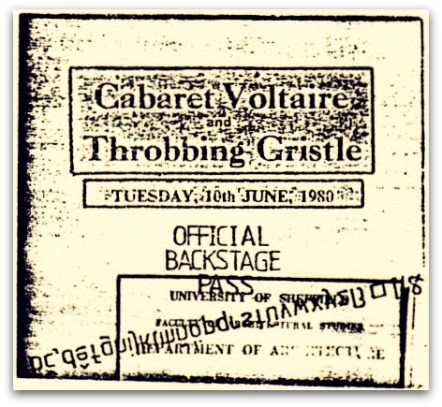 Backstage pass and gig ticket courtesy of Simon Dell.
It's late. I manage to beg a lift home to Shiregreen with I'm So Hollow. I'm back on Maggie's farm in the morning, where there's always more muck to spread.
---
You can make your own mind up about Throbbing Gristle. A video of this gig is available to watch here.
"Golden Hour Of Cabaret Voltaire" Spotify primer here.
More reviews, clips and pics over at http://mylifeinthemoshofghosts.tumblr.com/
Thanks to Kitty Parker and Simon Dell.