A white, long sleeved jersey, with six uninterrupted emerald green hoops. My first replica football kit. No number to indicate the player or position (even aged eight, this is aesthetically important to me); instead there is a discreet green digit on the white shorts. I am number 4, and in my imagination, I am Bobby Murdoch, right-half for Glasgow Celtic. I'm fascinated by the name - "Glasgow Sel-tic, not Kel-tic" – by the simplicity of their shirts with no numbers, and by their triumph in the European Cup Final of 1967.
So begins an adolescent obsession with all things Scottish. I'm transfixed by Roman Polanski's documentary about Formula One hero Jackie Stewart, and fascinated (and a little scared) of Iain Cuthbertson's accent in the Adam Faith TV series 'Budgie' – "Budd-jey". To me, Scottish folk are either endearingly eccentric like Fyfe Robertson, outrageously funny like Billy Connolly (who even makes my Dad laugh), or principled and stoic like union leader Jimmy Reid. In the playground, the girls want to hear my Scottish impression. Have I actually been to Scotland? Of course not, the furthest north I've managed is Morecambe.
However, in music, this affection is harder to maintain. For every sensational Alex Harvey, there are five Bay City Rollers. How could the nation that gave us the no-mean Nazareth also afflict our ears with 'Chirpy Chirpy Cheep Cheep'? Things improve with the arrival of punk, and my north-of-the-border faves The Skids, endorsed and produced by my teenage idol Bill Nelson of Be-Bop Deluxe. The Skids lead on to Simple Minds and other new finds Scars and Altered Images.
Illuminating my path of discovery are John Peel and the NME. New writers like Paul Morley, Chris Bohn and Barney Hoskyns are all in love with the sound of young Scotland: Glasgow's Postcard Records, home of Aztec Camera, Josef K and Orange Juice.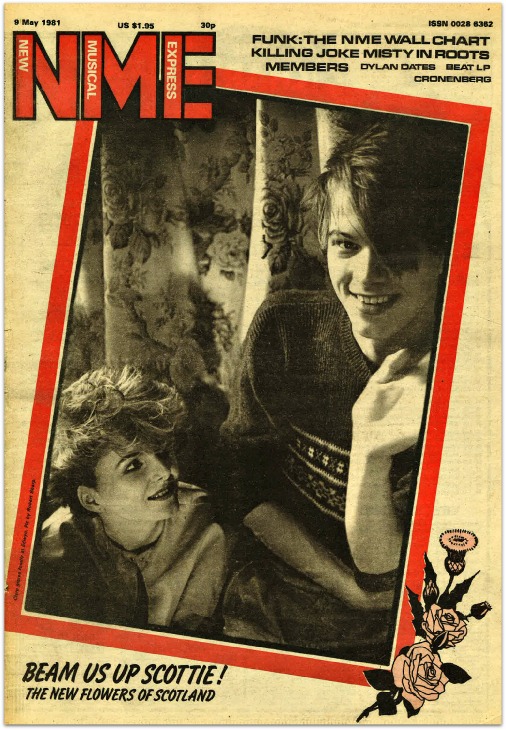 Edwyn Collins of Orange Juice, together with Clare Grogan of Altered Images. NME cover stars, Spring 1981.
It's almost two years since I last descended into the unlovely West Street basement known as The Limit Club. Since then I've left school, joined a cool band, and got a steady job. Leaving the Limit to the growing army of Ant-people and Andy Spandys, I tell myself I now move in more cultured, sophisticated circles – Mr. Kites' Wine Bar, Nameless Pizza, The Beehive.
The old pit has changed a bit. They've moved the stage from next to the DJ booth to the far end of the room, sacrificing the Ayingerbrau Pils "loopy-juice" bar in the process, possibly under medical advice. There's a good turn out tonight for Orange Juice, despite competition up the road from A Certain Ratio at the uni. Orange Juice's flourishing reputation is grounded on a string of speaker-rattling singles for Postcard, of which I've bought a couple: last years 'Blue Boy' and new 45 'Poor Old Soul'.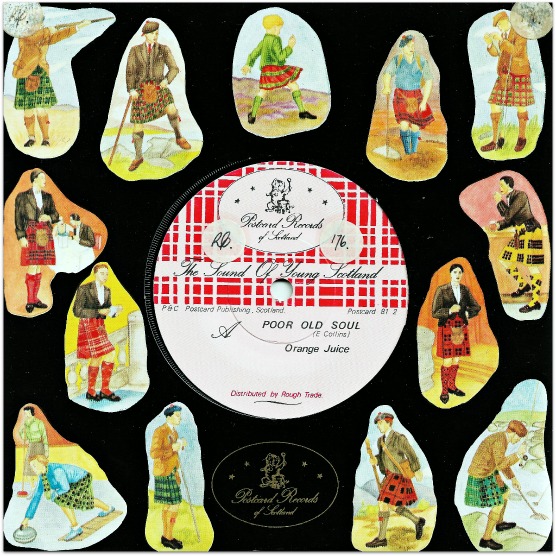 The band are promoting the single on a tour of Northern cities and towns: this is their sixth show in six days, Manchester last night, Liverpool tomorrow. Brandishing enormous guitars which appear to be planished from purloined Cadillac parts, Orange Juice tumble into 'Simply Thrilled Honey'. Clad in vintage plaid shirts, and sporting birds nest, bed-head hair-do's, each one a triumph of Silvikrin scaffolding. Depending on your point of view, they either look like charity-shop pace-setters or a team of effete lumberjacks.
Three nights ago I watched Bauhaus howling at the moon in Heaven, studiously sculpting their own tortured mythology from some recycled Ziggy riffs behind a fog of dry ice. By contrast, the aptly named Orange Juice, with their boyish con brio, usher in the sunlight after a night in the morgue. Very little here outstays its welcome, the exchange rate is three OJ toe-tappers for one 'Bela Lugosi's Dead'.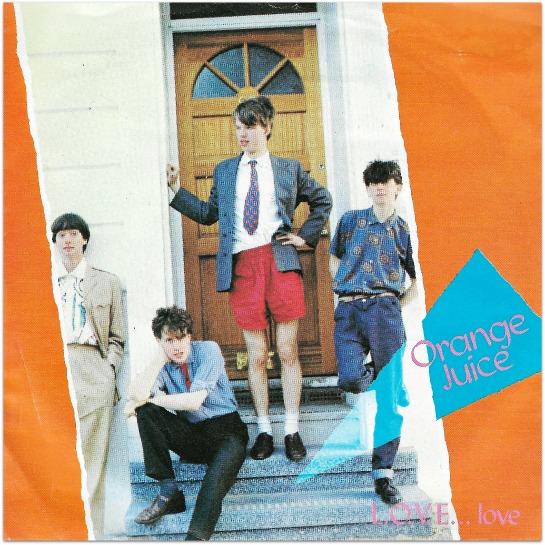 Orange Juice, summer 1981. (L-R) James Kirk, Steven Daly, Edwyn Collins, David McClymont. Photo by Simon Reeves.
Singer Edwyn Collins exudes a polite, sheepish charm. His desiccated croon, think Johnnie Ray sings 'Sister Ray', floats along over these sturdy, winning pop tunes. With a smile that could charm the grouse from the heather, he leads his band through an unexpected but exciting blend of Byrds-ian chiming and Northern Soul pounding. And who cares if their soul is more Milngavie than Memphis? By the time they get to 'Wan Light', we are all gleefully rollicking along like a charabanc of Clyde dockers on their way to Blackpool for work's week. Pop without the polish, Orange Juice have the bits left in, and taste all the better for it.
Having avoided The Limit for two years, I'm back in the sticky cellar the following week, together with many a familiar face from the Sheffield scene. Playing Atlantic to Postcard's Motown, Edinburgh's Pop Aural is at the sharp-end of the Scottish post-punk winkelpicker. The label is run by Bob Last, who founded Fast Product and released records by The Mekons, Gang Of Four, The Human League and Salon Graph. Last also juggles management of both The Human League and Heaven 17.
The London Inkies are predicting a roseate future for Pop Aural's Fire Engines, who, together with label mates Restricted Code, are making their way back up north after a much-hyped industry showcase at London's ever-so Chi-Chi Embassy Rooms two nights earlier. In attendance to witness the next-big-things-in-waiting were John Peel, Paul Morley, Wah! Heat, The Teardrop Explodes, Gang of Four and Blondie, to name but a few.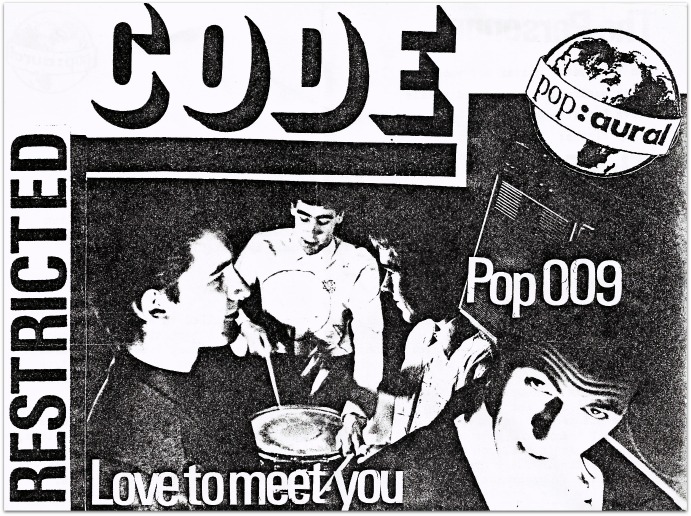 Pop Aural PR flyer for Restricted Code.
The best that Sheffield can offer on a Thursday night is three Clocks, two Cabs, a consonant from ABC, plus a Duma of ex-Russians and an unblocked Artery. Restricted Code wander on and are instantly likeable. They take familiar New Wave touchstones Talking Heads and XTC and imbue them with their own super-charged energy. The singer sounds a bit like Elvis (Costello, not Presley) with a range of vocal tics and hiccups, occasionally taking flight with an optimistic, trembling falsetto. Like Orange Juice last week, the songs are short and direct, and they have the smarts to tackle tricky acapella parts. Meanwhile, the rhythm section nudge and niggle in twitchy combat. The drummer keeps it simple; a trip onto the tom-toms needs a travel permit and malaria jabs. They finish their set with an audacious cover of 'Shake Your Body' by The Jacksons. The drummer breaks out and nails the lolloping, funky beat, and I forget I'm with my cooler-than-thou muso mates and indulge in a little shimmy on the spot. Suddenly I'm back in Bailey's nightclub in 1978.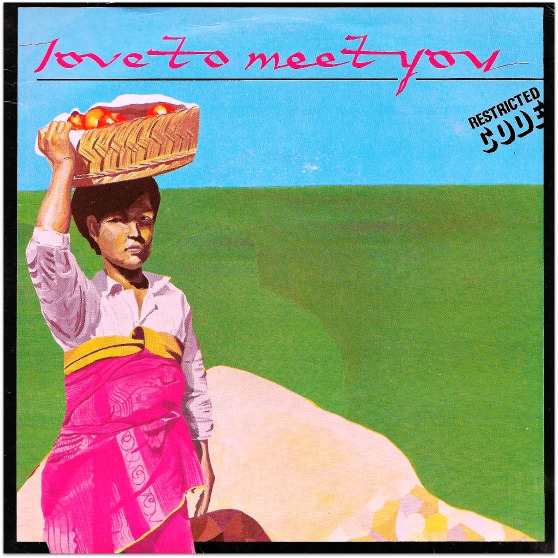 Restricted Code - "Love To Meet You" Pop Aural 7", spring 1981.
If slogans were songs, Fire Engines would already be superstars. Look at these titles:
Lubricate Your Living Room
New Thing In Cartons
Get Up And Use Me
Meat Whiplash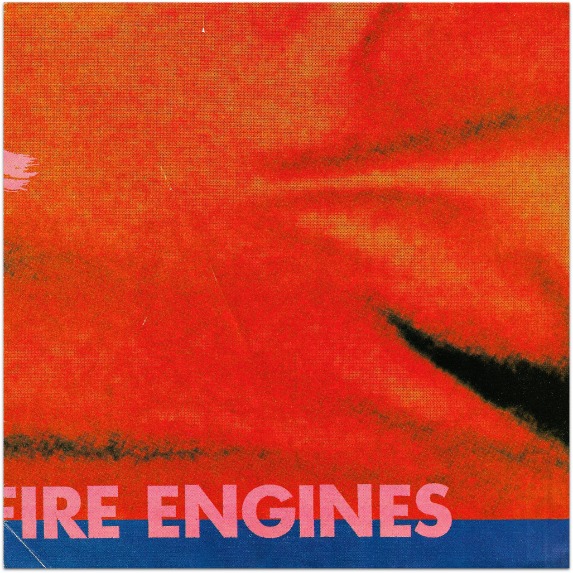 Fire Engines - "Meat Whiplash" / "Candyskin" Pop Aural 7", spring 1981.
We've breathlessly read that Fire Engines only play for fifteen minutes, but not to worry 'cos those precious moments are the most all-consuming, incendiary nine-hundred seconds we are ever going to experience at a gig, such are the levels of intensity at which they rage. Nicely warmed up by Restricted Code, we are ready for their hungry beat.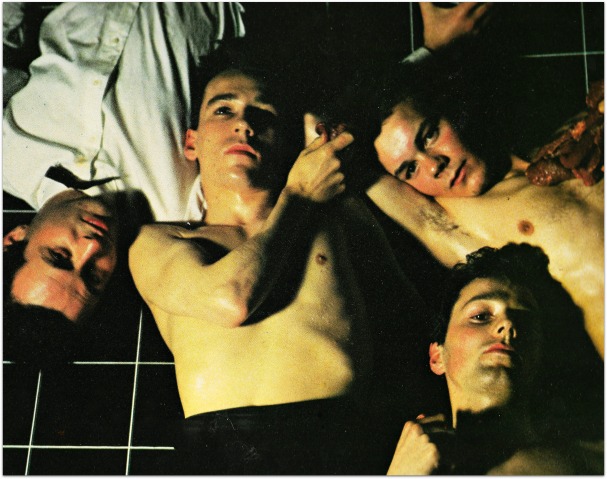 Fire Engines, summer 1981. (L-R) Graham Main, Davey Henderson, Russell Burns, Murray Slade. Photo by Hi-ray.
And for the first three minutes, they deliver. Like a boxer eager to win the bout with a first round KO, Fire Engines come out swinging, punching hard and often. Off-kilter vocals, furious guitars, runaway bass and a cowbell being milked harder than a herd of fecund Friesians. It's a gobsmacking collision of The Fall and Gang Of Four.
They stop, and the tuning starts.
d-dang, dang, dang, dang.
Pause.
d-d-daang, daang, daang, daang.
Once more.
d-d-daaang, daaang, daaang, daaang.
And so it goes on, and on. Eventually another lop-sided, brawny beat kicks in, and the Fire Engines pile in again, fists flailing, guitars wailing, offering up just a scintilla of the thrills we've been anticipating.
Brang, brang! Brang!!! goes the E-string, as it tightens again - much like our patience. When they impress, there are broad daubs of the great Captain Beefheart to revel in. However, on tonight's showing, this is not a magic band.
Paul Morley, when you raved about their fifteen-minute sets, you neglected to mention the other fifteen minutes of tuning up. True to their name, Fire Engines manage to extinguish the warm glow kindled by the support band. As they troop off, the DJ cues 'I Travel' by Simple Minds. Restricted Code are probably half-way to Scotch Corner by now, with tonight's stolen show stashed in the back of the van.
---
Orange Juice signed to Polydor in 1981, and had a Top 10 hit in 1983 with "Rip It Up". Edwyn Collins had a worldwide hit in 1995 with "A Girl Like You", he released his eighth solo album in 2013.
Restricted Code split after two singles for Pop Aural. Singer / guitarist Tom Cannavan is an author, broadcaster and creator of the Festival Of Wine. Drummer Stephen Lironi joined Altered Images, and has enjoyed a successful career as a record producer with acts as diverse as Bon Jovi, Black Grape, Suggs and Hanson. He is married to Clare Grogan.
Fire Engines split at the end of 1981. Davey Henderson and Russell Burns went on to enjoy success with Win in the late 80's. Henderson has also released music as The Nectarine No. 9 and The Sexual Objects.
---
Thank you to Harvey Johnman, Frank Quadrelli and Mark Winkelmann.
My Scottish Post-Punk 1979-81 playlist on Spotify is here.
More pictures etc over at https://mylifeinthemoshofghosts.tumblr.com/