Date night.
I know Ava Greene from the office next door. We chanced upon (nay, jumped upon) each during a drunken session at The Limit Club a few weeks ago. It was the kind of night when you only go to The Limit because the pubs have all called time, you fancy another pint or two, it's only 50p to get in, and, all things considered, the wanker count there is still significantly lower than any of the other night clubs in Sheffield.
Ava wears tartan mini-skirts of the clan Grogan and gravity-mocking heels. She likes Blondie, The Jags and The Revillos. She still can't quite believe that Phil Oakey didn't pluck her from the Crazy Daisy dance floor to join The Human League.
Being a happening young musician about town, I've managed to wangle a plus-one on the door for The Cure at The Poly. This seems to impress Ava, who saw The Cure for the first time on 'Top Of The Pops' a couple of weeks ago. However, while my love life appears to be falling into place, my life as a drummer is slowly falling apart: the Thirst line-up of DVA played its final gigs this week, in Liverpool and Leeds. And while I haven't been shot out of the cannon yet, I can smell the fuse burning.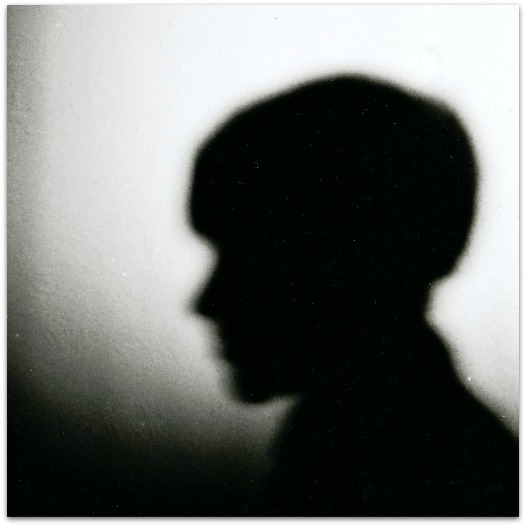 Don't try to Cure yourself. Shadowy self-portrait, Mum & Dad's, Fairthorn Road, 1981.
I punch 'Touch Me' by The Doors into the jukebox at The Howard Hotel, a clumsy lyrical hint that Ava and I to go beyond the tongue hockey and frottage that has marked our encounters in cinemas and night-clubs so far. Meanwhile, 6,000 miles away, Nelson Mandela sits in his jail cell, unaware that tonight's venue, the Phoenix Hall across the road, will be renamed in his incarcerated honour eighteen months from now. While I've been to gigs up the hill at the Poly's Arundel Gate student bar, it's my first time in this new, functional, red-brick Dansette near the bus station.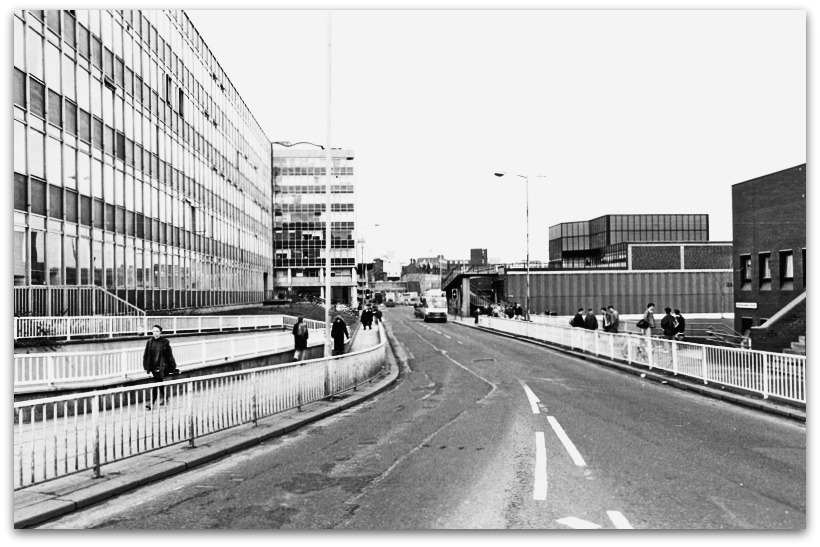 Pond Street, Sheffield. Phoenix Hall far right.
There is no support tonight. Instead, The Cure are touring with a short film, which they have also scored, to set the mood for the evening. Entitled 'Carnage Visors', this monochrome animation put together by the bass player's brother goes down well here, the Hollywood of home-made celluloid surrealism. In Sheffield, you are not really a proper band unless you've played in front of grainy Super 8 footage of someone's girlfriend looking spooked in Endcliffe Park woods.
The film ends and The Cure start. Word is they've hired Pink Floyd's sound system. Aside from Discharge and The Exploited, who, like Japanese warriors in the jungles of The Philippines skirmish on regardless, the punk wars are long over. And the hippies won.
Seizing on the momentum created by 'A Forest', whose chilly Motorik pulse found favour with everyone at BBC Radio 1 from Noel Edmonds to John Peel, and new album 'Faith' charting in the top twenty; The Cure are three weeks into a UK tour which would have Julius Agricola doffing his galea in admiration. A thirty-date campaign stretching from Taunton to Aberdeen, this is only a precursor to a punishing world tour, which will see the band play a show, on average, every other day between April and Christmas. Stretching across three continents, the tour will leave no major city uncured. In stark contrast, DVA have managed to play only seven gigs in 1981 thus far; that debut album isn't going to shift itself.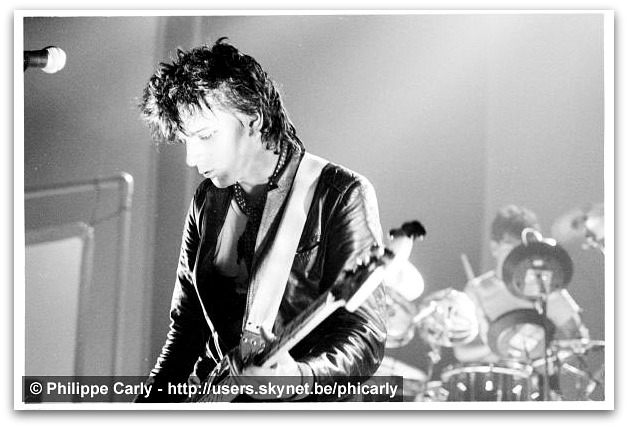 Simon Gallup, Lol Tolhurst (c) Philippe Carly - http://www.newwavephotos.com
The Cure's bass player brings the rock 'n' roll element, looking like a refugee from Johnny Thunders' Heartbreakers, his headstock dipping and twitching like a dowsing rod. The drummer, on the other hand, looks like a plumber. Stage left stands Robert Smith, seraph cute with soft spiky hair, flanging gossamer cocoons from his Fender Jaguar. His voice is a petulant, student mewl of unmade semen-sticky beds, damp rolling papers and Pollock-esque pavement swirls of curried chips and Pernod & Black. Which, when prodded by a change in tempo, mutates into a snuffled sneer.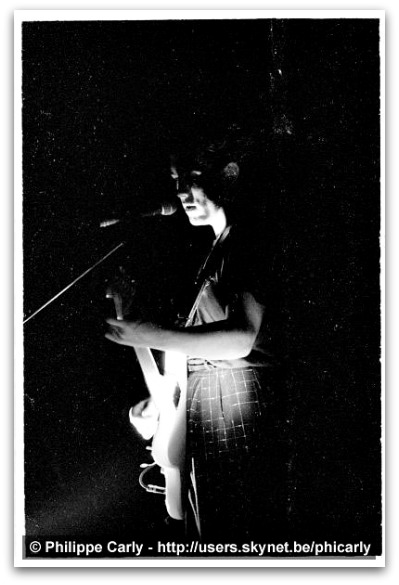 Robert Smith - (c) Philippe Carly - http://www.newwavephotos.com
Between them they form a Bermuda Triangle that swallows up light and drowns vessels of colour. "This one's called 'All Cats Are Grey'", yelps Robert. And so, it seems, are all the songs. Then they play one I know, '10:15 Saturday Night'. "I bought this when it came out, it's the B-side of 'Killing An Arab'", I mention to Ava, hoping to impress her with my immaculate, post-punk back-catalogue knowledge. Ava isn't listening, she's gone to the bar.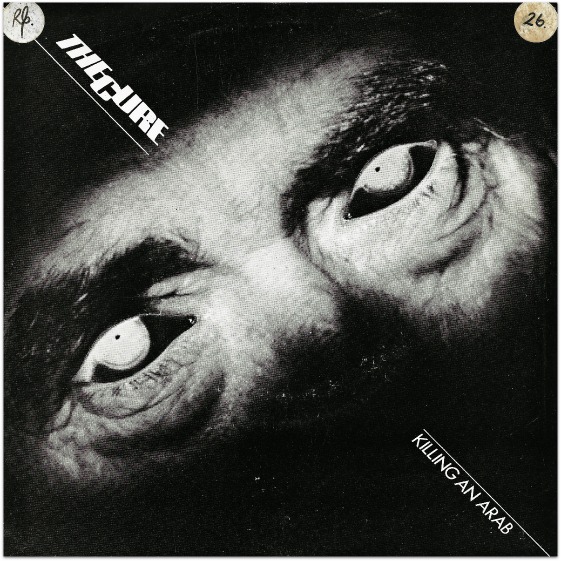 Meanwhile, in rehearsal rooms all over Sheffield, Friday night band practices suddenly turn arid and scratchy, velvet-voiced bingo callers in working men's clubs sound timid and thin; The Cure are draining South Yorkshire's canyonesque reverb reserves dry. The lighting rig looks big enough to guide Jumbo jets down on final approach, yet the band play in murky emulsion, which makes me wonder if black light bulbs are actually a thing.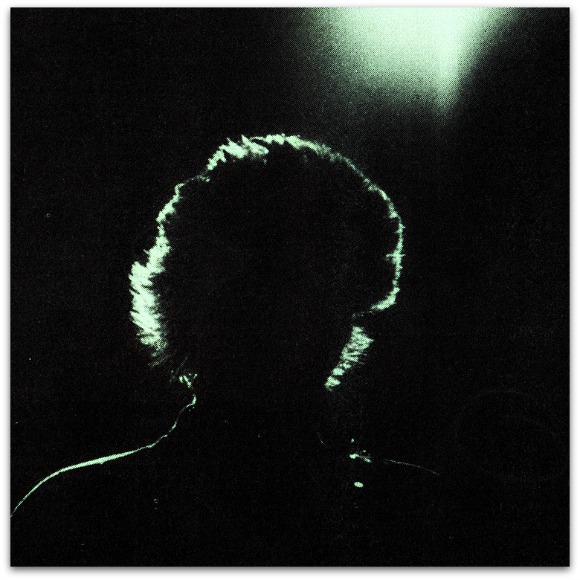 Robert Smith, May 1981.
The Cure, I decide, aren't so much new wave as frozen wave. The motion of the ocean stilled by a vicious cold snap, its foam and brine sculpted into impressive, foreboding alien shapes. They are hard to love, but I have to admire their rigorous pursuit of world domination. Of the bands I've seen recently, Bauhaus, New Order, Killing Joke, I think The Cure are best-equipped to go all the way to the top. Perhaps Pink Floyd had better look for a new PA.
They end their set, inevitably, with 'A Forest'. We leave before the encore, me hoping for a fresh exploration of lips, hips and other bits at the bus stop, Ava hoping to catch last orders in the pub. Further up Pond Street we bump into Martin Fry. Great timing or pure coincidence, I hope Ava is impressed by my being on first name terms with a rising pop star.
Martin Fry is going to be a pop star. Robert Smith already is; but my little star is about to pop, leaving a big black hole.
---
More pictures etc over at https://mylifeinthemoshofghosts.tumblr.com/
I haven't been able to track down any photos from this gig. Philippe Carly has very kindly allowed me to use some of his excellent shots from The Cure concert in Brussels a few weeks later. You can see more pictures from this gig here.
Postscript. Cure fan and fellow Sheffield chap Rob Bloor was kind enough to send me this signed self-portrait of The Cure, given to him by Robert Smith after this gig.